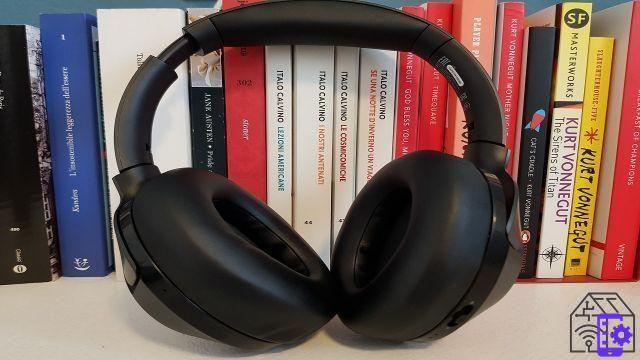 Philips PH805 Reviews
Le Philips PH805 are a pair of bluetooth over ear headphones from classic but elegant look. They want to deliver good audio quality at a reasonable price, adding some welcome extra features with active sound cancellation and one-touch activation of the smartphone's voice assistant. They are a simple pair of headphones, they want do the essentials well.

Really great audio quality
Sound quality is a must for any pair of headphones. But we need to understand what standards we should expect. Over ear bluetooth headphones are somewhere in between between audiophile headphones, which use a quality cable for great fidelity, and bluetooth headsets, which offer something in terms of quality in exchange for convenience.
The sound track is compressed by bluetooth, so we cannot expect faithful reproduction of the uncompressed FLAC tracks. However the sonic capabilities of the Philip PH805 they surprised us positively. We first tested them with AudioCheck, where we found some vibrant bass and very clear high tones. It especially struck us spatiality: the headphones direct the sounds well, a very important skill especially when you are watching a movie or a concert.
We then wanted to experiment with songs of various kinds to test their qualities in action. THE complex sounds of Pink + White by Frank Ocean and the symphonic choirs of Bohemian Rhapsody by Queen shone in our test: the details are clear and the whole is very pleasant. THE bass thunder in both hip hop and orchestral pieces like the Skyrim soundtrack. We also ventured into the world of jazz and classical music, where the spatiality of the instruments and clarity of the various registers really convinced us.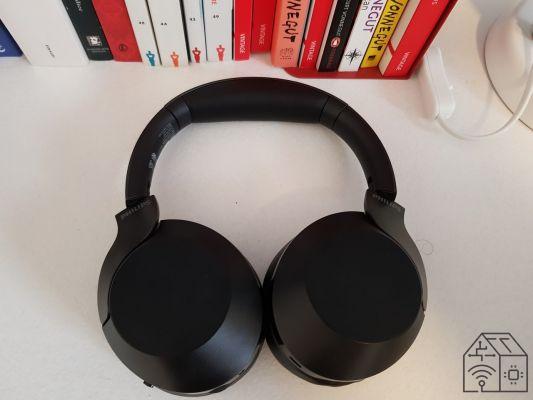 With the Philips PH805 we listened to podcasts, made calls and video conferences, even a live stream on Twitch. The voice quality is crystal clear, the microphone at the height: our voice was heard unaltered and decided by the others.
Discount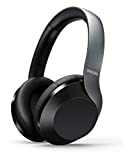 Philips Over Ear PH805BK/00 Cuffie auricolari (Bluetooth,...
With over-ear headphones you can reach up to 25 hours of duration with active noise canceling (anc) activated; self...
Enjoy your music with the over-ear bluetooth headphones, completely without cables; bluetooth 5.0 with a ...
The over-ear headphones have a built-in microphone; acoustic echo cancellation guarantees you a ...
102,99 EUR −25% 76,99 EUR Buy on Amazon
Bluetooth and touch controls
We connected the Philips PH805s to any bluetooth device we had at home. To connect just press and hold the button a little longer power button to initiate pairing mode. The connection with smartphone is immediate e really solid: we had to go a dozen meters away for the audio of the tracks on Spotify to croak, only a few steps less for calls. The same goes for the smart TV and also the PC we're writing this review on, which has an outdated and usually disappointing bluetooth card. Instead he connected smoothly and without missing a beat. Switching between devices is not very comfortable: you have to re-enter pairing mode. However, in our daily experience of a couple of weeks it was hardly ever a particularly annoying problem.
The touch controls are the sore point of our Philips PH805 review. The only physical button is used to turn on and off, as well as to accept or end calls and stop or restart the music. The controls, on the other hand, seemed too inconstant, at least at the beginning. Adjusting the volume is easy, as well as activate thevoice assistant holding your finger on the pavilion. The problem is the activation of the three modes: Normal, Ambient Sound and ANC (Active Noise Canceling). Several times we activated the function switch while we were adjusting the position of the headphones or answering a call. After a few days we got carried away, while continuing to have some involuntary activation too many.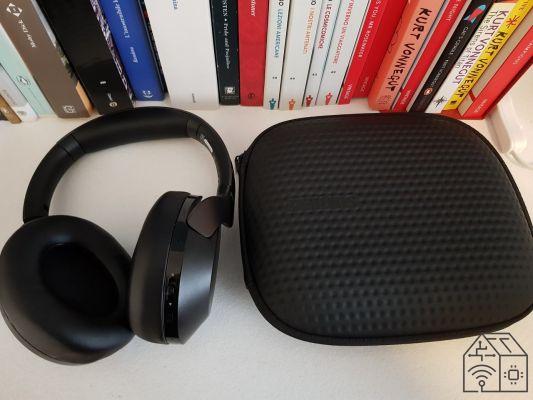 Not a big deal and it shouldn't bother everyone but we would have preferred an extra key for mode switching. Sound cancellation is not very high but it does not cripple the sound at all, making it just a little 'rounder' in the ears.
Convenience, battery and extra equipment
The Philips PH805s have been with us for many hours: in a sort of "comfort test" for this review, we tried to spend a day holding them on our ears as much as possible. After an hour we began to perceive a slight heat but nothing that can really annoy you more than normal. Even watching a couple of episodes of The Boys we were happy with the effect: the faux leather on the earpads gives a great feeling, padded headband it's really comfortable. Sliding to widen them is a bit mechanical but this helps keep the headphones more stable. Build quality is above average for the price.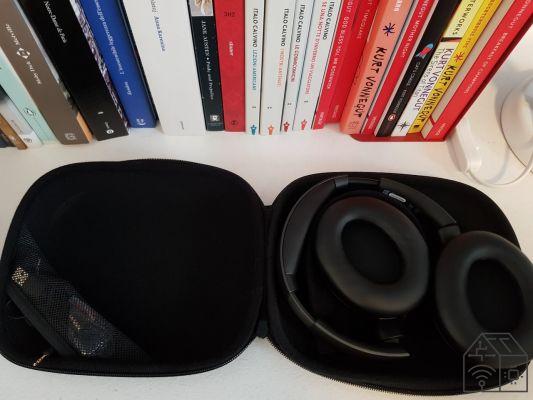 The battery is one of the aspects that convinced us the most. Philips assures 30 hours on these PH805. We wore them as soon as they were removed from the box, testing them for two consecutive weeks without being able to download them completely. A negative note: nyou can't find the transformer in the box charger but only the USB-A and microUSB cable. Also included is an AUX cable (of rather poor quality) for when you have to go on a plane and an AUX splitter. Excellent instead travel bag, very resistant and able to protect against falls (we cannot tell you if we have tested it for fear of being recalled!).
Philips PH805 review: are they worth buying?
The initial price of these headphones was 179,99 euros. If it had remained unchanged we would have considered it a good buy anyway: the sound quality, convenience and great battery life really deserve it. At the time of this review the price is up Amazon is 122 euros. At this price we feel we can override the unintuitive touch controls and the a little too shy ANC. They're perfect headphones for listening to something while you're on the subway or bus, when a little noise cancellation is enough.
If you are looking for a pair of headphones with a simple but comfortable look and with a rich and clean sound, these headphones are a purchase to be made with your eyes closed. To focus on the details of the music that surround you.
Philips PH805
Pro
Great audio
Comfort
Great autonomy
Bluetooth solido
Cons
Inaccurate touch controls
Difficult to switch devices on the fly