Free license
Pluto TV - Movies & Series
Pluto TV is a completely free video streaming service that offers premium channels and free on demand. Come check out this UFO TV deals.
17/12/2021
1966 All specs
Play Store
414 318
App Store
9 793
Download Free version
Android
iOS iPhone / iPad
Online service All Internet browsers
Summary:
Why use Pluto TV?

What's new in the latest version of Pluto TV?

Which OS is Pluto TV compatible with?

What are the best alternatives to Pluto TV?
Description
Pluto TV is a brand new video streaming service available in our country. All the videos are in French, and only in this language. The service is completely free and offers both live TV channels and video-on-demand (such as replay).
Pluto TV is a service that was created in 2014 in the USA and is starting to be rolled out in other countries. On February 8, 2021, it is our country's turn to take advantage of it. It offers a large selection of films, series, cartoons and documentaries all translated into French, no other language is available. And especially, it is completely free.
Why use Pluto TV?
Unlike other video platforms which record your data, to use Pluto TV you just have to open it via the online service from your internet browser (Windows, Mac, Linux), streaming starts immediately, no need to create an account or whatever. You can also download the mobile app for Android or iOS (iPhone, iPad) or for macOS X. The app is also available for download for connected TVs, or smart TVs (Android TV, Apple TV, etc.) and for Kodi. Note that Pluto TV is also compatible with Chromecast devices from Google.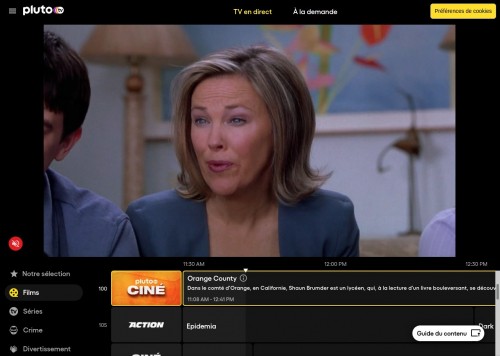 When you land on Pluto TV, no matter which viewing solution you choose to get there, you end up directly on the live stream of the first channel on the list, and the video will play instantly (first. in low quality while the flow stabilizes, then in standard quality). If you are interested in the current program, on certain devices (iOS and Android in particular), start it over or put it in your favorites (these options are not available on the online service).
The dark interface is very simple, and it's the same across all media. The main screen is therefore that of the live broadcast. The video sits across the top of the screen across the full width. Below you have two columns. On the right the list of channels, on the left the categories (Movies, Series, Crime, Entertainment, Lifestyle, Curiosity, Comedy, Kids, Gaming, Sports). The menu is either at the top (online service) or at the bottom of the screen (applications) and has two titles only: Live TV and On Demand.
As for live TV, these are not strictly speaking TV channels, you will not find national channels or channels from other countries. No, the Pluto TV channels are in fact like playlists, that is to say that they are thematic channels created by the Pluto TV teams according to the available content. For example, you will find a Les Cordiers, Juge et Flic channel since the platform broadcasts the 12 seasons of the series, but also cinema channels which stream films continuously, etc.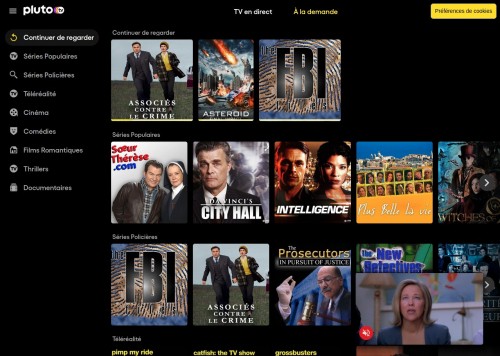 For the On-demand screen, don't panic, it's not a paid option (even if its name suggests video on demand where you pay for each content). No, Pluto TV's On-Demand service looks more like a replay offer (but without a deadline). You can find all of the platform's content there and watch them whenever you want.
But, suddenly, what can we see on Pluto TV?
The platform offers a lot of content of French origin, as well as international content. Films, series, cartoons, documentaries, reality TV, you will find everything there and for all tastes. The contents should be updated regularly. The platform uses advertising to pay, it appears in the middle of the content (like when you watch TV).
In the French series, we note the presence of Plus belle la vie, Les Cordiers, Judge and Cop, Commissioner Valence, Femmes de Loi, Louis la Brocante, Police District, Internal Security, Sister Thérèse.com, etc. Some international series are added to it like Da Vinci's City Hall, The Witches of OZ and others. The titles are not necessarily very well known but that does not mean that the contents are not of quality.
Cinephiles will find romantic films (Love Exclusively, Sex Therapy, Fandango, Fairfield Road, A Kind of Magic, etc.), comedies (Short Circuit, Hail Caesar, Paradise, Waffle Street, etc.), disaster films (Asteroid Final Impact, 10 Days, Code 000, etc.), action movies (Papillon, King of the Mountain, Everest, etc.), classics (Ben Hur), etc.
Finally, a few youth programs (with SpongeBob, Dora and the Teenage Mutant Ninja Turtles for example), but also Japanese anime, documentaries (on sharks, birds, dream destinations, animals, etc.) , shows (like Pimp My Ride, and other various shows on the paranormal, cooking, nature, etc.), sports (poker and extreme sports), gaming and reality TV.
Everything is entirely in French and no other language is available. There are also no subtitles or audio descriptions. Pluto TV only provides the bare minimum: image and soundtrack in French.
What's new in the latest version of Pluto TV?
Pluto TV was launched in our country on February 8, 2021. The application and the whole service already existed in other countries. The updates relate to fixing bugs, creating new features and adding new content.
Read also: Pluto TV, one more VOD service in our country from February 2021
New for June 2021: Pluto TV will offer new free channels thanks to Mediawan
Which OS is Pluto TV compatible with?
You can watch Pluto TV from your computer regardless of its OS (Windows, Linux, Mac, etc.) from a simple internet browser (Recommended: Chrome and Safari, but also works with Firefox).
Pluto TV is also a mobile application for smartphones and tablets that you can download for Android and iOS (iPhone, iPad). But also an application for macOS X.
Note that Pluto TV is also compatible with Google Chromecast devices, connected televisions (Android TV, Apple TV, Samsung Smart TV, Fire TV), devices running Android TV (FreeBox Pop and Mini 4K) and even on your Playstation 5 Finally, you can also use Kodi to watch Pluto TV.
What are the best alternatives to Pluto TV?
Free alternatives to live and streaming video there are none, or few. In fact, only the platforms offering the broadcasting of French television channels live and in replay are available: molotov.tv, MyTF1, 6Play, notre pays.tv, Captvty, etc.
Otherwise, the other alternatives allowing you to access hundreds of unlimited streaming content are all subject to subscription: Netflix, Disney +, Amazon Prime Video, Salto.
Specifications
Play Store
414 318
App Store
9 793
Last update December 17, 2021 License Free license Downloads 1966 (last 30 days) Author Pluto, Inc. Operating systems Android, iOS iPhone / iPad, Online service All Internet browsers Category Video
Screenshot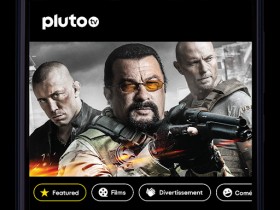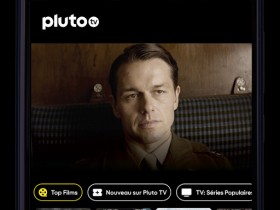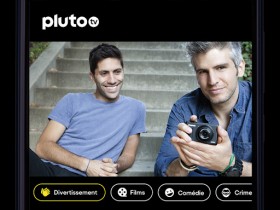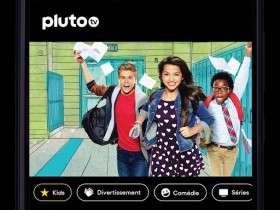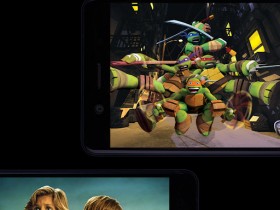 Similar software

6play, live TV and replay

myCANAL

Molotov.tv

Netflix

Plex

Amazon Prime Video

our country.tv

MyTF1

Disney +

BrutX

Jump

OCS
Apple TV
In the same category
Wondershare DemoCreator

Movavi Video Editor Plus 2022

Jump

YouTube Kids

TFOU MAX

Vimeo Create - Video Maker & Editor

Magix SOS K7 Video

BrutX

RecordCast Free Online Screen Recorder and Video Editor

Free Screen Video Recorder
Advertising
Top downloads
Zoom

Aptoide

Grand Theft Auto: San Andreas

WhatsApp

Minecraft - Pocket Edition

AllAntiCovid Verif (TAC Verif)

Facebook Messenger

Windows 10 Media Creation Tool

Google Meet

Garena Free Fire
Special offers
Windows 10 Pro

9,99€ instead of € 259,00

Windows 11 Professional

9,99€ instead of € 129,00

Windows 11 Setup Wizard

9,99€ instead of € 129,00

Word

14,99€ instead of € 149,00

Power point

14,99€ instead of € 149,00
All special offers
New arrivals
Rogue land

Suspects: Mystery Mansion

PhotoRoom Studio Photo

Matchington Mansion

Heroics: Epic Fantasy Legend of Archero Adventures