Waiting for the actual debut scheduled for next 13 July, Fr.rofessor Layton and the Lost Future HD returns with a new trailer which reveals, a few days in advance, the reissue for mobile devices of one of the most popular titles in the series.
Debut trailer for Professor Layton and the Lost Future
Level 5 has released the new trailer forProfessor Layton and the Lost Future HD, remastered version of the title originally released on Nintendo DS in the now distant 2008. The game will be available from next week on smartphones Android e iOS.
The game coming to mobile devices will incorporate all the features of the original title, one of the most popular of the series which, over the years, has achieved enormous success on Nintendo consoles. The game was remastered in HD to offer even higher graphics quality, thus exploiting. at best, the displays of new generation smartphones and tablets.
READ ALSO: Professor Layton and the Lost Future is coming to iOS and Android
At the base of the adventure that will characterize the new Professor Layton and the Lost Future there is a very special story. Professor Layton, in fact, will receive a letter from his assistant Luke with a date of 10 years in the future.
Recall that the adventures of Professor Layton have already debuted on mobile devices. In fact, it is already available on both Android and iOS Layton: The Land of Mysteries, HD reissue of the game released on Nintendo DS in 2007. The title can be purchased on the Google Play Store and AppStore at a price of 10,99 Euros.
Also on the same stores it is possible to buy Layton: Pandora HD box, second episode of the series. The Lost Future, arriving in the next few days, is instead the third installment of the series, ready to arrive entirely on mobile devices in the coming years.
Discount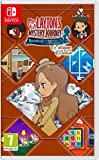 Layton's Mystery Journey: Katrielle and the Plot of ...
New Puzzles: This Deluxe Edition includes over 40 all-new puzzles and puzzles adapted from the version for ...
Improved UI and Graphics: The most important information for solving puzzles is now displayed on a ...
DLCs ​​Unlocked: Content previously available as paid DLC, such as "Dad's Nock" E "look outfits ...
39,99 EUR −28% 28,99 EUR Buy on Amazon TagsMobile games level-5 Professor Layton and the Lost Future Professor Layton and the Lost Future HD is shown in a new trailer