Insomniac Games has revealed that Prowler will appear in Marvel's Spider-Man: Miles Morales, a company that offered a first look at what the villain will look like in the game. Prowler is a villain commonly associated with Miles Morales, and while before today we had no indication that he would join the rest of the game's evil lineup, Prowler has now been confirmed to appear in Miles Morales when it launches next month. Marvel's official Twitter account tweeted about the character and included a photo of what he will look like in the game, and then Insomniac Games tweeted the Insomniac Games quote to confirm that.
Well it seems Spider-Man the Cat is out of the bag. https://t.co/ZzobA6Gls8
- Insomniac Games (@insomniacgames) October 27, 2020
Spider-Man Miles Morales, who is Prowler
As can be seen in the tweet above, our first look at Prowler comes through a look at the game, Creative Director Brian Horton's cover variant for the Amazing Spider-Man # 55 comic. Miles' spider thrill can be seen as Prowler, who is a few feet behind Miles, prepares to hit him. Fans of Spider-Man and Prowler will recognize the differences between this Prowler and the character's traditional and recent media appearances.
READ ALSO Netflix announces the arrival of a tv series on Assassin's Creed
This Prowler appears more militaristic in style and appears to have abandoned, or at least toned down, the purple found in Prowler's traditional attire or as seen in 2018 in Spider-Man: Into the Spider-Verse. This take retains the Prowlers insignia often seen on the character, except that it appears to glow green. Perhaps Prowler is powered by the Tinkererer, who is the main villain in the game.
More game details
We will all know soon when the title will be launched on November 12th. Join Miles Morales to discover his new and explosive powers, and the deep meaning of the role of Spider-Man. In the latest adventure in Marvel's Spider-Man series, the teenage protagonist tries to settle in a new neighborhood as he follows in the footsteps of his mentor, Peter Parker, as the new Spider-Man.
But when a fierce struggle for power threatens to destroy his new home, the aspiring hero realizes that great power comes with great responsibility. To save Marvel's New York, Miles must take up Spider-Man's baton and prove himself worthy.
Discount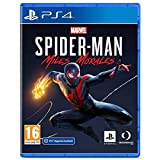 Marvel's Spider-Man Miles Morales - PlayStation 4
Marvel's Spider-Man Miles Morales - Solo su PlayStation
In the latest adventure in the Marvel's Spider-Man universe, teenager Miles Morales faces the move to his ...
Miles Morales discovers that he has explosive powers that set him apart from his mentor, Peter Parker. Master the Discharges ...
60,99 EUR −15% 51,55 EUR Buy on Amazon Tags Marvel Spider-Man: Miles Morales Prowler is Marvel's Spider-Man villain Miles Morales