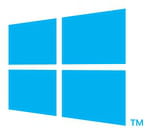 Introduction
Remove apps
Remove desktop programs
Introduction
There are two types of programs in Windows 8. Applications and Desktop programs.
Here is a method that explains how to uninstall these programs and desktop apps in Windows 8.
Note that they are launched from your home screen in the Windows 8 interface using small colored blocks. Below is an example: on the left of the screen, applications, and on the right of the screen, the small blocks are desktop programs.
Remove apps
To delete applications, simply hover your mouse over the application to delete, and right-click on it (keep it pressed if you are on a touch screen). A small menu will then appear at the bottom left of the screen:


Then click on "Uninstall", and confirm by clicking again on the "Uninstall" button which will appear in a window as follows: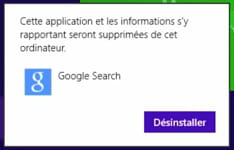 It's that simple, your app is now uninstalled.
Remove desktop programs
These methods do not apply on the Windows 8 start screen, you will first need to go to your desktop before performing the following methods:
Hover over the right edge of your screen until the menu appears, then press Search.
Enter "Control Panel" in the search box, then click to open it.
Under "View by:", select the view in Large icons.
Click on "Programs and Features".
Select the program you want to uninstall, then remove it permanently by clicking "Uninstall".