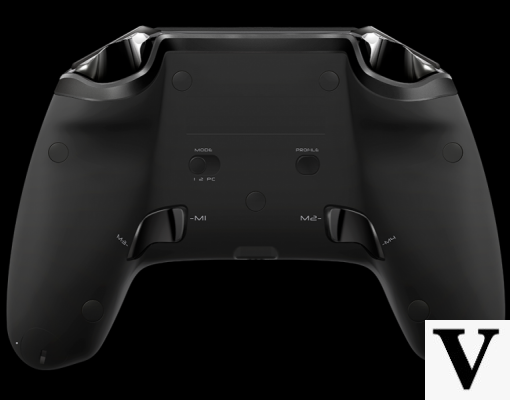 Nacon Revolution Pro Controller 2 comes out just 9 months after the previous model, bringing with it some pleasant news that should transform it in the short term into a perfect controller for official tournaments on PlayStation 4. To find out if it's worth buying, we mistreated it for a couple of weeks.
Same but not too much
A post shared by ??? Princess Castle ??? (@princesscastletv) on Sep 23, 2017 at 08:45 am PDT
If you are used to the DualShock 4 you cannot help but notice the total aesthetic difference between the two pads: on the one hand we have a slimmer and notoriously less ergonomic controller, while on the other we are faced with a device - Nacon Revolution 2 - that reminiscent of the much-loved Xbox controller. The new pad is thus more massive than the standard one but characterized by a great build quality and excellent materials; excellent then the general grip of the controller and the sticks, in addition to its weight, completely customizable thanks to the possibility of adding small metal cylinders inside.
To differentiate it from the DualShock there are also the keys that yes, they are almost the same, but they are much larger so as to facilitate the pressure. There is also a series of additional buttons located on the back, customizable thanks to the use of dedicated software.
Finally to change is the type of connection: Nacon Revolution Pro Controller 2 is not wireless but works great ad a sturdy USB Type-C cable about 3 meters long.
The software makes the difference
The great plus of this pad is undoubtedly represented by the possibility of configuring it to your liking. Thanks to the Nacon Revolution program, which can be downloaded for free from the manufacturer's website, you are free to change the layout of the controls, to set the sensitivity of the analogs and the backbones and to decide if you want a classic or 8-way directional cross.
[amazon_link asins = 'B0746PN4PZ' template = 'ProductAd' store = 'gamspri02-21' marketplace = 'IT' link_id = 'b100009a-a8df-11e7-b4d0-5f56aee5dd4d'] The pro gamers among you will appreciate the presence of profiles, which allows you to change the configuration in seconds to adapt the controller to the type of game.
Would you like to know more? Don't miss ours video review!
In the meantime, I remind you that Nacon Revolution Pro Controller 2 is already available on the market at the price of Euro 129.
Tagsgaming Nacon nacon revolution 2 revolution pro controller 2 review [Review] Nacon Revolution Pro Controller 2: is it the best pad for PlayStation 4?