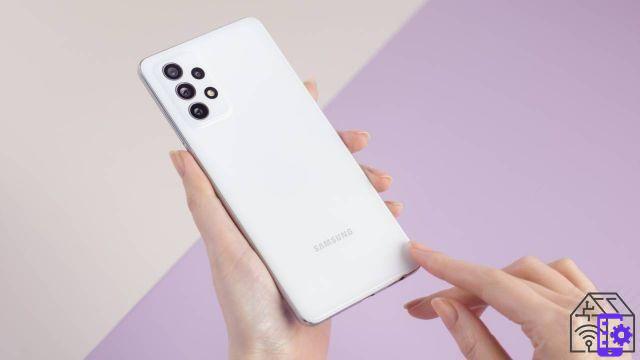 When we talk about Samsung smartphones, we generally refer to the Galaxy S series, one of the most popular and sold of the Korean brand. Such popularity often makes another important slice of Samsung's production go unnoticed, the series A Galaxy. A proposal economic and / or mid-range designed for all those users looking for a phone that has an excellent quality / price ratio. Do you also fall into this category? So here is an accurate guide to be able to figure out which model of the Galaxy A series is right for you.
Samsung Galaxy A: everything you need to know about the series
The Galaxy A series deviates from the Galaxy S for dozens of different reasons, but that doesn't mean it can't meet users' needs. To begin with, the A series models are equipped with some features that have now disappeared on Samsung's premium smartphones, such as the slot for microSD cards and jack per headphones. Secondly, it must be considered that the company adopts a different market strategy for its cheaper series. Therefore, not all models are available in all locations. We therefore suggest that you check the availability of the A series models in our country before proceeding with the purchase.
Beyond this, it is important to identify which model is the most suitable for you among the wide range offered by the company. But it won't be too simple, especially considering that the naming of the series' smartphones is quite confusing. In any case, all models are designated as "Galaxy A". It is then associated with the name a number representative of the line to which the smartphone belongs: the higher the number - on a scale from 0 to 9 -, the more performing the model is to be considered (or "Premium", if you prefer). After this first number, a second one is usually found, which reveals generating the device. For now, the highest number you can find is 3, which indicates the third generation smartphones of the A series.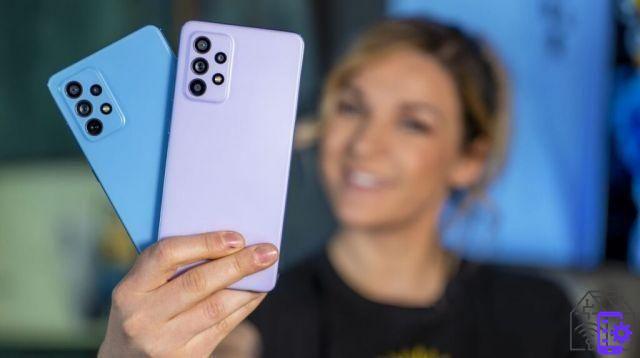 The Galaxy A72, for example, is a generation 7 phone of the 2 line, ie released on the market in 2021. An indication that can help you a lot in orienting your purchase. But that is not all. Sometimes Samsung releases "s" versions of its Galaxy A smartphones - like the Galaxy A03s -, which stand out for a more refined design and more updated software. Barely noticeable differences, which for the company have a different denomination. Beyond the name and some small features, however, the A series does not seem to deviate too much (or almost) from the other families of the company's devices. All Galaxy smartphones, in fact, are launched on the market with the same software One UI. And they all get very similar refresher programs.
This means not only that the operating system of a mid-range smartphone will be the same as a high-end one, but also that it will receive 2/3 Android updates e 4 years of security patch. An A-series phone released in 2021 with Android 11 will therefore receive updates up to Android 14. Just like a Galaxy S model. as fast as those of the Galaxy S and Galaxy Z series. With good reason, let us tell you. Since there are users who are willing to spend big bucks on their phones, it is only fair that they are among the first to receive software updates. Beyond this, however, there are no substantial differences in terms of the operating system.
All models of the A series from Samsung
To help you choose which Samsung Galaxy A smartphone to buy, we have decided to compile some of the distinctive features of the series models here. This will make it easier for you to understand which phone is really right for you.
Samsung Galaxy A7 e A5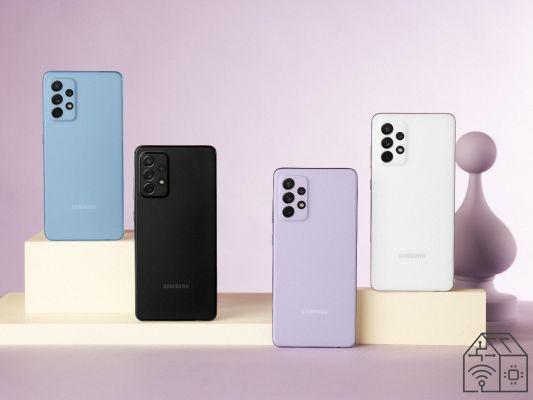 Despite Samsung released a Galaxy A2019 in 90, to date the 7 series is the premium line within the series. On the market are available for purchase on Galaxy A70 - with a variation A70s -, the Galaxy A71 - with a 5G version - and the Galaxy A72. All models characterized by excellent processors and displays, as well as by a truly remarkable photographic sector. However, these technical details also correspond to a rather high price. The A72, for example, is available starting from 499.90 €. A price that guarantees a smartphone equipped with Infinity-O display 6.7-inch FHD +, battery from 5.000 mAh and multi-camera system with 64 MP main camera. In addition to Android 12 support, of course.
In short, noteworthy features, which make us understand why the 7 series is considered the most prestigious. Below this we find the 5 series, which includes phones with mid-level performance and a somewhat reduced price. Among them, the Galaxy A50, Galaxy A51 and Galaxy A52, which boasts an "s" version. The latter, in particular, is the most recent smartphone that Samsung has released on the market. Distinguished by the support 5G, boasts a 6.5-inch Super AMOLED FHD + display and quad rear camera, with 64MP main sensor and 12MP ultra-wide sensor. They complete the whole one battery 4500mAh with 25W ultra-fast charging and support for Android 12. All at the price of 469.90€.
Discount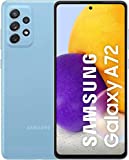 Samsung Galaxy A72 Smartphone, Display Infinity-O FHD+ da...
6,7 inch Infinity-O display: screen with FHD + Super AMOLED technology
Beautiful design: android smartphone with subtle curves and streamlined design. The reduced housing of the ...
Multi-camera system: superior quality photos thanks to the 64MP main camera that produces clear and ...
499,90 EUR −17% 413,82 EUR Buy on Amazon
Samsung Galaxy A4 e A3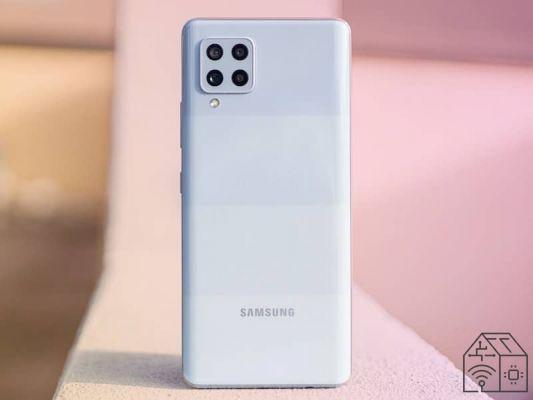 Let's take one more step back into the A-series model categories, and down to the 3 and 4 series, which stand out for low-end phones, just above the company's super budget devices. Broadly speaking, Series 4 includes the Galaxy A40, Galaxy A41 and Galaxy A42 - also available in the "s" version -. Among all, the A42 appears to be the newest model available on the market at the price of 489 €. A rather high figure for being an inexpensive smartphone, although perhaps it depends on the gigantic one battery from 5000 mAh, which is practically the same as the new Galaxy S21 Ultra - which instead starts at € 1459 -.
Series 3, on the other hand, includes the Galaxy A30, Galaxy A31 and Galaxy A32, of which Samsung has also released a 5G version. And the latter would seem to be the most appreciated by users looking for an economic solution that can guarantee good performance. Beyond the 5G connectivity, this smartphone also boasts a 6.5-inch Infinity-V display and a battery from 5000 mAh with 15 W Adaptive Fast Charging. Equally interesting is the photographic sector, with 48 MP main sensor, 8 MP ultra-wide-angle camera, 5 MP macro camera and 2 MP depth sensor. The price? Alone 299.90€ for one of the most incredible solutions of the entire A series.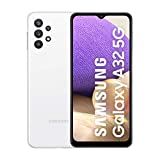 Samsung Galaxy A32 5G - Smartphone 128GB, 4GB RAM, Dual Sim,...
265,00 EUR Buy on Amazon
Samsung Galaxy A2, A1 and A0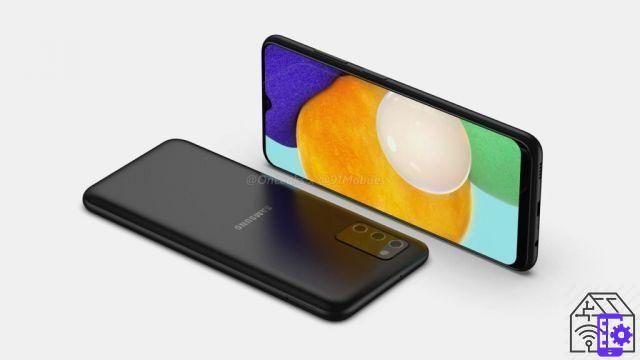 At the bottom of the list are the Galaxy A series 2, series 1 and series 0 models. Low end smartphone for all intents and purposes, equipped with essential cameras, low resolution displays and weak processors. Incredibly cheap, then. And this makes them perfect as a solution for a novice child or teenager with a phone, or for those who do not want to give up a second device available in case the first one should break. Among the models included in the cheaper lines of Samsung we have the Galaxy A22, Galaxy A13 and Galaxy A03.
Each of these comes at an incredibly low price, with the A03s model even starting from € 159.90. Yet despite being so cheap, the smartphone assures you of a 6.5-inch Infinity-V display, one battery from 5000 mAh with 15W charging and a triple rear camera with 13MP main sensor. In short, a technical equipment that is anything but evil for such an inexpensive smartphone. At this, then, you should have a clear idea of ​​the type of phone that best suits your needs. If so, all you have to do is proceed with the purchase!
Discount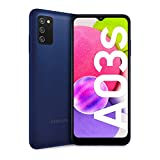 Samsung Galaxy A03s Smartphone Android, Display Infinity-V...
6,5-inch display: thanks to HD + technology, your content will always be at the top: sharp, brilliant and ...
Modern finish: Galaxy A03s combines a selection of classic colors with a pleasant texture to the touch. The lines...
Triple Camera: The 13MP main camera allows you to capture memorable moments clearly, ...
159,90 EUR −7% 148,90 EUR Buy on Amazon