Samsung QuickDrive washing machine review of the smart "little jewel"
Samsung QuickDrive washing machine review - After 10 years of honorable service I had to give up my old one washing machine. In its place I am now testing one of the models in the range Samsung QuickDrive (precisely the model with 10 KG load capacity - WW10M86INOA). But before telling you how it behaved during the very severe tests it was subjected to, I wanted to explain to you what are the reasons that made me lean towards this washing machine.
Samsung washing machines: many models, same functions
A small introduction before getting to the heart of the review. Samsung QuickDrive it is not a single product but is the name of an entire range of washing machines; washing machines which obviously share the same main characteristics. I opted for QuickDrive WW10M86INOA, which has a load of 10 kg, but there are also variants of 7, 8 and 9 kg. Also know that there are versions (like mine) equipped with Autodosatore, which means that you can insert large quantities of detergent and softener without fear: it will be the technology inside that will understand how much product is needed to obtain clean and fragrant garments.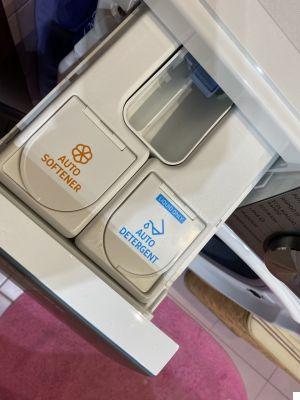 In any case, you can intervene manually to tell the washing machine how much product to dispense: minimum, standard or maximum quantity.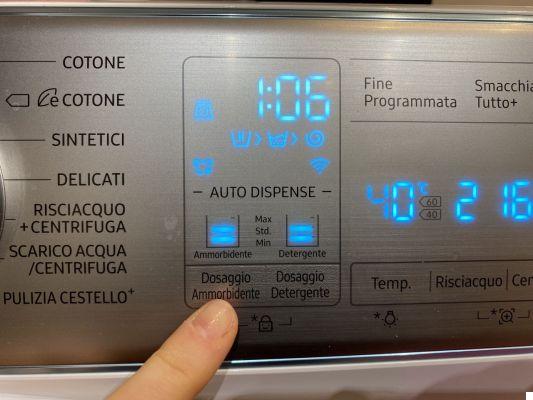 But let's put the differences aside and talk about similarities instead. Yes, because in reality the features that prompted me to choose Samsung QuickDrive can be found in all the models currently on the market: time savings, reduced consumption, the ability to add garments "on the run" and being smart.
1. Time savings
Like many of you, I lead a very busy life. I work a lot, I have little time for myself. What I have, however, I would like to make the most of it, worrying as little as possible about housework and optimizing times.
What does this have to do with a washing machine? Well, QuickDrive uses the technology of the same name to independently rotate the basket and its bottom. We therefore have a double movement that reduces the times by up to 50%. An element that is particularly useful also for those who, like me, are used to traveling a lot. In fact, a short time is enough to wash the contents of a suitcase and be ready to leave.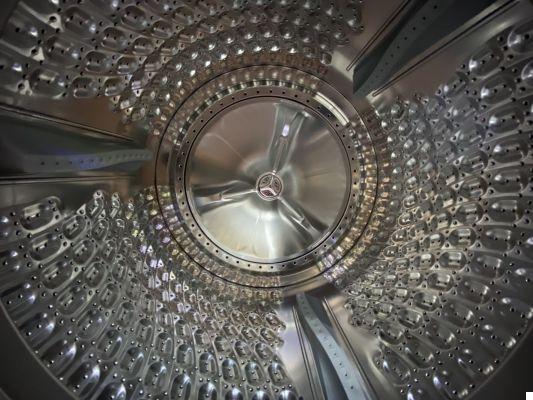 2. Reduced consumption (both of detergent and energy)
Another fundamental aspect is saving, both in time and energy. There Samsung washing machine QuickDrive uses technology Auto Optimal Wash to independently adjust the amount of water. In fact, on board we find a weight sensor that measures the load (just like a scale) to then adjust the water level and decide how much detergent is needed (provided, in this case, that you have an automatic dispenser). This allows you to consume only what you really need.
The Ecolavaggio technology, on the other hand, ensures effective cleaning even at low temperatures. In fact, the detergent is transformed into small bubbles that penetrate the fabrics quickly and remove dirt more easily. All this while protecting colors and materials and reducing power consumption. Don't expect to see bubbles (even the instruction booklet reports it). The bubbles are as subtle as they are effective.
Finally the washing machine has a energy classification A +++, the highest available on the market, and guarantees 50% savings compared to the competition.
3. I can add new items on the run
The innovative Samsung washing machine inherits one of the most interesting features from a previous model. I'm talking about AddWash. In fact, this time too we have a smaller door that allows you to insert new items during washing. All you have to do is pause the cycle, open the door you find inside the main door, add socks, T-shirts or anything else you have forgotten, close the door and press Play.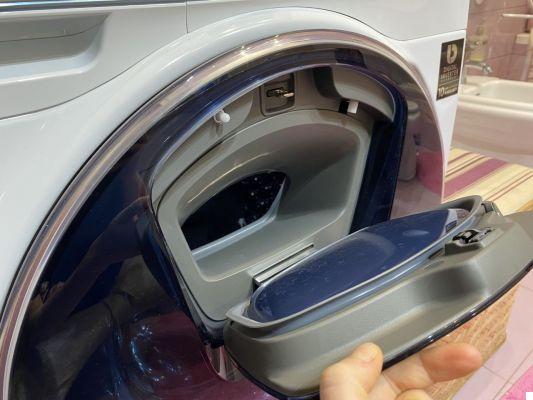 4. It's smart!
Like any self-respecting Princess, I love smart appliances, those that seem traditional in appearance but are in reality a concentrate of technology. There lavatrice Samsung QuickDrive it is from many points of view. The technology that saves time is smart, the one that detects the weight of the laundry to regulate water and detergent is smart, even maintenance is smart. Eco Basket Cleaning + cleans the inside of the washing machine, eliminating 99,9% of the bacteria responsible for bad odors. All this without additional chemicals.
And then there is you, the application. With SmartThings, the application of the Korean giant dedicated to the smart home, you have total control of your washing machine and you can use technology Q-rator. It is a virtual assistant that helps you find the ideal program without having any previous knowledge. You tell him what you are going to wash, indicate the level of dirt and then Q-rator will suggest the best parameters.
You can also use the application to start the wash cycle, monitor the status of the washing machine, program the end of the cycle or start diagnostics.
The installation of the washing machine
Don't despair. There is nothing complex about installing a washing machine. If you find yourself in trouble - pandemic permitting - you can always ask for the help of a specialist but in reality there is nothing complex.
Like any washing machine, you simply have to get help for the transport phase, the one that allows you to move it from the entrance to the bathroom / laundry. After that, you will need to remove the basket retainers and connect the hoses, the supply hose and the drain hose.
Samsung Quickdrive washing machine in super offer. Find out the details!
Samsung QuickDrive washing machine review: our tests
How does the lavatrice Samsung QuickDrive on the field? I would say in an excellent way. By now I have had the opportunity to use it on several occasions and washing anything: clothes, shoes, curtains, sheets… Really everything. On every occasion the laundry was clean and fragrant, without any streaks or residual stains.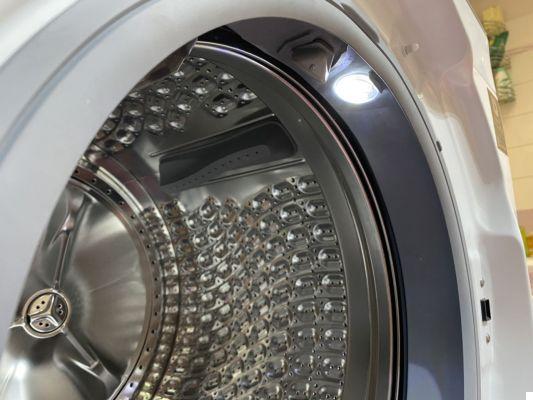 Inserting the garments in the basket is not difficult because it has a very large "entrance" and also because it has a small service light in case you decide to use it in the evening, so as not to have to turn on the light in the room.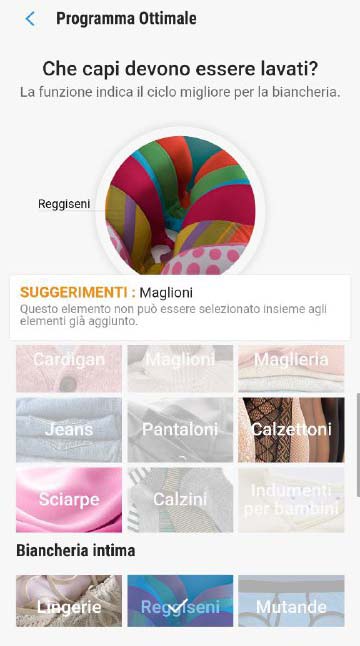 The smart features are the top. Q-rator it is really a lifesaver because not only does it suggest the most suitable program but above all it tells you which items you should never wash together. It practically avoids small disasters already at the root. Then if you want to dare, you are free to do it, but basically the application is so well thought out that for example it avoids having you put together underwear (perhaps bras with hooks) and other garments such as knitwear to prevent them from getting caught between them, doing so a disaster.
Also AddWash it turned out to be very comfortable. Forgetting to put something in the basket is very easy but with the additional door you can fix it in a few moments. All you have to do is pause the washing machine, open the AddWash door and insert what you have forgotten - and finally start the wash again. Even if the washing machine is full of water, not a single drop will escape because the particular shape of the door is specially designed.
Finally, and for me it is really an important parameter, I appreciated the quietness of QuickDrive. I didn't hear it at night, it didn't bother me during the day and it's almost hard to tell if it's working unless you're in the same room. In addition, it does not vibrate during the spin cycle, so you can place any kind of object on top of the washing machine knowing that it will be perfectly safe.
In fact, the information leaflet reports 49 decibels of noise during washing and 72 decibels during spinning. We have reconvened a little less. So promoted.
Samsung QuickDrive: Who is it for?
Samsung QuickDrive WW10M86INOA is the top of the range of this series and is sold at the recommended price of 1.699 euros. It must be said that at the moment it is in promotion on the Samsung website for about 1000 euros (with a saving of 600 €) and I confirm that it is a real bargain.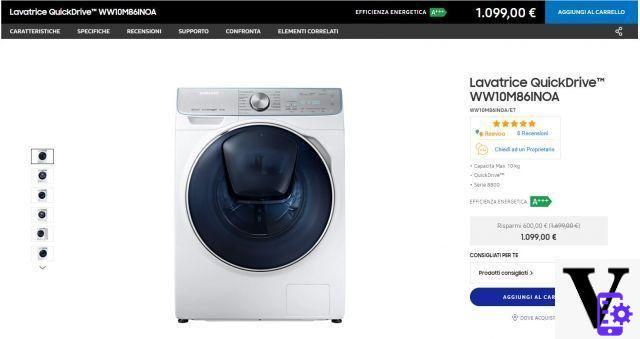 However, I would like to point out another important thing: there are models of washing machines - always from the QuickDrive family - less demanding if you want to save a little bit, all on offer on the Samsung website.
But who is QuickDrive suitable for? In my opinion it is perfect for anyone. It is convenient for a family that does a lot of washing and wants to save money, it is perfect for forgetful people who can use AddWash, it is also suitable for those who have just gone to live alone or for those who load the drum but then cannot find the right program.
The bonus? Aesthetics. In fact, Samsung QuickDrive manages to perfectly mix classicism and innovation. In fact, you find everything you expect and each key will seem extremely familiar but, at the same time, you will have the feeling of having made an important leap into the future.
Tagslavatrice samsung recensione Samsung Smart & Green Home 4.0 Samsung QuickDrive washing machine: review of the technological and super smart jewel | Smart & Green 4.0