SoundCloud is an online audio file discovery and sharing tool where users can communicate, share their music. It is a kind of social network around the music industry intended as much for small producers as for the most famous artists. It is possible to benefit from a free space and also to upgrade it to a paid account if you wish.

Create a free account
Other links
Create a free account
Soundcloud offers upon opening an account 180 minutes free to host audio files.
Of course you have to respect the copyright, otherwise they will scan the files and detect the different files protected by copyright.
SIGN UP
Sign in: registering can be done very simply through a facebook or google account. Otherwise, you just have to fill in the different fields.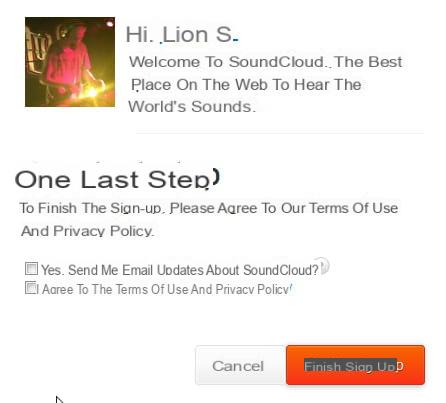 You can receive alerts by e-mail by checking the corresponding box.
Read and Check "i agree to the terms of use..." to finish., click on "Finish sign up"
LOGIN
Once registered, all you have to do is log in to access your personal space and display the account management bar:

The "Stream" tab allows you to browse the files uploaded by the people you follow, so as initially no friends, you will only have an empty page. You just need to add friends to see the shared audio files.

explore Soundcloud using the search with the keywords corresponding to your desire, styles of music. Add friends corresponding to your musical tastes.
Remarks
Soundcloud is more intended for the production of songs than for hosting mixes, which it often blocks due to copyright.
Instead, open a Mixcloud account which is intended for it and will scan the artist's songs in order to offer commercial links so that people who listen can get them through the mixes. The only major drawback is that it is much less crowded than Soundcloud.
Other links
How to properly promote your musical creations