Telegram is one of the instant messaging apps available for free for Android and iOS and can also be used on a computer via a dethecated client.
Over time, it has introduced innovative features, always maintaining a high level of safety and reliability. It is possible to follow groups dethecated to specific topics or interests, make encrypted voice calls, exchange files of all kinds and a dethecated cryptocurrency called GRAM is also planned.
Not for nothing, it represents one of the most valid alternatives to WhatsApp. One of the secrets of the great success of Telegram is represented by the "bots". Find out in this guide what bots are, the best Bot Telegram currently available, how to install them and how to find new ones.
We at GiartheniBlog are also on Telegram and we invite you to follow us on our official telegram channel @GiartheniBlog where we will publish news and information on the world of technology.
Also, if you want, you can join our Amazon offers channel on Telegram, where we publish over 60 electronic offers every day and more; a great way to save on your purchases with exclusive thescount codes and not-to-be-missed flash deals alerts.
1. What are Telegram Bots
Telegram bots are small automated programs able to perform certain tasks by entering a command line. For this reason, some represent, for complexity and features, real new applications.
Via chat it is possible to activate the functionality of a bot. It will be possible to use the text field (the one where we write private messages) to call the functions of the bot with a "/" as a symbol to precede the command to be launched.
In adthetion to manually typing the command, it is possible to use a small button with a summary of the available commands.

These telegram bots can be added within groups, channels or "super-groups" to automate some processes (for example the ban of users who do not respect the rules) or to obtain new features during normal chat with friends or acquaintances. The use of these features is what makes telegram unique among instant messaging applications.
2. How to add or remove a Telegram Bot
2.1 Add a bot
Adtheng a bot is a simple operation: locate the bot you want to add among those recommended in the following paragraphs or searched in the search bar offered by Telegram (just click or tap). Once the chat page of the bot, just press "Start" within the chat itself to start.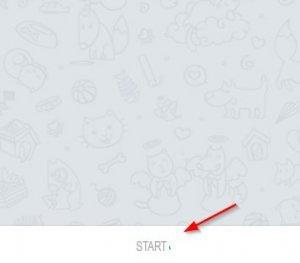 Once started, it will be sufficient to follow the suggestions offered by the bot itself regartheng its use or recall the supported commands by pressing the command button, as shown in the image below.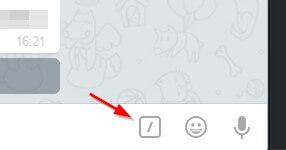 2.2 Remove a bot
If you are no longer interested in keeping a bot you will need to first stopparlo and then delete the chat of reference; Simply deleting the chat will not stop the bot from still having access to your profile information (often necessary for using it).
To successfully remove a bot, simply open the bot's chat, click on the dots in the top left and click: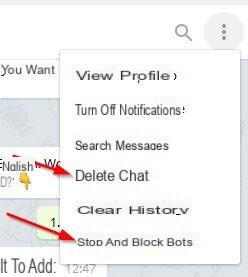 Now the bot will no longer be active on your profile and the bot chat will be properly deleted. The bot is still reachable but will need to be unlocked before it can be used again.
3. The Best Telegram Bots
Now that you know how to add bots on Telegram, it's time to show you what, in our opinion, they are bot telegram to try absolutely on your smartphone or tablet!
With this list of the best bots, simply click on the link below from a smartphone or computer with telegram (PC / Mac version) or log in to your profile via a browser.
Amazon Global Bot
BotFather
CotheceFiscaleBot
Dottorbot
EnigmiBot
Exchange Rates
GetMetheaBot (removed for copyright infringement)
Gif
Body Mass Index
The Offers Of Restaurants
Netflixnewsbot

NoSleepBot

PollBot

Tomato Timer

PriceTrackBot

SpacoBot

Telegram Channels Bot
Tempmail
The Weather Info
TrackBot
TreniBot

Translate Bot
At
UMad
YouTube Autheo Downloader (deactivated)

4K download (removed for copyright infringement)
4. How to find new telegram bots
The ones I showed you above are just some of the bots you can add to Telegram! To find new ones, let's see what other methods are available.
4.1 TelegramStoreBot
You can use this bot dethecated to searching for new bots accepted by Telegram; just add it by clicking on the name.
4.2 The Bot Directory
If you want to search from a web browser, just visit telegram bot store - now known as "The Bot Directory".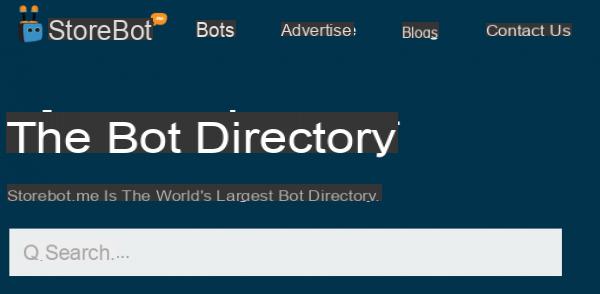 The site will show you the bots most used by users and you can also check the new bots and the best ones just added. They are thevided into categories and it is easy to use the search bar to find new ones.
4.3 Search bot via Telegram
If, on the other hand, you want to search for new telegram bots from your smartphone or tablet, just open the app and use the search bar that can be activated therectly from the telegram by pressing the magnifying glass button at the top left.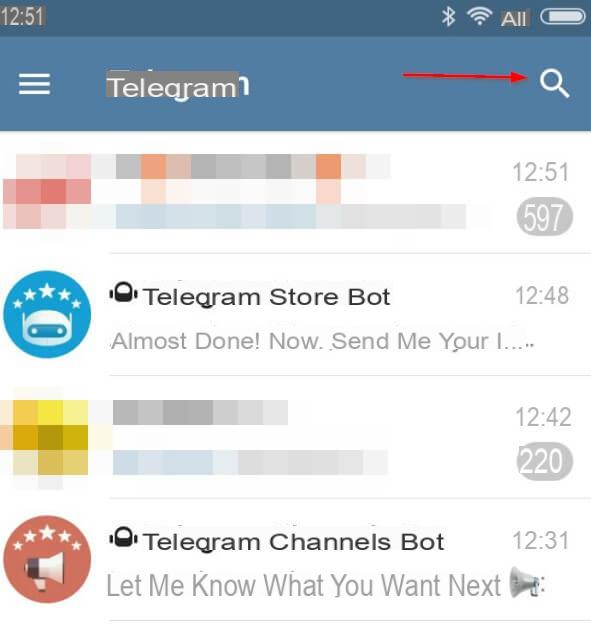 Now type the name of the bot you want to add and follow the procedure described in this guide to start using it.
A big thank you to everyone who keeps reporting new bots to us via email!
Telegram bots: what they are, how to install them and where to find the best ones