Telegram or Signal as alternatives to WhatsApp, which one to choose
What are their privacy policies? And how do they differ in use?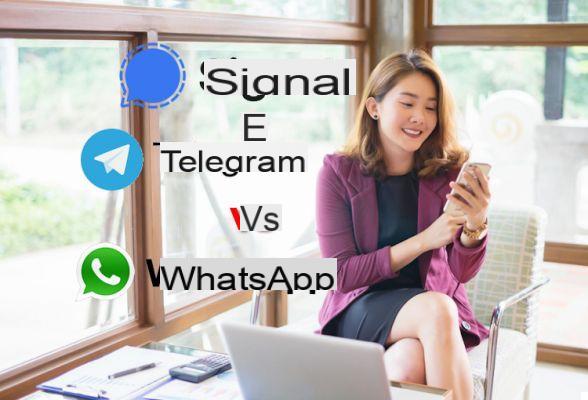 Switch to Telegram, or Signal, or stay with WhatsApp? In this article we will examine the differences between the apps, both from the point of view of respect for privacy, and in terms of general characteristics. And for those who want to get a quick idea, we will also show a table with the features in comparison of all three apps.
Following thead di WhatsApp regarding the upcoming changes to the terms of use, the two rival apps, Telegram e Signal, have seen a massive and sudden increase in their user base. Signal has exceeded 50.000.000 total downloads, while Telegram counted 25 million only in the first three days following the WhatsApp release, exceeding the total of 500 million.
But what was it, exactly, that prompted so many users to switch to other platforms?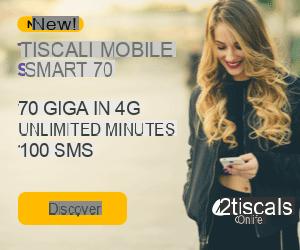 WhatsApp vs Telegram vs Signal: privacy comparison
First of all, a brief introduction on the three encrypted messaging platforms:
WhatsApp: is a free app for Android and iOS that also offers a web version for desktop use. Its use, however, requires that the smartphone version is active and connected to the internet. There is also an app, WhatsApp Business, which allows companies to stay in touch with their customers. In 2014 it was bought by Facebook for $ 19 billion.
Telegram: was launched in 2013 by the Russians Nikolai and Pavel Durov. It is currently available on multiple platforms, such as Android, iOS, Windows, Linux, and macOS. Users can use their account on multiple devices.
Signal: This app began to have some popularity in 2018, after Brian Acton, co-founder of WhatsApp, inaugurated the Signal Foundation, a non-profit association, and has invested heavily to develop the Signal app. Today Signal is a free, autonomous and open source platform available on Android, iOS and as a desktop app.
"End-to-end" message encryption
All three apps are famous for the type of message encryption used, called "end-to-end" (that is, the communication from one to the other is armored, preventing a hacker from intercepting it). It is the way this is implemented that makes the difference.
Su WhatsApp, for example, E2E communications and data remain encrypted, by default, when passing from one party to the other. WhatsApp uses the encryption protocol created by Signal (yeah)
Telegram offers optional E2E encryption, which by default it is not active. For the more technical, the app uses the MTProto encryption protocol based on AES 256-bit symmetric encryption, 2048-bit RSA encryption and Diffie-Hellman key exchange.
Signal uses its own encryption protocol, based on AES-256 and a number of other combined techniques by default. This protocol is also used by WhatsApp, as we have mentioned, and by Facebook Messenger, Skype and Google Hello.
Do you have to change your cell phone? Here you will find the best
Data backup
As for data backup, WhatsApp it does so both on the device and in the cloud (from third parties such as Google Drive or iCloud, where it remains unencrypted). Telegram it does it on the cloud it owns; its servers also contain the message decryption keys. However, secret chats are not backed up. The local database can (optionally) be encrypted with a password. Signal instead it only backs up locally. If you want to make an (optional) non-encrypted backup on the cloud, Signal deletes user messages from the backup by default.
Data retention
WhatsApp delete a message as soon as it is delivered. If it fails to be delivered, the message stays on servers for 30 days while the app continues trying to deliver it. The data is deleted after 30 days.
Telegram: the data stored on the Telegram servers are encrypted for an indefinite period of time.
Signal: no data is stored on their servers other than the technical information necessary to manage the service. It can only temporarily save end-to-end encrypted messages if they are not delivered.
And what happens with the advertisements?
The policy of WhatsApp in this regard is that it can share the collected data with Facebook for advertising purposes. Telegram does not use the data for advertising purposes, but plans to launch its own advertising platform. Signal instead it does not contemplate any form of advertising.
Access to user data
What data should you agree to share with these apps? WhatsApp, from May 15, 2021 (initially there was talk of February 8) will be able to access personal information such as contacts, status, location, logs, usage statistics, data that identify the device used and other sensitive data. This will happen, however, only outside the European area (as explained here , where it is also mentioned that WhatsApp has been sharing data with Facebook for some time). Telegram collects only the user ID, contact information and phonebook numbers. Signalfinally, it collects and stores the user's number and accesses their contacts to detect other Signal users.
Ok, now I'd like to know what Telegram and Signal have in common, and what they differ in
These are the characteristics common to the two messengers:
They are very intuitive to use
You can send messages to whoever is present in the Contacts of the mobile phone
An app is available for both Android and iPhone
You can also send messages from your desktop pc
You can create groups, and join them
You can make calls and video calls
And these, however, the "features" that distinguish them:
The groups: Telegram allows you to have up to 200.000 members in one group while Signal only 1000. Telegram allows you to mute a group, but there doesn't seem to be a way to do it with all groups with a single action; however, there is the possibility of silencing notifications from individual groups. If you are using Telegram and you are an administrator of a group, you can delete a message from a member of the group, deleting it for all members. This thing can't be done with Signal.
Chats can be highlighted both on Telegram and on Signal. Simply press and hold one of the chats, then click on the pin icon at the top of the ribbon menu. The chat will appear in a new section at the top of the chat list
Time of the last connection and online presence: they are only available on Telegram, on Signal it is not possible to know the time of the user's last connection, and not even if he is online or not.
Access to mobile number: Telegram does not ask for a mobile number. WhatsApp and Signal yes.
Read notifications: Signal has the advantage here, as it allows you to enable or disable read receipts and do the same thing with the typing indicator. So if you disable these two options no one will ever know if you have read his message or if you are writing one.
Folders: Telegram allows you to move them to folders, unlike Signal
Channels: with Signal you can create a group, or start a chat with a contact. The channels, on the other hand, are an excellent Telegram function that gives the possibility to send a message to all subscribers. So, from this point of view Signal is the same as WhatsApp.
The username: this Telegram feature avoids sharing your mobile number with anyone who chats with the app. With Signal instead you can insert a photo and your name and surname, but there is not exactly the idea of ​​a "username" to share with others.
Secret chats and self-destructing messages: on Telegram, a secret chat is a chat in which messages cannot be forwarded and where, if necessary, a message can be set to disappear, after a certain period of time, from the cell phones of the recipient. With Signal there are no secret chats, but you can set up messages that disappear. Messages can still be forwarded even with this feature enabled, though.
Animated stickers: on Telegram there are, on Signal no, but you can still send your own, in addition to the usual emojis.
Surveys: a function present only on Telegram, very useful if you manage a group chat.
Edit sent messages: it is possible to do it with Telegram, on Signal instead not at the moment.
Add a chat to your mobile home screen: you can only do it with Telegram.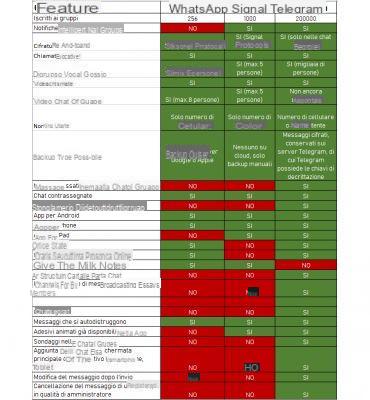 WhatsApp compared with Signal and Telegram. Who will you choose?
Conclusions
Are you still perplexed and do not know which app to choose to abandon WhatsApp? We recommend that you first get a general idea by reading the table above, and installing and starting to use both Signal and Telegram.
As we can see, it is obvious that Telegram win hands down in feature richness in comparison to the two competitors (and WhatsApp beats Signal, by the way).
Signal, however, it is superior in terms of security and privacy, even compared to WhatsApp, because despite using the same protocol for E2E encryption, it does not store any information about who is using it.
To you the choice.