The 8 best free offline GPS apps for traveling anywhere without internet connection
Beyond Google Maps there is more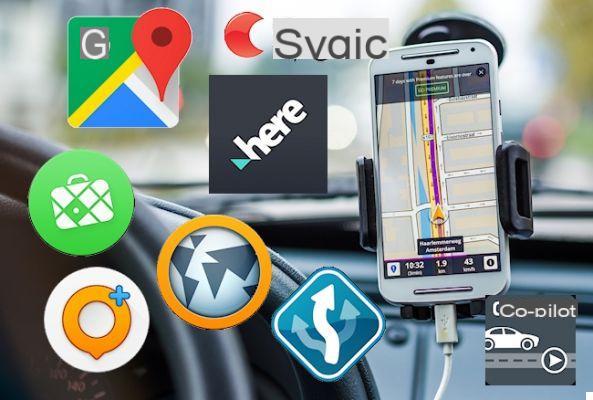 We already know that there are several satellite navigation apps for those who always have a data connection. What if we need a navigation app for a particular location and we have no connectivity?
Calls + Internet for ONLY € 2,50 per month? Are we crazy ??? No, it is the new offer from InformaticsKings Mobile! Click here to find out more
Offline navigation via GPS is absolutely essential for any map app. Practical uses? If you are in a foreign city and have roaming disabled, or if you are driving in an area with no coverage on a road trip.
Here are the best free apps for Android to navigate with GPS:
1) Google Maps
Google Maps offers a way to download and save maps of a certain region for offline use.
To download a map, tap the menu with the three horizontal lines in the upper left corner, then select Offline maps. Google will immediately recommend some maps to download based on your home and the places you frequent the most. You can also tap "Select your map" to download another area.
The maximum downloadable size is 2Gb, which equates to an area of ​​approx 320x200 Km . The app automatically deletes downloaded maps after 30 days without internet connection.
2) Sygic
Sygic is the most installed GPS offline navigation app in Play Store by Google. The company has an agreement with TomTom that allows it to provide offline maps for any country in the world.
Other noteworthy features include free map updates, voice-guided GPS navigation, and GPS navigation for when walking.
The app can even save you money: if you have an internet connection, it will automatically notify you of the nearest parking and petrol stations, as well as provide information on speed cameras.
Sygic offers a free and a paid version. The latter can be tried for 7 days after downloading it.
3) OsmAnd
It is another fairly popular app that works offline. An online mode is also available, for use when you have a reliable connection.
The GPS part of the app has several fundamental functions, including voice assistance, estimated arrival time, a day / night mode, itineraries recalculated instantly when you miss the intersection and cycle paths.
4) MAPS.ME
It is a completely free app that is worth considering.
In offline mode you have complete search functionality, voice navigation, route recalculation and public transport. ATMs, restaurants and points of interest are also displayed. If you're online, you can share where you are with friends, add bookmarks, and even make hotel reservations without leaving the app.
Maps are updated from OpenStreetMap and they are completely open source.
5) MapFactor GPS Navigation Maps
Another great navigation app for Android. At the first start it will ask you to download the maps to use offline (note that the app only works offline). There are over 200 downloadable maps, including 56 in Europe and 53 in the Americas.
The maps are organized by country, but sub-regions are available in areas with high population density. There are also speed cameras in some areas. Each map collects data from OpenStreetMap.
6) HERE WeGo
This app offers offline maps for more than a hundred countries. Maps include driving directions, public transport ticket prices, car sharing prices, and train and bus timetables.
When you type in an itinerary, the app compares alternatives by car, bicycle, walking, taxi and public transport to find the fastest and cheapest one. It is even able to notify if the route will have to be tackled mainly in the plains or at high altitudes.
Public transit information is available for more than 1300 cities around the world, including North America and Europe.
7) CoPilot GPS
It is an app that is aimed mainly at motorists, and not at those who prefer to move on foot.
Its specialty is route planning: for each route it offers three options. And for each of the three itineraries, up to 52 individual coordinates can be added.
CopilotIt also contains thousands of points of interest such as hotels, restaurants and ATMs that you can search for at any time.
8) Genius Maps
The free version of Genius Maps allows you to download offline maps and provides information on local points of interest.
If you want speech synthesis, automatic route recalculation, speed cameras and traffic news in real time you will have to upgrade to the Pro version (directly from the app).
Genius Maps are available for virtually any location on the planet, with Europe and the United States reaching 100% coverage.