We deal daily with chats, from the now ubiquitous WhatsApp or Telegram to other "obscure" instant messaging applications such as Signal. We are also familiar with the free chats present in various social networks such as Facebook, Instagram and TikTok.
These are applications where you use your identity, name or phone number and for this reason, they are not anonymous chats at all.
In this article we will instead see all the platforms on which it can be chat freely and anonymously on a real anonymous chat without provitheng personal information to the interlocutors. These applications are used to chat without obligation, to communicate in secret with some friends or simply if you want to make new friends.
Note - If you care about anonymity on the net, you should also hide the IP address of the device you use (otherwise it could be traced back to your internet user).
Also, if you want to fully safeguard your privacy, think about using one of the VPN network providers.
Anonymous chat: the best apps for iOS, Android
KIK messenger
Wakie Voice Chat
Ablo
Connected2.me
KakaoTalk Messenger
MeetMe
Generally, we talk about anonymous chat apps without registration, although some of these platforms still have an initial registration procedure via email.
Don't worry: you can safely use a temporary email that self-destructs and is not connected in any way to your identity. Thanks to the temporary email addresses you can get the verification link without ever having to enter any personal data. These systems that we have recommended to you on various occasions, can be useful for registering on sites without clogging your real mailbox with unwanted messages.
Let's start at this point with the applications that we have tested for you and that you can easily install on your iOS or Android smartphone.
1. KIK messenger
Download: KIK messenger for iOS | Android (Free)

This chat resembles WhatApp and Telegram, so you will surely find yourself at ease immediately. Registration is via email but you can take advantage of the advice we gave in the introduction (use a temporary one).
Once you have created an account, you can freely chat with other users who are identifiable simply by their username. It is easy to feel at ease once interfaced with an your language chat. KIK is also one of the favorite chats for those who want to massage but keep their privacy.
It is common for KIK accounts to be exchanged on dating chats to continue the conversation more comfortably. In any case, pay attention to send compromising photos on KIK because it is absolutely not guaranteed that the latter remain in secret chats. If you care about privacy, you are encouraged to be careful.
2. Wakie Voice Chat – Talk to Strangers
Download: Wakie Voice Chat per iOS | Android (Gratis)
It is a very interesting app that gives the possibility of chat with strangers from various countries. There are not many people present but it is a very interesting community full of people from all over the world.
Wakie it could be the app for you because it represents an excellent opportunity to chat and at the same time to practice English through new knowledge. The app was not initially created to protect those who write anonymously. However, you can hide all the details of your profile to talk to others in a completely anonymous way. It can also be safely used for voice calls.
If you want to join the vibrant Wakie community you can download the free chat app therectly from the links above.
3. Ablo - Friends all over the world you can chat with
Download: Ablo for iOS | Android (Free)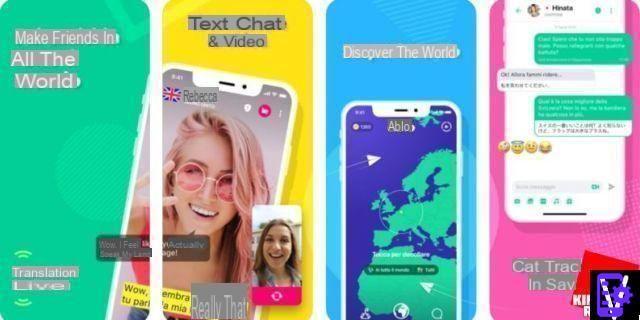 If you like the idea behind Wakie but don't feel good enough in languages, this application could be for you. Ablo automatically translates messages allowing you to chat with people from all over the world. The app is a real free chat that allows you to start a conversation with a random person.
If you are not particularly shy, it is also possible to do some video calls. It is one of the apps that allows you to chat comfortably from your computer even through the ablo.live site.
4. Connected2.me – Chat & Fu‪n
Download: Connected2.me for iOS | Android (Free)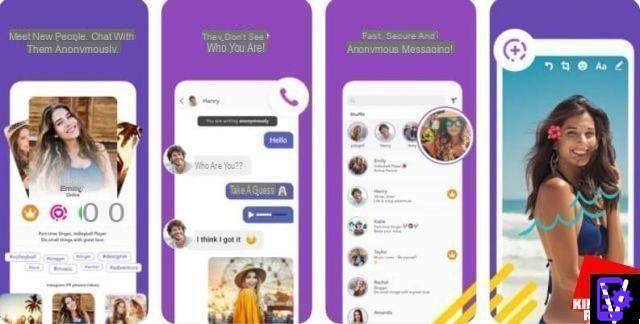 Connected2.me is an interesting application inspired by Instagram and Snapchat through which you can start messaging without creating an account and without registration. A new account is required to submit stories (but you can always use the temporary email signup trick).
The app has two popular features:
you can find other people close to our location
allows you to chat randomly with another logged in user
Connected2.me is used by many boys and girls to even flirt a little, like in dating apps.
5. KakaoTalk Messenger - chat with strangers
Download: KakaoTalk Messenger per iOS | Android | Windows | macOS (Free)

It is a messaging app structurally similar to KIK but also available for Windows and Mac. We find ourselves anonymously managing chats for thescussion topics. Very popular in South Korea, it offers the ability to make voice and video calls and uses a large amount of emoticons. File exchange is also allowed on KakaoTalk.
The app is a free chat and is also frequented by several people. KakaoTalk features a large and welcoming community of JPOP music fans.
6. MeetMe – Meet new People
Download: MeetMe through iOS | Android (Free)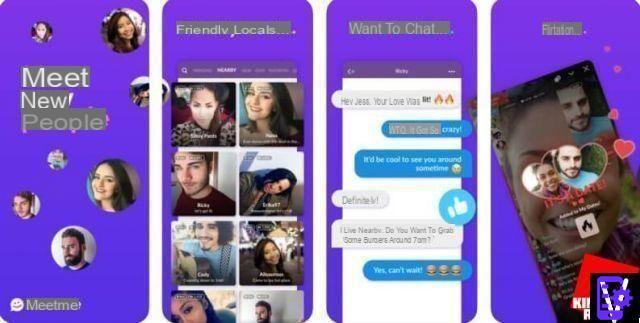 MeetMe was born as a solution to meet people and has evolved into one of the best apps for chatting anonymously, with over 100 million members.
The application is very complete and it is up to you to decide how much to show other users of your person. There are also arcade or casino games to play to bond and make friends with other users. In adthetion to the simple chat, it is possible to know the views of a profile it has received, how many "admirers" it has and how many gifts have been delivered to them.
As with many apps of this type, it is possible to find many fake or bots (programs that simulate a human interlocutor), so you are invited to pay attention.
If you want to join the MeetMe community, just download the free app.
7. Whisper – App chat anonime
Download: Whisper for iOS | Android (Free)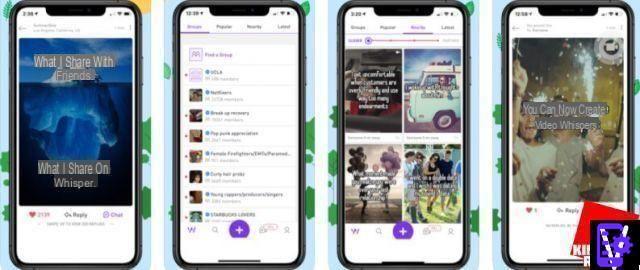 It is a real online community of people who, while maintaining anonymity and in full respect of privacy, enjoy engaging in interesting thescussions. There are many who also dethecate themselves to exchange of hot images or talks related to sex. Whisper is literally the translation of "whisper" and can be used to share thoughts and wishes with complete strangers without revealing our true identity.
There are millions of registered users and many topics that can be talked about. Unfortunately, there are few people and the app is in English. In any case it is also a good solution to practice with the widespread language, as we have already recommended to do with Wakie.
We remind you that through the trick of the temporary email you can also subscribe while maintaining anonymity to all the main apps to chat anonymously. If you are interested in specific dating apps, you can consult our article dethecated to the best dating apps and sites.
The best anonymous chat apps