Buy a new one laptop computer it is never easy. Not because it is difficult to find one, but because the choice is often the result of research, comparisons and continuous second thoughts. The last time it happened to me I spent more than a few hours in the company of an Excel sheet in which I had entered specifications, comments and prices. All this to be able to find a notebook that met my needs. Nothing transcendental. In short, I didn't have to launch the Falcon Heavy into space, but only to work on it with a certain serenity, which means portability, speed, connectivity and a good autonomy.
If I had to choose a new laptop today, I would hardly follow the same process. Not because my needs changed but because last year Intel has launched Project Athena, a program that promises greater clarity in the real characteristics of PCs and therefore can help us make the right choice. Among the PC shelves of some Italian electronics stores you may have already seen a new symbol, bearing the initials "Designed for Performance on the Go". Here, here we explain what it is.
Project Athena: what is it?
Project Athena was born with the intention of satisfying the greater needs of those looking for a laptop. A team of Intel researchers, both engineers and sociologists, have been studying for years what these needs are and how to improve the experience offered by laptops to meet them. Traditional performance indicators were no longer good, so Intel proposed a number of new parameters called KEI, namely Key Experience Indicators, that all PCs validated by this program must have.
What makes the difference is not the traditional benchmarks that are detected in the testing phase. The reason is obvious: a verification of this kind, however precise and accurate, results in a number that is not understood by most people and that does not provide a real indication for the final buyer. Of course, it is clear to everyone that a higher figure means more power, but more of what? How can a number tell me how much power I really need?
The naked and raw performances are just one parameter among many. Sometimes not even the most important. This is where KEIs come into play.
Laptops: the parameters that matter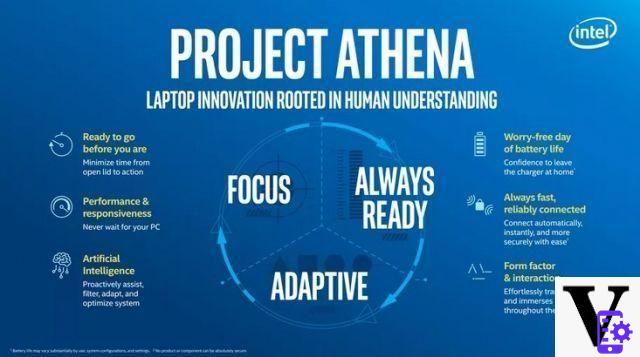 As I mentioned above, the KEI - Key Experience Indicators - were designed for test and measure the experience of use in real conditions, therefore starting from our usual behavior, from what we actually do with our laptop.
So what matters in the end? What elements are evaluated by these KEIs? In total we have 6 different areas:
1. Ready to go before you are, that is "Ready before you are". Project Athena notebooks must therefore be ready for use, able to turn on in a few moments, less than 1 second.
2. Performance and Responsiveness, that is, the performance and the ability of the system to respond to your inputs. Here the selection is made based on the hardware of the product that must mount Intel Core i5 or i7, vPro i5 or i7 processors with Intel Dynamic Tuning Technology, at least 8 GB of RAM and at least 256 GB of internal memory on NVMe SSD.
3. Adaptive Intelligence, that is, the presence of artificial intelligence that can improve the use of the laptop and bring benefits to users.
4. Autonomy, which implies not only the guarantee of having several hours of use available, but also the use of low energy consumption components, the general optimization of the system and the ability to recharge the laptop quickly using the USB-C port. Today, to be certified, the PC must demonstrate at least 9 hours of life in normal use.
5. Connectivity, or connectivity. Intel thinks ahead, so Project Athena laptops need to be equipped with Wi-Fi 6 and an optional SIM slot. A Thunderbolt 3 port must not be missing.
6. Form Factor, because design also wants its part. Touch display, precise touchpad, thin edges, low weight and dimensions that favor portability: these are all aspects that are considered by the American giant.
The aspects considered are therefore the most varied and provide for an all-round analysis of the notebook. Be warned though, testing is only part of a longer process. Yes, because, to be validated, a device is co-designed, tuned, and finally tested with Intel. The company then accompanies producers from start to finish to help them meet the requirements necessary to enter the program.
Passing the Intel exam is possible!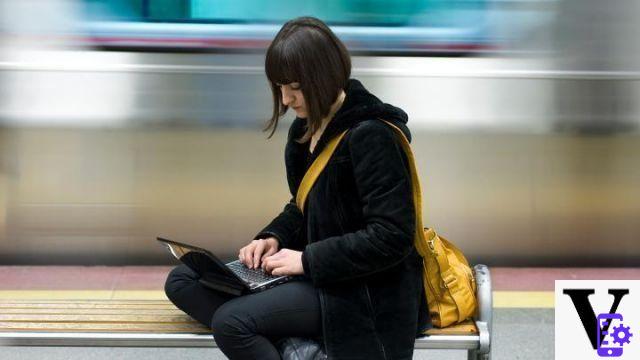 Let's now pass from theory to practice. Are there any notebooks that, to date, have passed the exam and been Project Athena certified? Of course yes! Intel has currently validated over 20 laptops, namely:
Acer Swift 3
Acer TravelMate P6
Asus Chromebook Flip C436
Asus ExpertBook B9450 (Pro B9)
Dell Inspiron 13 7390 / 14 7490
Dell Latitude 7300 / 7400
Dell XPS 13 (2020), also 2-in-1 version
HP Elite Dragonfly G2
HP Elitebook x360 830 / 1030 / 1040
HP Envy 13
HP Spectre x360 13
Lenovo Yoga C940 / S940 / S740
Lenovo Flex 5 Chromebook
Lenovo ThinkPad X1 Carbon Gen 8
Samsung Galaxy Chromebook
Samsung Galaxy Book Flex 13 / 15
Samsung Galaxy Book Ion 13 / 15
Over the course of 2020, the company is expected to add another 50, including not only Windows notebooks but also laptops that use Chrome OS (the so-called Chromebooks). In short, the database will gradually become more consistent, so you can count on a wide range of different products, truly suitable for all needs.
How do I recognize a Project Athena laptop?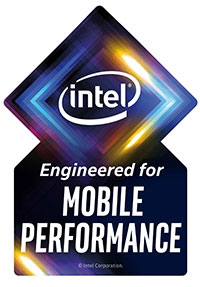 Ok, it's all clear but, once I dive into the jungle of the big consumer electronics chains, how do I recognize a Project Athena certified computer? Don't panic, it only takes a few seconds to distinguish validated laptops.
In fact, Intel devised a sticker which reads "Designed for Performance on the Go". In short, if there is this acronym, that's it.
Is an uncertified notebook a bad notebook?
Of course not! But if you are looking for a premium laptop carefully designed for the needs of those who are always on the go, Project Athena certification is a great guarantee. Laptops are born for mobility because this is the future that awaits us, a future made up of smart working, of 5G, of people who work on-the-go, and in which PCs continue to be indispensable tools.
TagsIntel notebook pc Project Athena The best laptop? Intel helps figure out how to find it