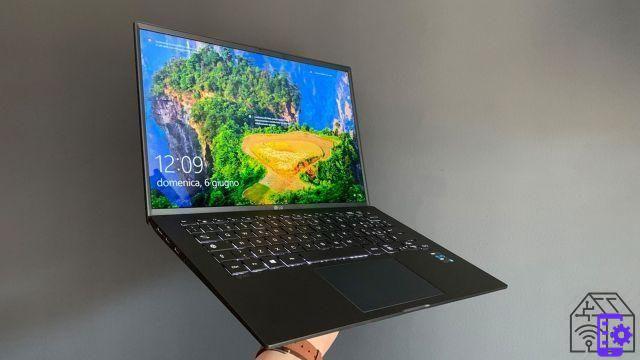 LG gram 14 2021 review
We had the pleasure of trying the ultrabook LG gram 14, in the 2021 edition: a laptop incredibly light - from here in fact derives its name - to seem almost fake. Even after days of use, you continue to be amazed at how lightweight it really is. This model is equipped with processor Intel i5-1135G7, 8GB of RAM and a 14 "IPS display with 16:10 form factor. Will we have liked it? Let's find out together in the LG gram 14 2021 review.
LG gram 14 2021 review: an extremely elegant design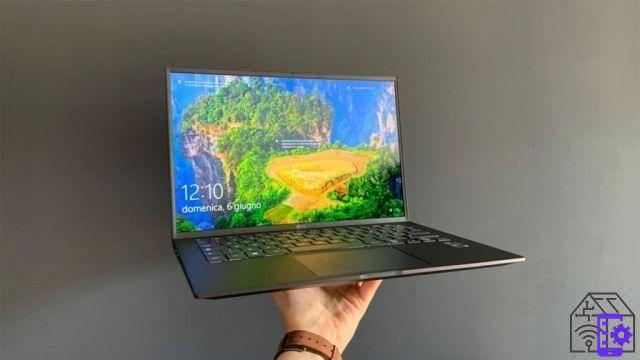 Starting immediately from the design, this LG gram 14 (14Z90P) is extremely elegant and sober. The whole body is made of magnesium alloy, which allows you to stop the weight just 999 grams: we will never tire of reiterating how light this laptop is. On the top we find the word "gram" and it is the only detail that interrupts the design of LG gram.
Unfortunately LG has focused on reducing the weight of this laptop as much as possible, putting rigidity in the background: the whole device flexes and not a little. When closed, by applying a little pressure in the central part, you can see how the whole body does not pose any resistance, as well as when open by pressing on the keyboard or the upper part of the touchpad. We feel it is a characteristic rather than a defect, but it is impossible not to notice it. LG, however, confirms that this model complies with the military standard MIL-STD-810G, so it should be quite robust and withstand drops.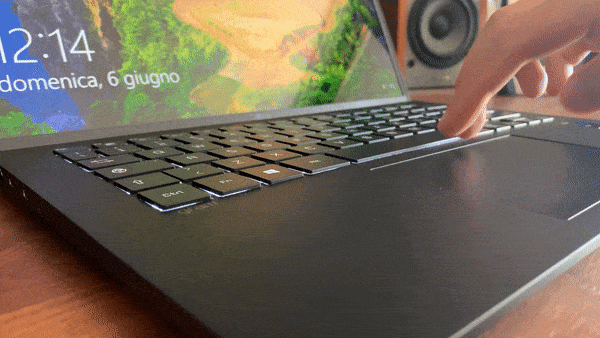 In any case, this LG gram 14 is very compact, thanks to the extremely narrow bezels around the display - which at the top house a 720p webcam - despite being slightly thicker than other models in the same category with its almost 17 millimeters.
Touchpad and keyboard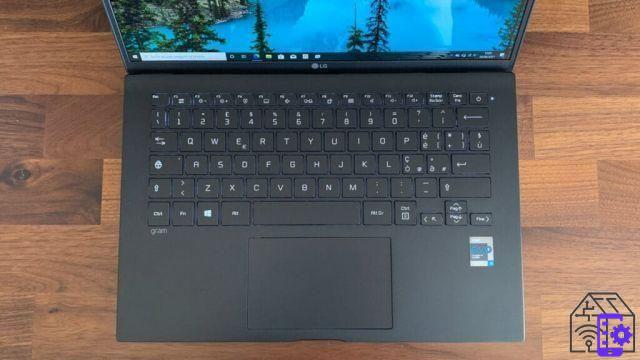 Compared to the last generation, LG has increased the size of the keys and their travel, from 1,5 to 1,65mm. The keyboard is really comfortable in typing, writing is quick and easy and the frets are just the right softness, with good tactical feedback. On the upper part we find the function keys, accompanied by the power key which also incorporates a fingerprint reader for quick access to Windows. The keyboard is also equipped with a backlight to facilitate typing even in poor light conditions.
Il touchpad is very accurate, thanks also to its width that leads it to measure about 11 x 7 centimeters. We found no problems in navigation and in the use of gestures and the touchpad in general, although we advise you to use the touch click, instead of physically pressing on the touchpad, since the frame tends to flex especially on the upper part.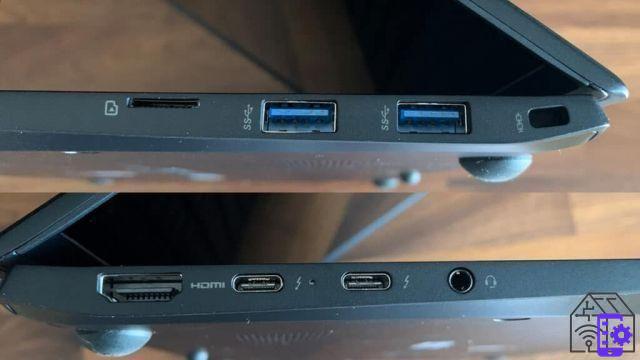 As for the supplied ports, LG gram 14 has everything you need in everyday use. It is in fact equipped with two USB-A 3.2 Gen 2 ports, one microSD card reader, one HDMI 2.0b port, two Thunderbolt 4 with 100W power delivery also to be used for laptop charging, e a 3,5mm audio jack port.
The display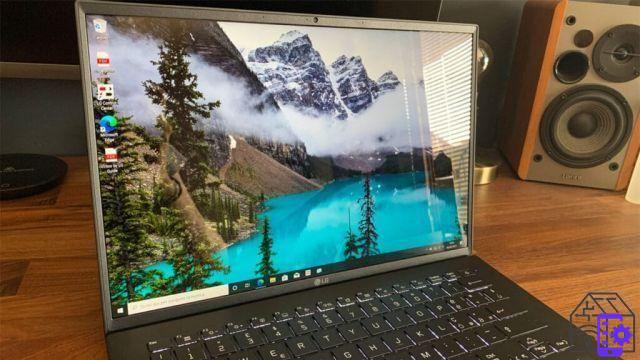 The display is a IPS from 14 '', with 16:10 format and 1920 × 1200 resolution. It's really sharp and well-calibrated, with 99% coverage of the DCI-P3 gamut, and the 16:10 aspect ratio lets you have more vertical space to boost your productivity. The brightness is average and outdoors it may not be enough, especially since the display is very glossy and consequently extremely reflective: we have noticed how this feature is much more pronounced than other models that are placed in the same price range. It's really a shame, thanks to its low weight LG gram 14 is intended to be used everywhere, but even with an overcast sky the reflection is rather annoying. Apart from that, the viewing angle is high and the color space coverage is optimal.
LG gram 14 2021 review: performance
This laptop is equipped with a processor 5th Generation Intel Core i11 with Intel Iris Xe graphics, to be precise a i5-1135G7. It is a processor with 4 cores and 8 threads, a base clock frequency of 2.40GHz that reaches 4.20GHz in turbo mode. The whole is accompanied by 8GB of 4MHz LPDDR4266x RAM it's a SSD NMVe M.2 with 512GB. In addition, this laptop is equipped with a free NVMe slot, so that you can install an additional SSD very easily.
We noticed that the supplied SSD is really performing, with fast read and write speeds. The laptop in general behaves well, does not heat excessively and allows you to carry out all the daily processes, even those a little heavier. There fan is not noisy at all, making it one of the quietest Windows ultrabooks on the market. To contain the temperatures, LG has decided to limit the power consumption of the processor via software, this slightly affects the performance of the Intel Core compared to other laptops equipped with the same processor: in any case nothing dramatic.
Autonomy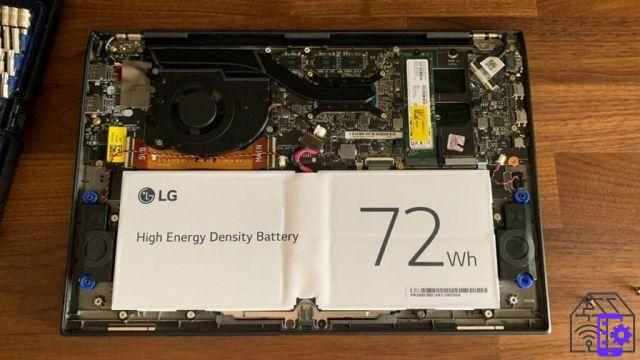 We have arrived at the real strong point of this LG gram 14, which makes it an excellent laptop to use on the move together with its featherweight: autonomy. L'excellent battery life it is given both by LG's limitation on processor power consumption, and by the large capacity of the cell inserted in the laptop. This is a good battery 72Wh, which allows you to reach 9 hours of autonomy during daily use consisting of web browsing, use of content, writing documents and a little photo editing.
LG gram 14 2021 review: buy it or not
We were really surprised by the lightness - only 999 grams - of this ultrabook, by the incredible speeds of the SSD with the possibility of adding a second, and by the long battery life. The display, indoors, is really great but it is too reflective on the outside and could be problematic for many people. Despite this, it is an excellent laptop, with good performance, extremely portable and we recommend the purchase: you can find it for sale in 1299,99 the euro is Amazon.
PRO
Excellent autonomy
Featherweight (999 grams)
Large touchpad and comfortable keyboard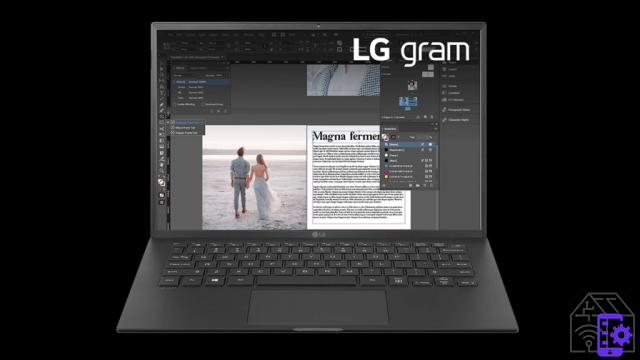 AGAINST
It flexes a little too much
Very reflective display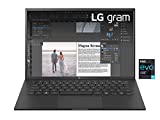 LG Gram 14Z90P, Display 14" Full HD 16:10 IPS, 1920x1200,...
5th Generation Intel Core i1135-7G11 QuadCore Processor (2.40GHz, Turbo up to 4.20GHz, L3 cache 8MB, TDP 28W)
Display 14" IPS Full HD 16:10 (1920x1200) DCI-P3 99%, RAM 8GB DDR4 (4266 MHz), SSD 512GB M.2 NVMe PCIe, Grafica Intel...
Magnesium alloy chassis and Nano Carbon for a solid and light structure
Buy on Amazon