After the incredible success of Lidl's shoes, which have been talked about for weeks, the German chain is now ready to launch a new product. And we are pretty sure that once again the social networks will not be able to help but let loose between comments and memes. In these days, in fact, Lidl presented its Christmas sweater, which will soon sell out in stores in Italy and beyond. This time, however, if you are not quick enough to grab the item of clothing, you can still wear the Lidl sweater in Animal Crossing.
How to wear the Lidl sweater in Animal Crossing
Yes, the German chain seems really intent on surprising its audience. After presenting the new Christmas sweater, Lidl now offers the possibility to wear it also in Animal Crossing. So, if you fail to buy it in reality, you can still celebrate by wearing one of the iconic garments of this holiday. To give you this possibility, the brand has shared the code to be entered from "Ago e Filo" in order to have the sweater.
Temperatures have dropped in @animalcrossing – and so has our Christmas Jumper ?
? MO-PLTS-4L5V-N1XR pic.twitter.com/4gUnjDh6gS
— @LidlGB (@LidlGB) December 3, 2020
We can't tell you if this is yet another right marketing move, but what is certain is that Lidl hasn't really been making a mistake in recent months. Despite being a supermarket chain, it has managed to immerse itself perfectly in the world of fashion retail. Indeed, like big luxury brands, it has even decided to use the world of gaming to be able to reach a larger slice of the public - assuming it needed it -.
But beyond the brand's marketing choices, what really matters is that we could all celebrate Christmas by wearing Lidl's sweater in Animal Crossing. On the other hand, given the restrictions of the new Dpcm, organizing a party on your island could be a valid solution.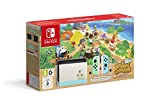 Nintendo Switch Special Edition Animal Crossing: New ...
The console with a unique design. A pattern on the back of the console and white Nintendo Switch base decorated ...
The bundle includes pastel green and light blue joy-con controllers with white backs, colored ties.
The bundle includes a download code for the Animal Crossing: New horizons game
465,00 EUR Buy on Amazon TagsAnimal Crossing animal crossing: new horizons lidl sweater Lidl The LIDL sweater arrives on Animal Crossing