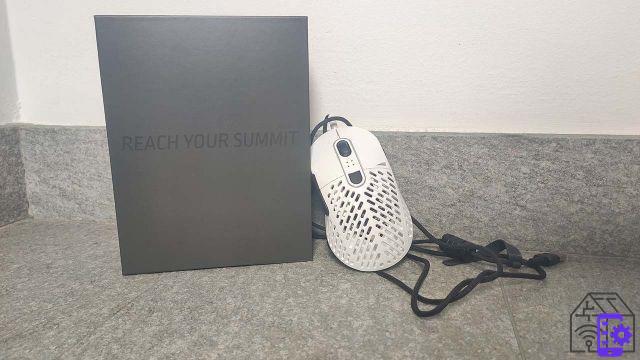 Makalu 67 cover review
The market is asking for the ultralight and the brands are taking action to satisfy every need. Not only are big brands adapting to the demands of the public, but newcomers are also looking for their place. For this reason, today, in ours Makalu review 67, we tell you the story of a ultralight mouse designed by an emerging brand: Mountain. This is a really new company, born in 2018, with an excellent start on Kickstarter. In fact, some of you will have already heard of it thanks to the creation of Everest, a keyboard with a mobile numeric keypad.
In anticipation of his arrival, let's analyze all the features of Makalu 67 together. It is a mouse with a "pitted" structure, weighing approx 60 grams sensore PixArt PAW3370, switch Omron and RGB LED lighting. Are you curious to know how he behaved? Let's see it in action.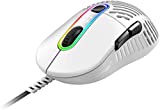 Mountain Makalu 67 RGB Gaming Mouse con design unico a...
PixArt PAW3370: adjustable optical sensor for gaming with resolution up to 19000 DPI
Ultralight ribbed design: a unique and very light design, created for the most intensive use
Individually customizable RGB lighting for the ultimate in style and elegance
71,14 EUR Buy on Amazon
Makalu 67 review: light and solid
Let's start ours Makalu 67 review with the analysis of his physical appearance. It is a mouse ultralight, with a very low weight of approx 67 grams. His lightness derives, in part, from hers perforated structure. The idea is not completely new, although the practical realization, on the other hand, is. We have, in fact, already seen some mice with a honeycomb perforated cover, but the Makalu 67 provides a patented structure called "ribcage". This is basically a particular union between the absence of material and the geometry, which it guarantees lightness, but also solidity, robustness and comfort.
The mouse presents soft lines, rounded on each side, not aggressive at all. The rounded surface guarantees aexcellent ergonomics general. The rear is well curved and guarantees a good grip claw e palm even for small hands. We have no rubber parts, yet the grip is good, thanks to a good recess in the side. We don't have too many buttons: there are the two left and right clicks, the wheel, the DPI button and the two side buttons. Their position is good and easy to reach during use.
On the bottom, we find the feet made of PTFE, always placed on a gruyere structure. Finally we find the cable, made of soft fabric, really great. Soft and flexible it is never too cluttered and allows us to move the peripheral in complete freedom. Obviously, there is no lack of RGB lighting that colors, however, only the base in which the wheel and dpi are placed.
Is the ultralight the right one for us?
Once the form and endurance tests have passed, it's time to to test the performance of the Makalu 67. During our review we decided to use it specifically on the battlefield. We are not new to the use of ultralights and, therefore, we have put a lot of stress on it. The first impact was great: The mouse is truly ergonomic. Its shape and lines make it suitable for claw and palm grips. Its comfortable, but above all light structure, it's perfect for long sessions. The product is very solid and sturdy, moreover, the lateral grooves give the right grip in the most excited moments.
Coming from a wireless mouse, we always have high expectations when it comes to mobility. Despite the Makalu 67 is wired, we did not find any particular impediments. The cable, in fact, is really light and flexible and, in some circumstances, it almost seems not to have it. This certainly plays a significant favor.
How long it has to do with its in-game performance, the mouse of the Mountain house did not disappoint us. He always answered in precise and punctual way, without missing a beat. The sensor is good, responsive and allowed us to take to the battlefield like our opponents. Lightness, mobility, precision: these are the winning features of this product.
We manage everything via software
While this is a fairly inexpensive mouse, we are faced with a complete software-managed solution. Base Camp is the program which allows us, in fact, to access all options and better customize our peripheral.
We have a fairly sober and easy to understand screen. Through the software we can change not only the LED lighting, but also the management of the keys. As with other competitors, through Base Camp, we can assign functions to the various programmable keys of our Makalu 67. Everything works perfectly, without hitches or particular difficulties.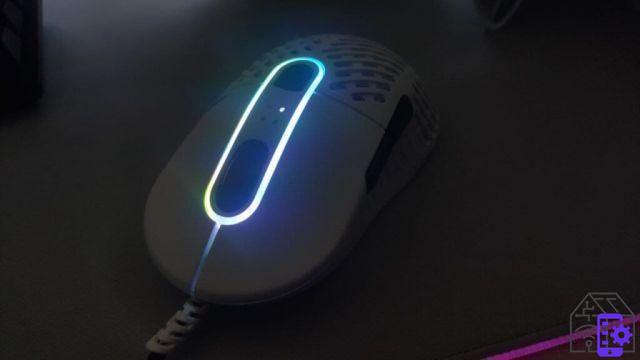 Has Makalu 67 passed our tests?
In light of all the tests carried out, we can only be more than satisfied with the Makalu 67 peripheral of the Mountain house. During our review we put stress on it in games and made use of it during the quieter moments. His responses have always been appropriate to the situation.
We like it to be light, we love that the its thread is not in the way, we like hers ergonomics. Using it is a pleasure: the grip is firm and it is easy to reach every key without effort. Also there robustness is a feature to be taken into consideration, not always valid in very light peripherals.
The only sore point is, perhaps, the total absence of a cover towards the innermost part. In fact, there are no membranes that protect the functional parts from the open structure. This could mean excessive accumulation of dust resulting in wear of internal components.
Net of this, however, we have a not too expensive mouse (about 50 €), solid, robust, precise and light.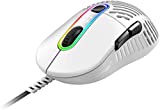 Mountain Makalu 67 RGB Gaming Mouse con design unico a...
PixArt PAW3370: adjustable optical sensor for gaming with resolution up to 19000 DPI
Ultralight ribbed design: a unique and very light design, created for the most intensive use
Individually customizable RGB lighting for the ultimate in style and elegance
71,14 EUR Buy on Amazon