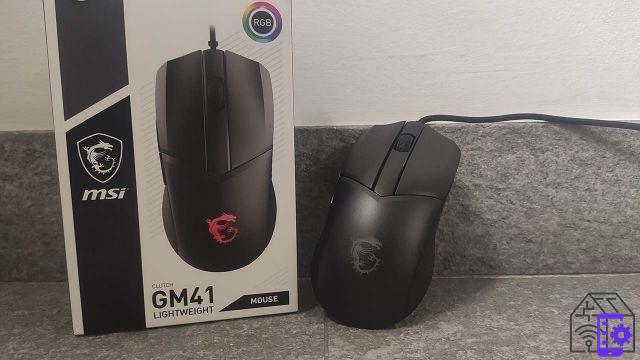 MSI Clutch GM41 review
The time for heavy and substantial mice seems to be over and MSI is ready to move on. In our MSI Clutch GM41 review, we tell you about the news ultralight just released by the brand. It is a wired solution weighing approx 65 grams. The price is not very high, approx €50, but the features are inviting. Few frills, a hint of enlightenment LED, grip laterale accentuated by a textured texture: these are the main characteristics, but how did it behave?
If you want to find out some more details about the new ultra-light MSI Clutch GM41 mouse, keep reading our review.
Discount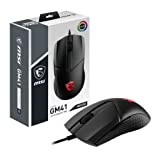 MSI Clutch GM41 Lightweight - Mouse Gaming simmetrico USB,...
Ultra-Light: Take to the skies with only 65g of overall weight. The structure carefully designed to be the most ...
OMRON switches born to last up to 60 million clicks
Very firm grip, thanks to the diamond-shaped anti-slip texture
54,90 EUR −38% 33,99 EUR Buy on Amazon
MSI Clutch GM41 review
Let's open our review of the MSI Clutch GM41 with the analysis of the aesthetics: the MSI home mouse does not show particularly aggressive traits or too particular shapes. It is, in fact, a mouse withquite common, although it is an ultralight. There shape is symmetrical, though it has nothing to do with exactly of one mouse per ambidestri (the lateral pulses, in fact, are present only on one side). The look is quite sober: we have a coloring total black, interrupted only by the logo MSI on the back, illuminated with i LED RGB.
MSI Clutch GM41 is made of black plastic, with a brushed effect, without any particular texture except on the edges. L'side handle, in fact, it presents a textured rubberized surface which increases its grip. On an aesthetic level, therefore, we have square shapes, but all in all simple.
However, we have not yet talked about size and weight. Although the mouse has no holes on the surface, the product ranks among the ultralight, thanks to a weight of 65 grams. As for the size, however, we find a peripheral enough compact on the sides, perhaps slightly long, ma perfect for claw grip and palm grip even for small hands. All the keys are easily accessible and the shape is designed to perfectly accommodate the handle.
Finally, a look at the cable: we find a sturdy thread made of woven fabric. This is quite rigid, offers an advantage in terms of wear of the product, but a disadvantage in use. On some occasions, in fact, it has proved to be a bit of a hindrance to the movement.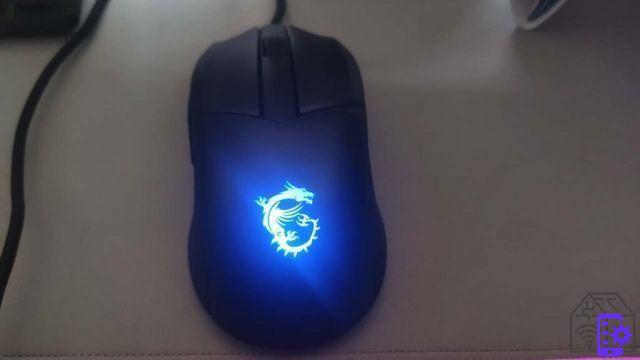 Let's talk about switches
The mouse MSI Clutch GM41 is equipped with OMRON switches which are able to last up to 60 million clicks. THE keys are sturdy enough and allow to have a good pressure on the switches. They do not move when pressed and do not move sideways, ensuring good feedback during use. The side keys also do their job well. These are buttons a little lighter and more sensitive, but still good. The wheel is covered with rubber and this guarantees a good grip. In this case, the click is less performing, which arrives following a very light pressure.
La peripheral has no other additional buttons on the front; on the back, however, there is the button for changing the PPE. This is always a special place to insert this key. On the one hand it is convenient if you are a player who does not need to constantly change the sensitivity in the game. On the contrary, it can be decidedly inconvenient if, instead, you need to change DPI in game.
MSI Clutch GM41 review: let's talk about sensor
The time has come to address the sensor issue in our MSI Clutch GM41 review. The mouse is equipped with a PixArt PMW3389, able to get up to 16000 DPI. Among other features we have a polling rate of 1000 Hz, a tracking speed of 400 inches / second and an acceleration of 50 g.
Good features on paper, but how he behaved in the game? The mouse has a shape mainly suited to shooter games where we don't need too many buttons. On these the performances are really good. The sensor is smooth and accurate and the tracking is good. We never got the feeling that something was wrong. Also keys respond well, do not show particular signs of yielding to pressure and indeed appear quite robust. In general, despite the low weight, the whole peripheral is sturdy and stable during the grip.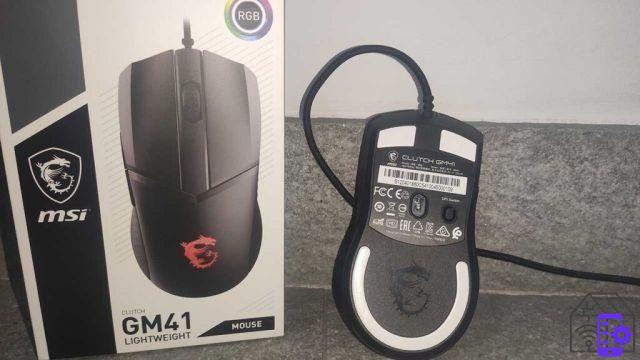 MSI Clutch GM41 in due parole
At the end of our MSI Clutch GM41 review, it's time to make a final judgment. Is it worth buying? It is a mouse not too expensive that offers good answers at stake. It is well suited to those who do not need a refined style, to those who mainly play FPS and want good ergonomics. It certainly does not suit those who need to have more keys on the mouse and it is not suitable for left-handers.
In short, a valid alternative for those who need a light mouse, without too many pretensions. A peripheral that does its job, without excelling too much, but without even disappointing.
Discount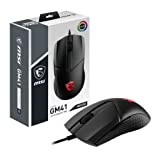 MSI Clutch GM41 Lightweight - Mouse Gaming simmetrico USB,...
Ultra-Light: Take to the skies with only 65g of overall weight. The structure carefully designed to be the most ...
OMRON switches born to last up to 60 million clicks
Very firm grip, thanks to the diamond-shaped anti-slip texture
54,90 EUR −38% 33,99 EUR Buy on Amazon
ALSO READ our review of the MSI Aegis Ti5