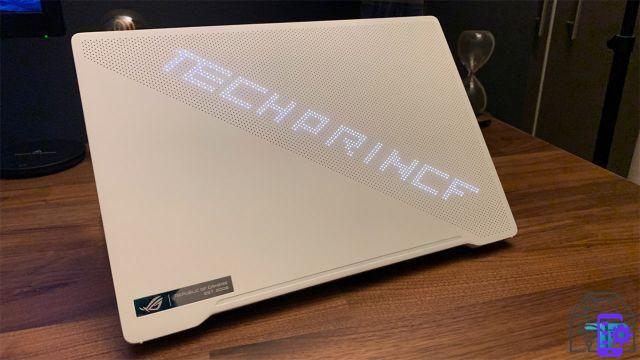 ASUS ROG at G14 is one of the latest gaming notebooks from ROG, compact but powerful. Presented at CES in Las Vegas, it immediately intrigued gamers for its extremely low form factor, almost unique. We got to try the version AnimeMatrix with LED backlight on the display panel, will we have liked it? Let's find out together in the review!
Asus ROG Zephyrus G14: a compact and refined design
This gaming notebook, as already mentioned, is incredibly compact. The small size, however, does not compromise its strength and build quality. A small detail that increases the quality of the user experience and that you notice as soon as you open the notebook is the solution ergolift, already seen in other Asus laptops, which raises the base of the Asus ROG Zephyrus G14 to facilitate writing and promote heat dissipation.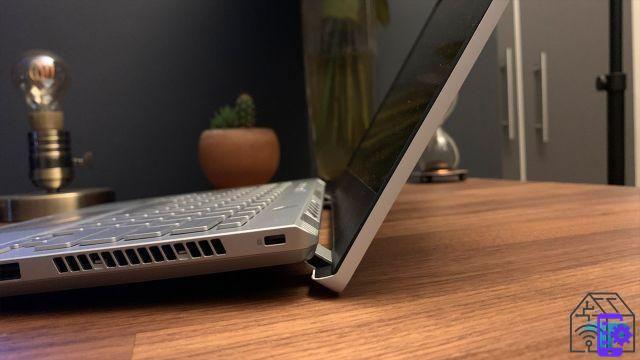 The shell is made of aluminum and magnesium alloy, which gives a feeling of solidity. Our color is silver and white, but black is also available on the market, more classic but less characteristic. Despite the color, the shell does not tend to get dirty, even after days of use in these very hot days. Behind the display panel we find the wow effect feature, a customizable AniMe Matrix LED backlight, which can show effects, notifications and information about the PC.

Touchpad and keyboard
The glass touchpad isn't an exaggerated size, but it is extremely comfortable and precise, features that allow a good use in everyday life. Going up, we find the keyboard, backlit (not RGB) and equipped with well-spaced keys that facilitate digitization. The keys are very soft, so you have to get used to them a little, but very quiet. Above we find 4 other keys that allow you to control the volume, the microphone and open the software Armory Crate which we will talk about shortly. On the right we find the on and off button, in which a fingerprint sensor, which allows you to quickly unlock the Asus ROG Zephyrus G14 through Windows Hello. The sensor is not very accurate, often there is a need to try to unlock it several times and sometimes we have had to enter the unlock PIN.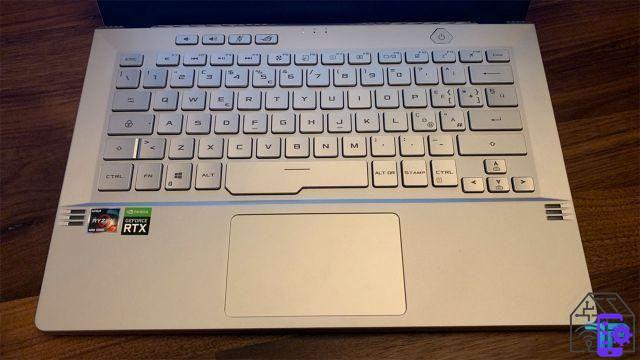 Speaking of design, it is important to clarify the lack of webcam. We understand that gamers prefer to use external webcams, which allow high quality shooting, but in our opinion an integrated solution would be useful, especially in such a compact notebook designed for mobility. Gamers might need to make a video call on the fly too, right?
The excellent build quality is combined with good quality speakers, hidden on the sides of the body and on the bottom. The sound is very loud and with good equalization.
With regard to ports supplied, on the left side we find the power input, an HDMI port, combo audio jack and a USB Type C 3.2 with power delivery and Display Port support. On the right side, however, we find another Type C 3.2 and two USB type A 3.1.

A great display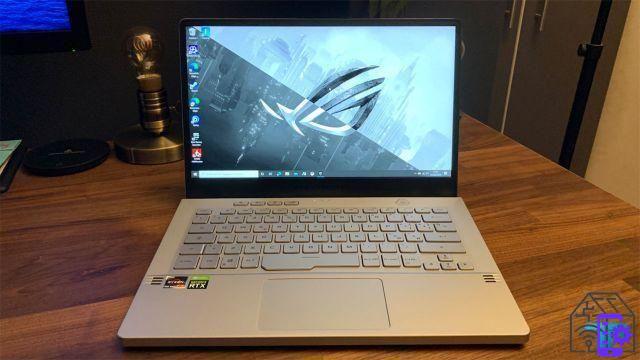 Asus ROG Zephyrus G14 with AniMe Matrix currently can be purchased in the version with 14 '' IPS FullHD panel and 120Hz refresh rate, but in the official data sheet there is also the FullHD model at 60Hz or with WQHD IPS panel with 2560 × 1440 resolution. at 60Hz. The panel is of good quality, with a matte finish that allows you to limit annoying reflections. The maximum brightness is 300 thread, not very high but still sufficient even on the brightest days. If you are a gamer, surely our advice is to choose the FullHD 120Hz version, which allows you to fully enjoy the quality of this display during your gaming sessions.
The performance of this Asus ROG Zephyrus G14
Our model is equipped with a processor AMD Ryzen 7 4800HS last generation. The CPU, which animates the whole, has 8 cores and 16 threads, a power consumption of only 35W and a clock frequency of 2.9 GHz that goes up to 4.2 with the turbo. All combined with the GPU NDIVIA GeForce RTX 2060 con Max-Q Design e 32GB di RAM. This notebook, despite its compactness, is really powerful and from the point of view of performance does not disappoint at all. Both in terms of video editing and gaming. Obviously for the heavier games you will have to compromise, lowering the graphics a bit.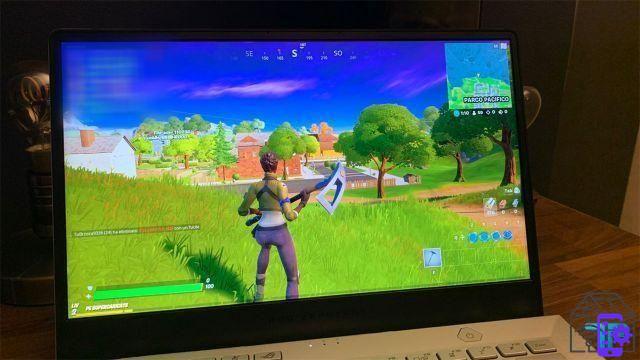 As for the temperatures, during the game phases the processor never exceeds 90 °, a sign of a 'excellent heat dissipation - as can also be seen under the body - and a good job from AMD. The sore point, however, especially during gaming sessions, is the body temperature which tends to get up easily, including the keyboard. Another sore point, continuing to talk about heat dissipation, is the fan noise. At maximum performance, the fans are very noisy, but there is no respite even in the quietest mode: in daily use you will constantly hear the noise of the fans, which could become annoying in quiet environments.
Furthermore, by opening the body, it is possible to notice how RAM and SSD are upgradeable.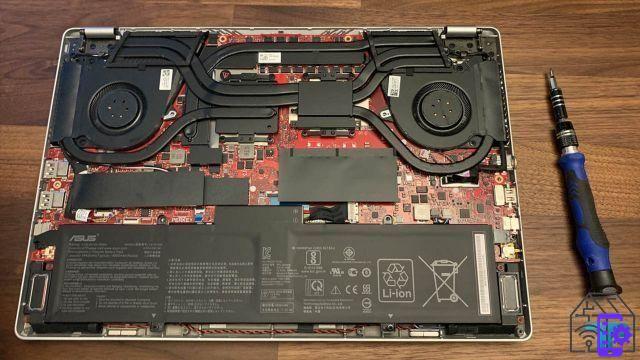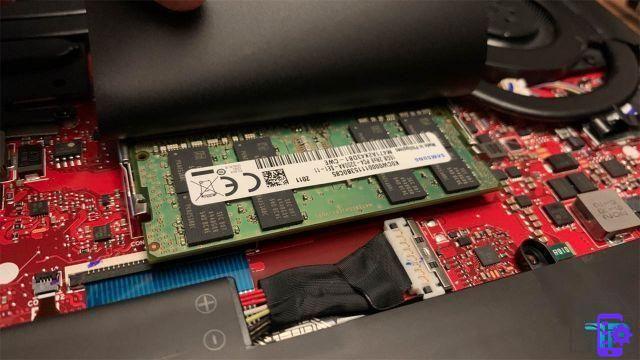 Armory Crate, the software that manages everything
To manage performance and energy profiles it comes in handy Armory Crate, which allows you to choose between 4 profiles: silent, performance, turbo and manual. This way you can customize the performance of the notebook. Of course, the software is not limited to just these functions. It is in fact possible to manage the settings of the LEDs on the outside of the Asus ROG Zephyrus G14, as well as synchronize devices equipped with LEG RGB and compatible with Aura Sync. There is also a game store: in short, a software full of features but which sometimes seems a little too complex and confusing.

Discount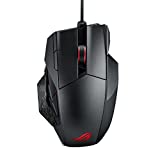 ASUS ROG Spatha Mouse Gaming Wireless, 8200 DPI, 12 knocking...
Greater flexibility - wired or wireless mode; Chassy in magnesium alloy
Built-in flash memory to save your favorite profiles, 12 MMO programmable buttons
Exclusive ROG interface for easy customization of buttons, performance and light settings.
169,90 EUR −16% 141,90 EUR Buy on Amazon
What autonomy!
One of the things that amazes the most is autonomy. Thanks to the low energy processor and the large battery, we have reached the 8 hours with office use, namely Office suite, web browsing, email management and some videos. During gaming, on the other hand, we arrive at about an hour and forty, considering the enormous effort of the processor and video card.
You cannot ask for more
In Italy our model, equipped with AMD Ryzen 7 4800HS and AniMe Matrix, is sold at the price of €1999. A good price for a powerful, robust and so compact laptop: with hardware like this it's hard to expect more. Especially considering that there is a lack of valid alternatives on the market, which offer the same form factor and these performances. So, despite some flaws, if you are looking for a gaming notebook that focuses on portability and performance we recommend the purchase of this Asus ROG Zephyrus G14.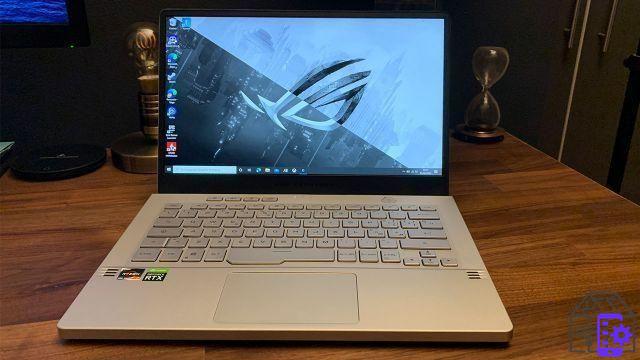 ASUS ROG at G14
Pro
Top performance
Excellent autonomy
Robust and compact
Cons
Absence of webcam
The body tends to heat up
Fingerprint sensor to be improved