Samsung Galaxy S21 arrived, even ahead of schedule. Historically, in fact, Samsung has always waited for the period of the Mobile World Congress in Barcelona to present the new top of the range of the S series but things have now changed. And so we are only in January and we already have in our hands a flagship renewed in design, performance and, of course, on the camera front. We tell you all the news in this one review.
The video review of Samsung Galaxy S21
Design
Performances
Autonomy
Camera
Samsung Galaxy S21: technical sheet
Conclusion
Samsung Galaxy S21 review
Samsung Galaxy S21 he is the baby of the family. Small in size - given the 6,2 ″ display - but also in price. However, remember that we are still facing a top of the range so do not expect a mid-range cost. Galaxy S21 is for sale at 879 € in the 8/128 GB variant as we go up to € 929 for the 8/256 GB one. Four colors available: Phantom Black, Phantom White, Phantom Pink e l'esclusivo Phantom Violet, flagship color of the S series for the year 2021.
Design
The latest addition to the Korean giant is inspired by the previous model but modifies its shapes, at least on the back. We have in fact lost the island module that housed the photographic sector in favor of a bumper that now merges with the metal frame. This doesn't take away the clutter but it definitely improves its appearance. Overall, in fact, we found it more pleasing to the eye and a little more contemporary. The front part, on the other hand, has not undergone any kind of modification. We have a totally flat display, frames reduced to the bone and a small central hole for the front camera.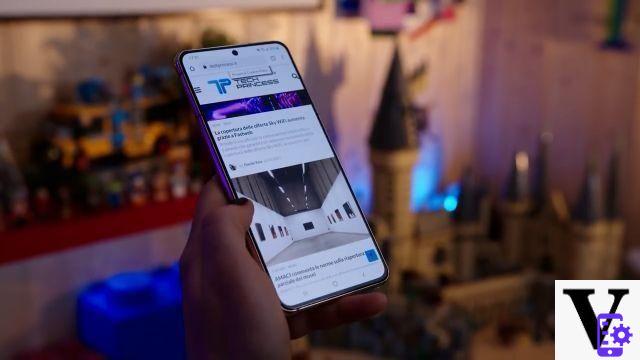 The screen is certainly one of the strengths of the smartphone. We have a 6,2 "panel with Full HD + resolution and especially an adaptive refresh rate. This means that it is not you who defines it but that, based on the content, the software will decide which is the most suitable one, going from 48 to 120 Hz. The advantage? A smoother user experience while saving battery.
Samsung Galaxy S21 review: performance
In recent years, Samsung has always marketed two versions of its high-end devices: one with Qualcomm's Snapdragon processor, destined for the American market, and one with its Exynos, distributed in the rest of the world, including Italy. A choice that the public has never particularly appreciated since the two chipsets affect the autonomy of smartphones in a different way: Exynos is more expensive and therefore makes the battery less performing, while Snapdragon is less energy-intensive and therefore US users always found themselves with a few more hours available.
Also this year the Seoul-based company made the same choice. Understandable on a commercial level, since Exynos is produced in house and allows Samsung to reduce costs, but not really appreciated by consumers. Don't be fooled though. Samsung Galaxy S21 is animated by the new Exynos 2100, precisely designed to solve this well-known problem. The result is a more performing processor, equipped with 5G support and less impacting in terms of autonomy. In short, consumption is certainly lower without compromising the performance of the phone which gets along very well in any situation, from work to gaming.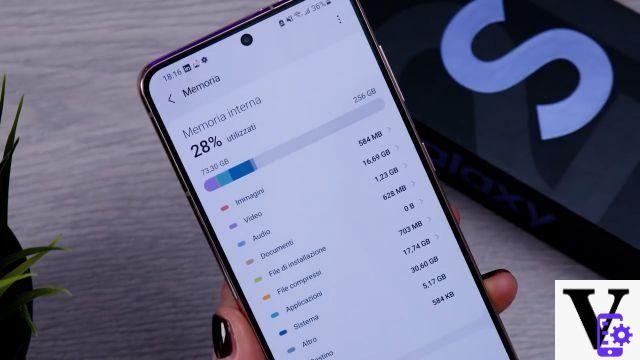 The other technical specifications are rather traditional: we have 8 GB of RAM and 128 or 256 GB of internal memory. However, there is a small change. The storage space it is not expandable via micro SD. A novelty at Samsung that was not welcomed with open arms by users. In our opinion, however, it is not a major limitation. Of course, not all of us use our smartphones the same way and those who focus a lot on photos and videos will be more in difficulty but remember that there is the good old Google Photo. In addition, the well-established collaboration with Microsoft brings OneDrive and 21 GB of free online space to the S5. Not very much but still a valuable help.
On the connectivity front, on the other hand, we have everything you need, obviously including 5G, while the software is Android 11 with Samsung's new One UI 3.0. The Korean company has worked a lot on interface and functionality but we're not just talking about macro-changes. Here and there we have found small changes that make it easier for those who are less familiar with the smartphone or the Galaxy world. The blue light filter, for example, is now called Eye Protectors. It seems like a small thing but, if you put yourself in the shoes of a less experienced person, you will realize how much difference it can make.
Great attention also to the privacy For years now Samsung has relied on a proprietary technology: Knox. At the beginning it was a way in itself, but today it is deeply integrated into the system to keep your data safe, also thanks to the presence of a tamper-proof secure memory. And if you are particularly attentive to privacy, know that with Samsung Galaxy S21 you have the possibility to delete metadata from photographs, that is additional information such as the place where they were taken.
Finally, the unlocking methods are promoted. You can have both face recognition and fingerprint reader below the display, larger than seen on the S20. Both systems work very well and can be activated at the same time.
Discount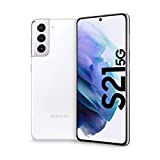 Samsung Galaxy S21 5G Smartphone, Charger Included, ...
64MP telephoto lens; 12MP front camera; 108MP camera; all the power you need for the best ...
Smartphone with 120-inch 2Hz Dynamic AMOLED 6,2X Display: Keeps the image bright and smooth
Galaxy S21 5G mobile phone comes with 4.000mAh battery, for an all-day charge
879,00 EUR −17% 727,26 EUR Buy on Amazon
Autonomy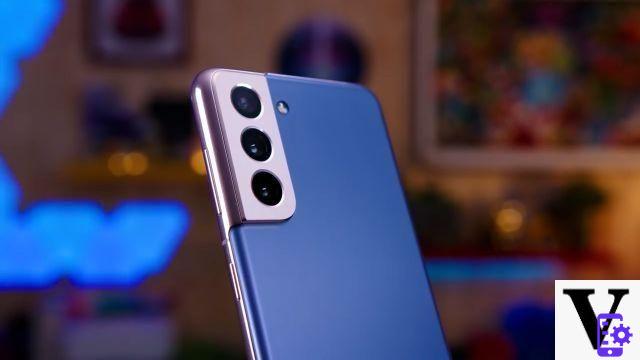 We have been using the Galaxy S21 for a few days and with average use we have it covered a maximum of 24 hours before you need to put it in charge. By exploiting it intensely, however, you will arrive at the end of the day without too much difficulty. The improvement over the S20 is therefore there and is palpable. Then consider that Samsung exploits artificial intelligence to study user behavior and better adapt consumption. However, you must give it at least 10-15 days to fully master your routine before you see this feature really at work.
Then there is an additional feature to help you, Adaptive Energy Saving. By activating it, the smartphone will be able to decide when to activate or deactivate the Energy Saving mode based on the type of use you do, so as to conserve more energy.
Speaking of battery, we point out that Samsung Galaxy S21 is the first smartphone of the Korean company to be sold without power supply. In fact, inside the package you will find only the USB-C / USB-C cable. The motivation is similar to that provided by Apple: to become greener. Here, however, the transition seems even simpler: while Apple provides a proprietary cable, Samsung has been using the now very common Type-C connector for years now. It is therefore much more likely that you will have at home some power supply already suitable for the purpose, without having to face a new expense.
Yes, not all chargers are the same. More Watts means more speed but the cable also makes a difference. Not all of them support the same potency. However, we are not talking about abysmal differences. It ranges from about 50 minutes to an hour and a half. If you usually recharge your smartphone during the night it will not change practically anything.
Samsung Galaxy S21 review: Camera
We come to what is probably the most awaited chapter of our review, the one dedicated to the photographic sector which on the S21 is composed as follows:
main camera from 12MP
ultra wide angle 12 MP
64MP telephoto lens with 3x hybrid optical zoom + 30x space zoom
front camera from 10 MP

What we find on board the new Samsung S21 would appear to be exactly the same module as the S20, but that's not quite the case. There are above all some software innovations that have allowed an increase in general quality, especially in low light.
The primary camera can rely on 12MP, Dual Pixel AF, large f / 1,8 aperture and optical image stabilization. The same resolution also for the wide-angle camera, while the telephoto lens can count on 64 million pixels, phase detection AF and 3x optical zoom. There is also the 30x Space Zoom mode.
The improvements we have found are evident in the greater detail engraving, excellent noise resistance and improved zoom performance. In general it remains the classic very saturated and very bright look of Samsung which you may like or not, but overall it is definitely about a great photographic smartphone.
As far as zoom performance is concerned, we appreciate the effort made by Samsung. If the S21 Ultra is yet another level in this respect, yesThe results obtained up to 3x are remarkable, but even when you switch to the digital version of the zoom up to 10x the quality is good. Part of the credit also goes to the integrated artificial intelligence, which will try to recognize the framed subject and better stabilize the image for sharper results.

Overall we are in front of a smartphone that offers good photographic performance with all the cameras available. The PRO mode, also available for the super wide-angle sensor, allows us to shoot in RAW and have even more information to work with in editing. As with the S21 Ultra, it is a shame not to be able to take advantage of this format even in automatic mode.
And the videos? Also back on Samsung Galaxy S21 l'8K a 24 fps. Compared to the past we have found it improved but still imperfect. However, we do not exclude future software updates that may enhance this format.
In the meantime you can "console yourself" with the great movies in 4K at 60 fps, a resolution finally supported by all sensors.
The most creative can then count on the new one Director's view. Galaxy S21 can simultaneously show you what different cameras capture. This allows you to check the shot first and then switch from one camera to another. Just like a director. It's not exactly a professional tool, mind you, but it could help you create more original and dynamic videos.
And if you want to improve the audio too, know that it is possible use the Galaxy Buds Pro (of which you can find the review here) as an external microphone. Probably not a feature that will interest everyone but if you want to launch into the world of vlog it could make a difference.
Samsung Galaxy S21: technical sheet
dimensions: 151.7 x 71.2 x 7.9 mm
Weight: 169 g
Display: 6,2″ Dynamic AMOLED 2X – 1080 x 2400 pixel – 48-120 Hz
CPU: Samsung Exynos 2100
RAM: 8 GB
Memory: 128/256
Network: 5G – Dual SIM
Connectivity: Wi-Fi ac, Bluetooth 5.1, USB-C, GPS, NFC
Battery: 4000 mAh
Rear camera: 12 + 64 + 12 MP
Front Camera: 10 MP
Videos: 8k @24 fps
Operating system: Android 11 with One UI 3.0

Samsung Galaxy S21 review: buy it or not?
There are two questions to answer at this point: 1) is it worth buying the Samsung S21? 2) does it make sense to switch from S20 to S21?
We naturally start from the first question. Samsung Galaxy S21 is a top of the range and yes, it is worth the amount required for the purchase. It behaves well in every situation and in addition it is a first step within the ecosystem of the Korean giant, an ecosystem that is now increasingly complete and intuitive.
Know that traditional buying isn't the only way to get an S21. In fact, you can rent it for a monthly fee, request the exchange of your old smartphone or pay it in installments using the partnership with Klarna. To find out more, you can visit the page dedicated to Galaxy S21 on the Samsung website.
This also applies to those who wish to upgrade from S20 to S21. In our opinion, the differences are not such as to force you to switch. In fact, there is not a huge generational leap and many software innovations concern the One UI 3.0, already available on the S20.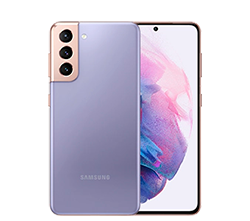 Samsung Galaxy S21
For
Contemporary design
Excellent build quality
Excellent display
Top-of-the-range performance
Further improved cameras
Cons
Tagsrecensione Samsung Samsung Galaxy S21 The Samsung Galaxy S21 review. A real top without compromise