Like a bolt from the blue, Sony officially announced the arrival of two new colors for the DualSense, the new innovative controller per PlayStation 5 arrived on the market together with the console. The two colors are added to the classic white of the DualSense which incorporates the color of the console itself. The two new colors are: Cosmic Red e Midnight Black.
The two new colors of the DualSense
A short trailer which you can see above showing the two new colors with the description: "Explore new gaming frontiers and light up your evenings with two new colors of DualSense wireless controllers inspired by the colors of the galaxy."
In addition to the new colors, the features of the controller are the same as the classic DualSense with lots of Adaptive Triggers, haptic feedback and all the innovations introduced with the current generation. It has not yet been revealed when the two new colors will be available on the market.
To find out all the technical and non-technical details of the DualSense, we invite you to read our review.
PlayStation 5 black (or red) coming soon?
The unexpected arrival of the two colors has rekindled the spirits of all those gamers who still hope for the entry into the market of a PlayStation 5 black. As you know by now, the current generation of Sony has abandoned the classic Black that, since the days of PlayStation 2, accompanied the design of the console to a brilliant white. The white of the console has also spilled over to the DualSense which makes it at least plausible hope for the arrival of a black or even red PS5 console.
Staining Cosmic Red is certainly the most unexpected and the most unusual in the Sony console family, what does the future hold for us? Would you like a version of the PlayStation 5 in these colors?
Discount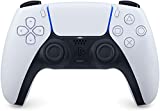 Sony PlayStation®5 - DualSense™ Wireless Controller
Discover a deeper and more immersive gaming experience with the innovative PS5 controller, featuring feedback ...
The DualSense wireless controller also includes an integrated microphone and "Create" button, which plug into ...
Enjoy different levels of strength and tension as you interact with your gear and environment in games. From the...
69,99 EUR −15% 59,22 EUR Buy at Amazon Tagsdualsense playstation 5 black PS5 Two new official PlayStation 5 DualSense colors announced