Writing an email, translating a sentence, taking notes, recording an appointment using your voice, these are some of the feats of voice recognition apps. Discover the most powerful tools available to the general public.
Google text-to-speech
Natively integrated into recent Android terminals, or available for free download from Google Play, the web giant's voice recognition application is one of the most powerful and above all the most complete on the market. Equipped with a voice synthesis engine, it has the particularity of being able to read aloud works downloaded from Google Play Books, as well as comments from the assistant for the visually impaired TalkBack. It also works with non-Google apps.
Once activated in the "Settings/Language and keyboard/Speech output/Google text-to-speech engine" terminal, it integrates into many of the company's applications. A microphone icon appears in all relevant applications such as the Google search engine, Maps, Calendar, etc. Special mention for the voice recognition integrated into Google Translate (also available on other mobile OS) which allows you to dictate words to learn their meaning, but also to listen to them to know their pronunciation.
Price: free
Compatibility: Android
Publisher: Google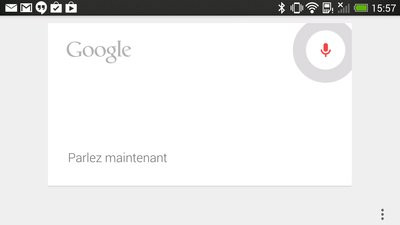 Apple Siri
We no longer need to introduce Apple's flagship voice recognition technology launched with the release of the iPhone 4S and integrated since then natively on the brand's mobile terminals. Well implemented, just press the "Home" button on the front panel for a few seconds to launch it. It is a fast and efficient system, provided you use it regularly and articulate correctly.
When you activate Siri, it asks you, "What can I do for you?" ". Concretely, you must address the application as you would with a person. The range of commands by voice is impressive: it is possible to make calls, send messages, set an appointment in your diary, find a restaurant or a cinema near you, do a search on the Web, check news, weather or sports results, etc. Note that the system also works with third-party applications and allows for example to tweet, update your Facebook status, or even share photos on Instagram.
Price: free (native integration in Apple mobile devices)
Compatibility: iOS 6 and later
Publisher: Apple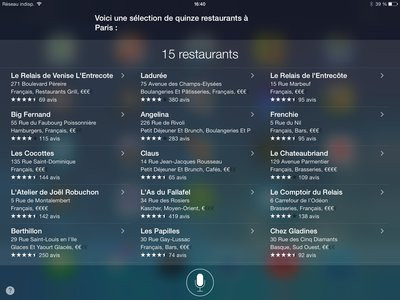 Dragon Dictation
Designed by the specialized publisher Nuance, the Dragon Dictation application is an essential reference in voice recognition, renowned in particular for its Dragon NaturallySpeaking software for PC. Dragon Dictation for iPhone and iPad is very effective at converting spoken sentences into text. When errors appear, the edit mode offers a list of handy alternatives to correct the text on the fly.
The text can then be edited in a note, an email, an SMS, or any third-party application by a rather rudimentary cut/copy system. In addition, the application allows you to update your status on Facebook, or send tweets always through voice. Compared to many competing apps like Siri, Nuance's voice recognition engine is much more effective at dictating long texts. For an optimal result, do not forget to dictate the elements concerning punctuation: comma, point, dash, line, etc. A must !
Price: free
Compatibility: iOS
Publisher: Nuance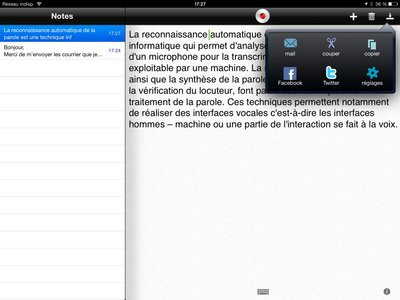 Voice Translation
In the era of globalization, translation applications abound in mobile OS application stores. Among those that offer voice recognition, many are very disappointing. Most of the translation apps offered on Google Play actually use the search engine's voice recognition engine. Google Translate remains without a doubt the best choice currently on Android. For iOS, Vocal Translation proves to be quite accurate, provided that you pronounce each word clearly and slowly.
In addition to a simple and efficient interface, it includes no less than 33 languages ​​including Chinese, Russian and Japanese. The translation can be done in both directions, by simply touching one of the two flags of the countries selected at the bottom of the screen. Provided you are connected via Wi-Fi or 3/4G, it is a particularly practical tool abroad to make yourself understood in a language you do not know.
Price: free
Compatibility: iOS
Publisher: Intellectual Flame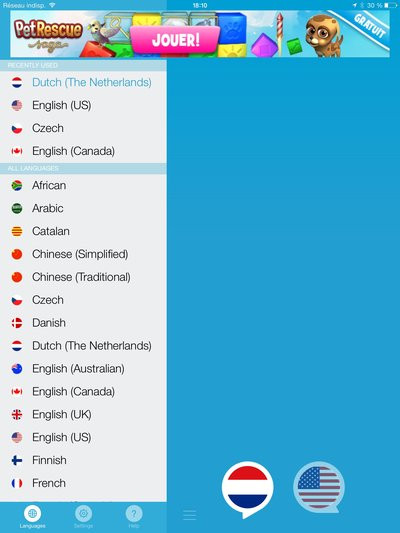 Conclusion
To take full advantage of the capabilities of voice recognition applications, it is essential to take the time to correctly formulate and pronounce each request. By regularly using an app like Siri, you get more and more relevant results.