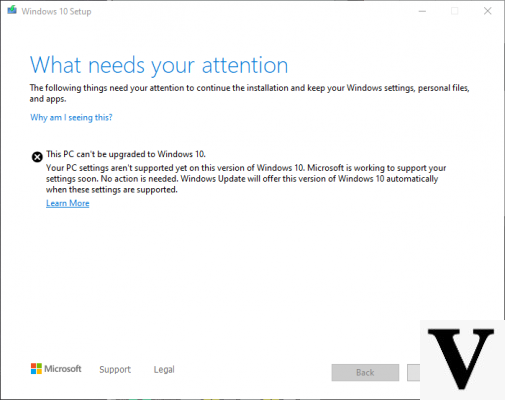 Specifically, these are the operating systems that will no longer be supported from December 9th:
Windows 10 Home 1903
Windows 10 Pro 1903
Windows 10 Pro Education version 1903
Windows 10 Pro for Workstations versione 1903
Windows 10 Enterprise version 1903
Windows 10 Education version 1903
Windows 10 IoT Enterprise version 1903
The Home, Pro, Pro for Workstation and IoT Core editions of Windows 10 version 1809 (also known as the October 2018 Update) will also no longer be supported from tomorrow.
Also read: Windows 10 20H2, this service causes forced reboots of the system
After that date, users using those versions will be forced to upgrade to Windows 10 1909 to keep up to receive security updates to protect them from the latest threats.
The update will be installed as a more classic monthly update, offering a faster than usual experience. Of course, it will also be possible to upgrade to the latest version available, Windows 10 20H2, being careful not to fall back among the devices affected by other types of problems.
Microsoft is also recently investigating a bug that leads to the known "blue screen" (BSOD) when users connect a Thunderbolt NVMe SSD. According to users, the reported error is "DRIVER_VERIFIER_DMA_VIOLATION (e6). An illegal DMA operation was attempted by a driver being tested. " Obviously, this bug only affects owners of systems equipped with at least an NVMe Thunderbolt SSD and, consequently, a Thunderbolt port.
Do you need a Windows 10 Pro license for your brand new gaming PC? On Amazon it is available for a few euros, do not miss it.
Windows 10 1903 retires, Microsoft forces to upgrade