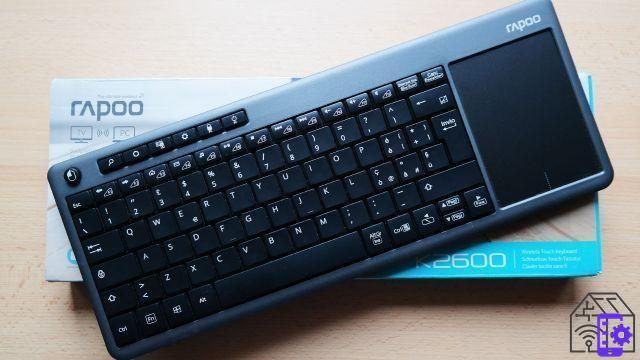 Rapoo K2600 it's an old-fashioned keyboard.
It is out of fashion because it integrates a touchpad, it is out of fashion because it does not light up immensely, it is out of fashion because it does not aim at gamers. In short, the choices made by Rapoo are definitely in contrast with what has been seen in recent months. However, this does not mean that Rapoo K2600 is to be discarded.
Portable is better
Rapoo K2600 makes portability its workhorse. The keyboard is in fact characterized by a minimal but above all compact design, which allows you to transport it without major problems. Not only outside the home, if you want to take it with you to the office, but inside the same home.
He also thinks about facilitating travel the total absence of cables. Rapoo K2600 is indeed a wireless keyboard, which uses the 2.4 GHz band to ensure a stable and robust connection even at a distance, as long as you do not exceed 10 meters.
What does it mean? Simple. Try to imagine all those times when you would trivially want to connect your PC to the TV to enjoy the joys of a bigger screen. With Rapoo K2600 it's child's play: connect to your computer the small USB receiver supplied and then you launch yourself on the sofa with your new keyboard. Simple, fast and very comfortable. You can do the same for the management of devices such as Google Chromecast. For example, I used this device to better manage the small Google device, without having to get out of bed to change the web pages to be streamed to Chromecast.
The importance of gestures
However, Rapoo K2600 does not stand out only for its ability to please the laziest of us. In fact, under the plastic shell we find the membrane, completely sealed, which ensures a long and happy life for the keyboard. The solution adopted by the manufacturer in fact avoids oxidation of the air in the internal silver circuit, thus preventing any malfunction of the keys.
Next to the good build quality, which allows Rapoo K2600 to survive wear, we also find two very popular functions: multimedia keys and gestures. The former are hotkeys that allow you to quickly access functions such as the media player, the homepage, search and volume adjustment, while the latter involve the trackpad and allow you to move easily within Windows 10, without therefore having to regret the classic mouse.
Let's not forget the Smart TVs
I had the opportunity to try Rapoo K2600 for several days and I must admit that it won me over a bit. Of course, it certainly cannot compete with the gaming keyboards I am now used to, with the creative solutions adopted by far more famous manufacturers and with the RGB lighting that now seems indispensable, but, on balance, it proved to be excellent in daily use, easy to carry and extremely versatile. Yes, because in addition to marrying perfectly with Microsoft's new operating system, Rapoo K2600 is able to communicate even with the most modern Smart TVs, so you don't have to waste time typing the titles of the movies you're looking for using an inconvenient remote control or the occasionally inaccurate voice search.
[