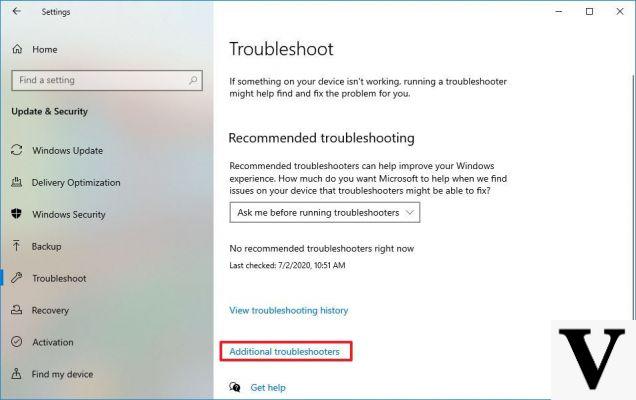 Also read: How to Download Windows 10 20H2
As often happens, especially in the first days of launching a new major update of Windows 10, some users may run into various problems that may concern both the installation, download or activation of the operating system itself, and real bugs triggered by of possible incompatibilities with drivers or applications already present in the system. In this article we give you some advice that will surely be useful in similar situations.
The most obvious, as well as important, thing to do is to use it integrated "Troubleshooting" tool of the operating system itself, which will automatically detect any anomalous situations and propose various solutions.
Other problems (0x8007042B or 0x800700B7) could be caused by some third party antivirus software, so Microsoft recommends them uninstall. Other similar errors may also be triggered by others third party security software which go to prevent updating to the new version of the operating system.
Recall that Windows 10 October 2020 Update requires at least 20 GB of available space, so we recommend that you first check if your head unit meets this requirement. Obviously, we also recommend checking if all the drivers related to the various peripherals and components of our system have been updated.
Furthermore, in case of serious problems, you can go back to the previous version of Windows 10, waiting for drivers and / or applications to be updated.
Do you need a Windows 10 Pro license for your brand new gaming PC? On Amazon it is available for a few euros, do not miss it.
Windows 10 20H2, how to fix some problems