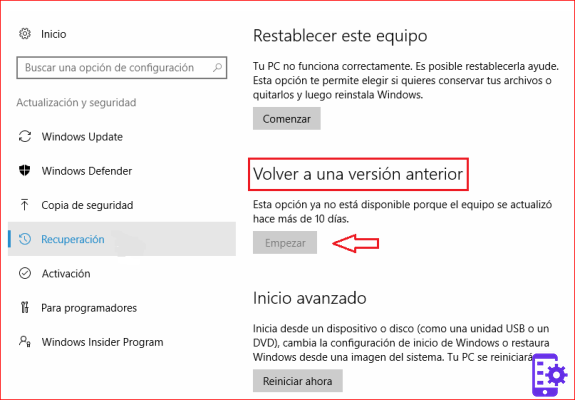 ---
Once you have followed the wizard to uninstall the update you will be asked to restart your computer. You will be officially back on Windows 10 2004.
Also read: Windows 10 20H2, a bug makes it more difficult to update
Windows 10 20H2 to Windows 10 1909 or earlier
The procedure for uninstalling Windows 10 20H2 in case of a full update is a little more complicated and requires a few extra steps. We remind you, as already mentioned, that it is possible to perform the rollback only within 10 days of the update, after which you will have to reinstall Windows 10 if you want to go back to a previous build.
Click on Home and open the System settings
Go to the section Update and security> Recovery
In the Go back to the previous version of Windows click the button Start (will be deactivated if more than 10 days have already passed)
You will be asked why you are uninstalling Windows 10 20H2 and then you will be prompted to check for updates to try to fix your problem
If you are not interested, click on the button No thanks
After the last warnings, the uninstallation of Windows 10 20H2 will start
Once the wizard is complete you will be forced to restart your PC and then you will find yourself in front of the build of Windows 10 you started from before installing the October 2020 Update.
Do you need a Windows 10 Pro license for your brand new gaming PC? On Amazon it is available for only 9,90 euros, do not miss it.
Windows 10 20H2, how to go back to previous versions