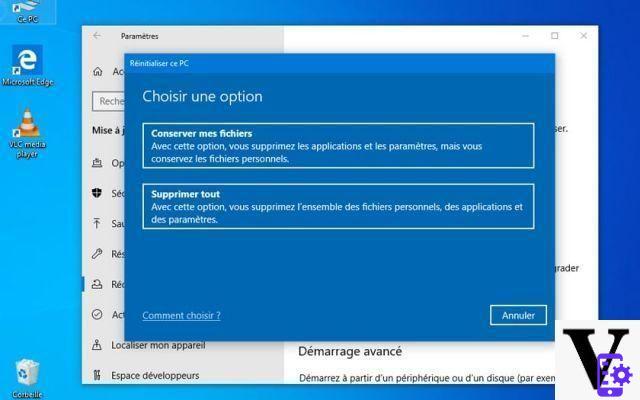 If you need to totally reset Windows 10, without erasing your personal data, here's how to do it. The operating system has everything you need to complete the operation without the hassle, in minutes and without the need for tons of additional software.
Your PC under Windows 10 starts showing signs of weakness ? The applications pile up, junk files clutter the hard drive and a good cleaning of Windows would be necessary? You do not know where to start to gain speed and efficiency with the operating system? The simplest solution is to reset windows 10. But how do you not lose your data in the process? The good news is that in Windows 10, you don't need to reinstall everything. The operating system offers precisely a function designed to reset the system in a few minutes. Applications are deleted and their settings are deleted, but your personal files are kept. And ni clé USB ni DVD start-ups are required. Everything is done from the OS, without bootable media.
Before you start, and as a precaution, nothing prevents you from keep your most valuable files safe in case things go wrong. We have never encountered the slightest problem with the procedure described below in 5 years of existence of Windows 10 and with more than thirty reinstallations on our various stations on the counter. But if you have really sensitive files, you might want to be careful. To back up your data, nothing could be simpler. They are theoretically in the files Documents, Pictures, Music, Video… You just have to copy and paste them on a medium other than C :. A recording on an online storage space like those offered by OneDrive or Google Drive is a perfect solution. Otherwise, if you do not have enough space on your Cloud (free limited to 5 GB on OneDrive or 15 GB on Google Drive), you can of course save your documents on an external medium such as a hard drive or a USB key. .
Also think about save the history and passwords stored in your browser. Firefox, Chrome, Edge, Opera… All now offer to save your data and preferences. Again, there is nothing too complicated: just log into your browser account (or create one if you have never done so), and everything is instantly saved in the Cloud, and that your data can be recovered later.
Here it is: all your personal data are correctly saved? So here's how to reset Windows 10 without losing your personal files.
Read also: Windows 7, it's over - how to upgrade to Windows 10 for free
How to reinstall Windows 10 without erasing your personal data
Click on the little button Start Windows 10 located in the taskbar, at the bottom left of your screen. Then go to the icon of Parameters, symbolized by a small toothed wheel. You also have the means to access this Parameters module by simultaneously pressing the keys [Windows] + [I].
Then select the function Update and security. In the left pane, select the function Recovery.
In the Reset this PC section, press the Start.
After pressing the Start button, a screen prompting you to choose an option appears on the screen. Select function Keep my files.
Two other options are then available:
- Cloud upload = you reset Windows 10 by downloading a recent installation pack.
- Local relocation = you are resetting Windows 10 from your own installation, which may be out of date if you haven't updated Windows for a while.
If you have a good connection speed, do not hesitate to use the 1st option. Thanks to it, you will benefit from the most recent version of Windows 10. Otherwise, opt for a local reinstallation and update the operating system once it has been reset.
Then press the button Next to prepare for reset. A few seconds later, a message summarizing your choices is displayed. Check that everything seems to conform to the procedure and finally press the button reset.
The system will then restart and reset the PC. The entire operation generally takes about twenty minutes (this time varies depending on your hardware configuration). Unlike a complete reinstallation, the procedure does not require any configuration. All you have to do is identify yourself as you did until now to enjoy a brand new Windows, while having recovered your personal files.
On the desktop you should find an icon Removed apps. Double-click on it to see a list of all the software that has been removed. Some appear in blue: these are apps that have been clearly identified by Windows 10 and can be reinstalled with just a few clicks. For the others, you will have to get your hands dirty and do some research on the Web to find them and reinstall them manually (except those that are part of Windows 10, like the components of Visual C ++ in our example below. which are installed via Windows Update).
Share
Tweet
Share
Envoyer à un ami