[vc_row] [vc_column] [vc_column_text]
Xiaomi Youpin has recently launched the new Ningmei Soul GI6 gaming PC. The PC has a truly amazing design, it mounts a AMD Ryzen R5 2600 processor and has a very cheap price, 1799 yuan, equal to approx 220 euro.
The new Xiaomi gaming PC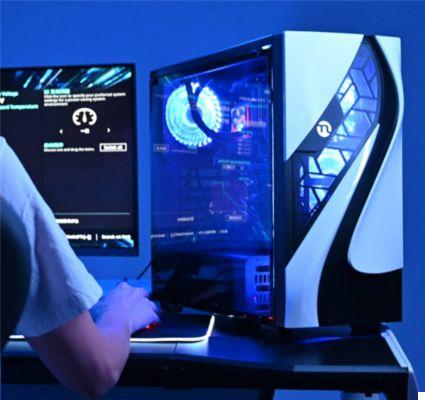 The Ningmei Soul GI6 computer is available in three versions: the version Share, Fun ed Enjoy. The Share edition is equipped with a powerful processor AMD Ryzen R5 2600 and an RX550 4G graphics card. The PC owns 8 GB of RAM e 180 GB of memory SSD for data archiving.
League of Legends fans will be satisfied because the device can reach the 160 FPS.
La Fun Edition instead it is equipped with a processor Ryzen R5 2600 and a graphics card RX590 8G. Here too they are present 8 GB of RAM and a larger storage space of approx 256 GB.
Moreover this version can reach 110 FPS with high special effects for titles like PlayerUnknown's Battlegrounds. It has a higher price, approx 2.599 yuan (320 euros), as it features an improved graphics card and more storage space.
ALSO READ: Happy birthday, Xiaomi!
Finally we find theEnjoy edition, with a price of 2999 yuan (370 euros). This version has a graphics card RX590 8G just like the previous edition. However, the device is equipped with 16 GB of RAM and a unit SSD from 512 GB. Able to reach up to 110 FPS.
In terms of design, the PC looks a lot futuristic and well thought out. It consists of a transparent outer cover. It also features a double fan which offers quite decent heat dissipation. Thanks to the solid state hard drive, the startup time of the computer is only 9 seconds.
All three editions are equipped with the motherboard ASUS Master Series A320 with high specifications, which offers the public quality and resistance. We still do not know when and if these devices will arrive in Italy, for now we can not help but admire them in all their splendor.
[/ Vc_column_text] [/ vc_column] [/ vc_row]
TagsAMD Ryzen R5 Ningmei PC gaming Xiaomi Xiaomi's new gaming PC is available: it's truly amazing