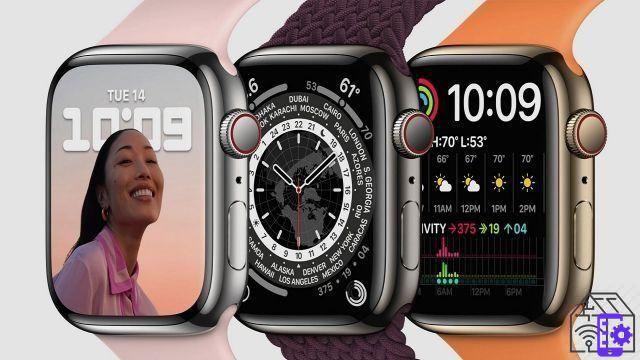 If you received a new one during these holidays Apple Watch, here are some for you tips to make the most of your device Apple branded. Also, if you are curious to know more and want to know other tricks, you can take a look at the video made by MacRumors colleagues that we report below.
10 tips to get the most out of your Apple Watch
Monitor the quality of your sleep.
If you wear your Apple Watch in bed, it will will keep track of your sleep, showing you how much time you spent in bed, how you slept and it will also give you information about your heart rate during the night. To make your Apple Watch hold automatically track of your sleep when you go to bed, you have to set the sleep mode.
With this mode you tell your devices what time do you want to go to sleep and at what time you want to start relaxing for bed. The sleep mode will automatically silence notifications at rest time, even if you can customize them as you prefer using the interface Focus.
When you wake up in the morning, Apple will provide a summary of notifications received while you were sleeping, the weather and more.
The sleep data collected by Apple Watch can be viewed in the app Health: this will give you information about your sleep trends, such as how well you slept one night compared to another, and how steady your sleep is.
Unlock your iPhone with the watch when wearing the faceplate.
If you have both an iPhone with Face ID and an Apple Watch, you can activate a function that will allow you to unlock your phone while wearing the mask using the Apple Watch as an additional layer of authentication.
To use this feature, you need to enable it in the Settings app below "Face ID & Passcode".
Once activated, the device will be able to unlock your iPhone through the verification of contact with the skin. When you wear a face mask and swipe up to unlock your iPhone using Face ID, it will read your face and authenticate with the Apple Watch, successfully unlocking the device.
Set a photo as your watch face.
You can set one of your own photo as clock face so you can take a look at your favorite places, people or animals whenever you go and check the time. Below are the instructions:
Aprite l'app Watch su iPhone;
Touch "Face Gallery";
Scroll down to "Photos" and click;
You can select a photo album, or choose to select up to 24 individual photos from the Camera Roll. There is also an option for Dynamic, which uses photos from your memories;
Tap "Album" to choose your favorite and then select "Choose photos…" to choose the photos, or click "Dynamic" to have them extracted from the memories;
Scroll up to see a preview of your watch face and click "Add" if you like;
Touch the "My Watch" tab;
Click the "Photos" clock face you created;
Choose "Set as Watch Face".
Other tricks to make the most of your device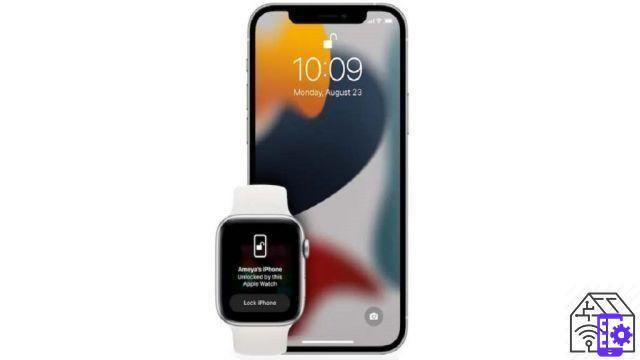 Hold on because we have more available for you advice e tricks to make the most of all the features of your Apple Watch.
In some cities that have a good transport network, there is function Express transit which allows you to go through a transaction gate with a simple touch of your Apple Watch, without the need to wake the device or authenticate with a passcode.
Express Transit is super simple and convenient and can be set up through the app Wallet. All you need is an iPhone and an Apple Watch, plus a debit or credit card linked to Apple Pay to pay your fee.
Unfortunately Express Transit it is not available in Italy. However, if you are traveling, you can use it in various countries. To find out if the function is available in the country you intend to visit, you can consult the official Apple website.
Washing hands for adequate time to eliminate viruses is important, especially during this ongoing global health crisis. To make sure people wash their hands for 20 full seconds, Apple has added a hand washing timer.
With this feature, the Apple Watch will detect when you are washing your hands based on the movement and sound of running water, and it will start a countdown of 20 seconds so you know how long to continue. Here's how to activate it:
Open the Settings app on Apple Watch;
Scroll down or use the digital crown to scroll to "Hand washing" and click.
Activate the "Hand wash timer".
From there, the Apple Watch will detect when you are washing your hands. If you also want to receive a notification to remind you to wash your hands after returning home from an errand, you can also activate "Hand wash reminder".
Control your Apple TV with the clock.
If you have an Apple TV set-top box, you can control it using theRemote app on your Apple Watch, very useful in case you can't find the remote.
Press the Digital Crown to access the App List or App Grid, depending on your App View;
Find the "Remote" app (it has a blue icon with a triangle in the center) and click it;
Allow the clock to synchronize with the Apple TV at home;
Select the Apple TV you want to control.
Ask for help in an emergency.
If you want to be able to get help quickly in an emergency, you can activate one SOS function on the Apple Watch calling emergency services immediately.
Open the Settings app on the Apple Watch;
Scroll to "SOS".
Activate "Press and hold side button".
With the SOS function activated, your Apple Watch will start calling emergency services in the country you are in if press and hold the side button, that is, the rounded rectangular one under the digital crown. Holding it down calls the emergency services: however it will activate a countdown to stop the call in case it is activated by mistake.
Remove apps from your Apple Watch.
If you have a bunch of apps on your Apple Watch that you don't need anymore, you can delete them.
Unlock the Apple Watch and go to App View;
Long press on the Apple Watch display;
Touch "Modify app";
Scroll through the list or grid (depending on your view choice) to find the apps you don't want;
Click the small "x" on the app to delete an app;
Confirm.
Keep in mind that, just like with smartphones, there are core applications that you cannot delete. Among them we find the Compass, the App Store, heart rate and others. However, there are some that you can remove for a cleaner look.
Share a picture from the Apple Watch.
From Watch 8, Apple is allowing users to share photos directly from their Apple watches.
Open the Photos app on the Apple Watch;
Select the photo you want to share and click;
Tap the small share icon at the bottom right of the photo;
Decide who to send it to;
Select a contact and then write a message if you wish.
Enlarge the Apple Watch text.
Apple Watch text can be small, especially on models from 40 and 41 mm. Now you can enlarge it simply by following these steps.
Open the Settings app on Apple Watch;
Scroll to "Display and brightness" and click;
Tap "Text Size".
Click the "Aa" on the right side of the display to make the text larger or the "Aa" icon on the left side to make it smaller again.
Discount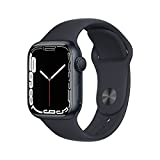 Apple Watch Series 7 (GPS) Cassa 41 mm in alluminio color...
With the GPS model you answer calls and messages from the watch
The always-on Retina display is almost 20% larger than Series 6 models - everything is easier to see and ...
The strongest front crystal an Apple Watch has ever had, IP6X-rated dust resistance and a ...
439,00 EUR −11% 389,00 EUR Acquista su Amazon Source MacRumors