12 sites to sell your photos online
And earn as much as possible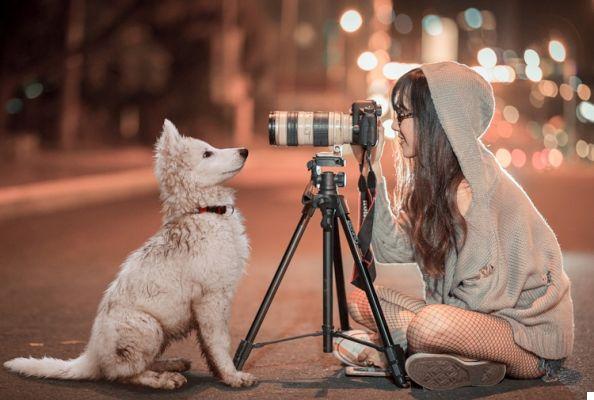 If you feel, in your career of professional or amateur photographer, to have taken some (or many) photos so beautiful that someone would be willing to pay for them, then it would be a good time to get something out of it.
The best way to do this is to sell them on specialized online sites. The jobs of photographers (of whatever level they are) are in great demand by companies, small and large, by designers, by marketing companies and bloggers.
The illicit use (= theft) of photos is increasingly difficult thanks to programs able to trace the true authors of a photo. For most companies, it is not worth embarking on possible causes. It is also for this reason that it is worth trying to get on the market.
So here is a list of sites reliable that can turn your photos into hard cash:
Want to upload your photos online at lightning speed, with true 1 Gigabit optical fiber? Check if your area is covered and discover the incredible rate of InformaticsKings UltraInternet Fibra!
1) Alamy
The Alamy catalog (site also navigable in national) is very rich and includes over 160 million images, videos and 360-degree images.
It is very popular because it offers photographers a very high royalty payment, well 50%, on each photo sold. It is also possible to sell the photos elsewhere, but the commission drops to 40%.
2) Shutterstock
Shutterstock, also available nationally, has more than 270 million images in its catalog. Depending on the size of the images, you can earn up to 30% on the selling price, and the copyright on the photos is retained. Since opening, Shutterstock has paid more than $ 500 million to contributors to the catalog.
3) iStock Photo
iStock belongs to Getty Images, one of the most famous and well-stocked image archives in the world. It is interesting the section teaching which explains, for example, how an appropriate image can enhance its contents.
Before you can sell the photos you need to submit an application in which you have to send some samples of your work. The site does not provide details on how much you get paid, but does claim that you earn a percentage from each photo sold.
4) PhotoShelter
Online shop that allows you to sell and deliver prints to customers, and to prepare a template for sharing photos. To upload images, it is necessary to purchase space on their platform. There are several plans with monthly and yearly options, with different features.
5) Adobe Stock (ex Fotolia)
Site of the famous software house author of Photoshop and Premiere, it has been present for about ten years and was the first online platform to sell photos.
Royalties range from 33% for photos to 35% for vector designs, and exclusivity is not required.
Adobe has simplified the way you upload photos: instead of tagging them one by one, Adobe's intelligent tagging system does it automatically. And to further facilitate the procedure, it allows you to do it either from Adobe Lightroom CC, Adobe Bridge CC or from its website.
6) SmugMug
It is an alternative to PhotoShelter that allows you to display your works in a very customizable shop, and to manage orders for an annual fee.
The feature that distinguishes SmugMug from other services is the ability to use its printing service to create prints, books and greeting cards from photos.
Other features are the ability to create coupons, photo packages and a system to analyze statistics. In addition, you can get up to 85% of the royalties.
7) CanStockPhoto
This site (also available in national) is one of the easiest to use. After submitting three images, you need to wait 24 hours for marketing approval.
Can Stock Photo, when it receives images, it forwards them to one of the most well-stocked databases out there, Fotosearch. The maximum percentage of royalties obtainable is 50%.
8) 123rf.com
This site (national version available) contains over 110 million images, and another 100.000 are added every day. Royalties vary between 30 and 60%, depending on how much you contribute to the site. The more images you upload, the higher the royalty.
9) DreamsTime
In the world of stock photography Dreamstime is a very well known and reliable player. It has gained this reputation over time by ensuring that all uploads were reviewed to see if they met their standards, thus ensuring a certain level of quality.
When the photos are approved you receive royalties between 25 and 50% (60% if you sign the exclusivity. The exclusivity agreement allows you to have an additional $ 0.20 bonus for the first 100 submissions.
10) FineArtAmerica
It is the ideal site for the preparation of one's own portfolio of works, and for the sale of physical prints of the shots. That is, it is possible to sell each photo in the form of a canvas print, poster, framed print, on acrylic, as a greeting card, cell phone case and much more.
When a sale is made, the order (including printing) is fulfilled by the company's printing service. You have to pay the basic price of production, but you can also make a profit by increasing the price of the final product.
11) Stocksy
It is one of the sites that pays the highest royalties to those who contribute to it. To become part of it, it is necessary to submit at least 25 photos, as well as some personal information. If you are accepted, expect to see royalties ranging from 50 to 75%
12) TourPhotos
TourPhotos (the national version opens directly) is a hub of tourist photos taken by various photographers and travelers. Most tourist agencies use it to upload photos of trips organized for those who participated and for the public, who can buy them directly.
It is a very good platform for travel photographers and for those who are passionate about travel.
What are you waiting for to put your best photos on the market?