Let's try to launch a provocation: i Amazon Locker pickup points Could they help curb the coronavirus infection? It could be: it definitely reduces human contact and allows you to leave the house only once per collect your package containing something we crave. Yes, because usually these lockers are located at the posed or supermarkets thus allowing you to kill two birds with one stone.
Amazon Locker: how pickup points work
We start from an assumption. Nothing can stop the coronavirus infection if not staying indoors as much as possible. More and more Italians therefore resort to online purchases to buy products of all kinds. But nobody thinks of couriers and messengers? To try to meet the needs of the entire population, they could be exploited Amazon Locker collection points. But how exactly do they work?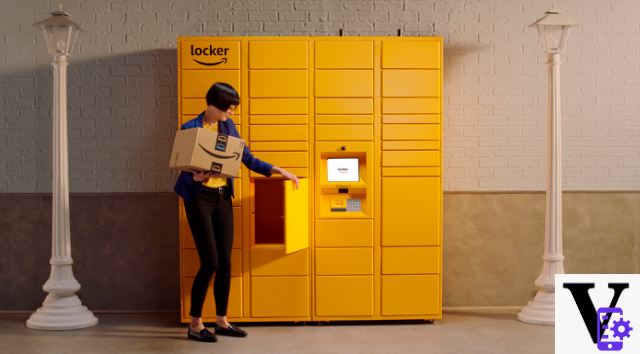 You may have seen them around: they are gods big yellow lockers which bear the word "locker" and are divided into many small compartments. THE lockers are self-service and automated collection points located in some Post, in supermarkets, shopping centers, petrol stations and other points of sale.
In this dark period, therefore, the courier leaves the package at the self-service collection point and you just have to open the locker with your code and take the package home with you. We know: you can't leave the house, but you can certainly go shopping. If the locker is placed in the supermarket closest to home, that's it!
Ah, and if you have to leave the house, ALWAYS remember the self-certification with a more than valid reason to leave. You can download it here.
How to have the package sent to your favorite Amazon Locker
Before proceeding with the purchase you must "set" yours Trusted Amazon Locker. First of all you have to visit this page https://www.amazon.it/Amazon-Locker and then click on the yellow button "Find your locker".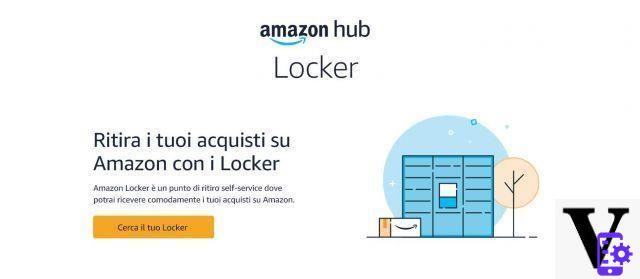 Once inside you will have to enter the post code and then select the collection point closest to you. The search results will show you the address and the business they rely on (petrol stations, supermarkets, post offices or other).
When you have chosen which is the best pickup point for you, press the yellow button "Select address" next to theAmazon Hub Locker. In this way, the delivery addresses on your personal account will be updated. Now, every time you place an order on Amazon, you can choose whether to have it shipped to your home or to the Amazon Hub Locker of your choice.
Once the order is delivered to the selected Locker, you will receive an e-mail notification with instructions and a unique code to be used for collection. When you reach the Locker, you just need to follow the instructions provided on the screen and enter the code.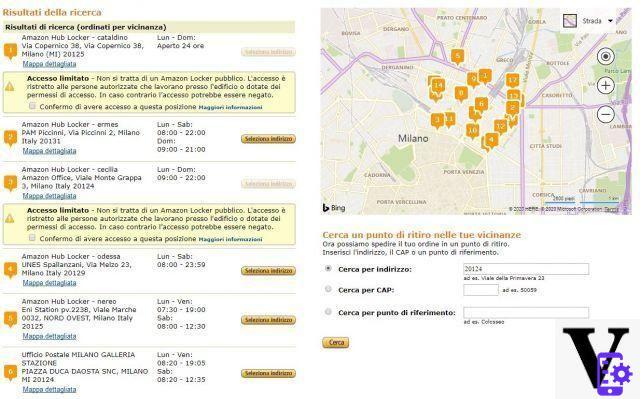 If you have any additional questions about this service, Amazon comes up to you with helpful answers.
Shipping speed: Standard or 1 day.
Cost: The 1-day shipping method is free for Amazon Prime members
Return Policy: lockers are enabled for returns
Withdrawal times: from when the delivery takes place, you will have 3 calendar days to collect the package. Upon expiry it will return to the sender and you will be refunded
What kind of products are ok for shipping: If you cannot select a Locker as a pick-up point when you place your order, it means that the shipping method is not available because the order does not meet criteria such as size, category, value and availability of the product. Only orders shipped from Amazon.co.uk are eligible for delivery to the Locker. All other orders purchased on Amazon but sold and shipped by third party sellers on the Amazon.co.uk Marketplace are not eligible for delivery to the Locker. Lockers currently accept packages up to 42cm x 35cm x 32cm and a maximum weight of 4.5kg.
How to become an amazon collection point?
Know that if you have a business (maybe this is not a good time, but who knows in the future) you can express the desire to "become" yourself a collection point Amazon Hub Locker. In this article we explain how the service works, how to become an amazon counter but above all how much you earn through this partnership.
Tagsamazon amazon locker amazon locker punti ritiro Coronavirus Amazon Locker: the pickup points to fight the coronavirus