Assetto Corsa Competizione is ready to arrive on next-generation consoles and has an official release date: the February 24 2022, in fact, the title will arrive su PlayStation 5 e Xbox Series X|S. For the occasion, an official trailer and a gameplay video were released.
Assetto Corsa Competizione arrives on PlayStation 5 and Xbox Series X | S: here is the release date
Assetto Corsa Competizione has a release date on next generation consoles, PS5 and Xbox Series X|S: will be released on February 24 2022. Those in possession of the title in the PlayStation 4 and Xbox One version will also be able tofree upgrade.
Among the improvements for the new generation of consoles we find a frame rate increase, with the guarantee of 60fps for a faster and smoother racing experience, plus one higher resolution and stunning visual effects. The experience will also be enriched by free private multiplayer lobbies. In addition to the free upgrade of your game copy of PlayStation 4 and Xbox One, it will be possible transfer old game saves to new consoles.
Assetto Corsa Competizione arrived on PC in 2019 and on consoles a year later, for PlayStation 4 and Xbox One: you can read our review dedicated to the video game to find out all the details. The arrival of Assetto Corsa Competizione on PlayStation 5 and Xbox Series X | S will make all the avid fans of the title happy who can't wait to enjoy a high resolution and frame rate, taking to the track in the shoes of a real own pilot.
The game, as anticipated, will be available on PS5 and Xbox Series X | S starting February 24, 2022, in both digital and physical versions.
What to expect in the future
Kunos Simulations has also promised that soon - between the end of the year and the beginning of 2022 - the BMW M4 GT3, in addition, the liveries of the machines already existing in the game will be updated. Gods will also be available new DLCs which will include new cars, with a maximum of 7 new cars arriving in 2022. There will also be new tracks, even if the developers have not gone too far.
Assetto Corsa will also soon be available in son iPhone and iPad given the huge success of mobile games. In the title for Apple devices we will see 59 cars and 9 official circuits, reproduced with great fidelity and six game modes will also be available. Assetto Corsa Mobile will be available on iPhone and iPad on August 31 2021.
In addition, the co-founder and executive manager of Kunos Simulations, Marco Massarutto, said they are already working on a new chapter of the franchise. "Yes, it's no secret now, we are working on a new Assetto Corsa".
READ ALSO: Assetto Corsa Competizione British GT Pack, 3 tracks and Jenson Button… for free!
Discount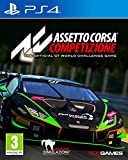 Assetto Corsa Competition - PlayStation 4
Not just a realistic driving experience, but a fully immersive racing simulation - with all the licenses ...
All the details are carefully recreated to ensure maximum realism made possible thanks to the power of ...
It integrates a built-in accurate ranking and rating system that allows you to precisely profile each player.
39,99 EUR −24% 30,58 EUR Buy on Amazon Tags Assetto Corsa Competizione PlayStation 5 Xbox Series X Assetto Corsa Competizione on PlayStation 5 and Xbox Series X | S: here is the release date