best 4K fullhd tv
Guide to the best TVs: that it is 4K, Full HD, LED o AMOLED, a good TV at home is always convenient, for many reasons. For example, to watch our favorite series on Netflix, the best Marvel or animated superhero movies on Disney +, or to spend hours playing on our console. So it is important to choose it carefully, thus doing our eyes and our wallet a favor. But how to choose the best TV?
Best 4K TVs? Full HD? How to choose?
There are many factors to consider, and if some are subjective (such as design) others are more practical and functional, such as the work operating within them, the resolution, the audio and connectivity. As for the polliciaggio, or the size of our TV, we must pay attention to the distance in which we are going to place it in order to have the best viewing angle.
The ideal distance is calculated by multiplying the screen size for a factor ranging from 4,2 (to get the minimum distance) a 4,8 (instead ideal distance).
So let's take a practical example. If your TV fits 45 inches, the distance between the screen and the eyes of the beholder must be equal to
45 ″ x 4,2 = 1,89 meters (minimum distance)
45 ″ x 4,8 = 2,16 meters - (ideal distance).
These measurements may vary slightly depending on the resolution of your TV: in fact, moving slightly away from a 4K TV you will perceive less difference and less loss of definition.
Differenze tra 4K/Ultra HD/Full HD/HD+
4K, Ultra HD, Full HD, HD +… What do all these acronyms ever mean? This is the screen resolution, that is, the number of horizontal and vertical pixels present inside the panel. Basically it helps you to understand how big the digital image is. A parameter which in turn anticipates another aspect: more pixels means more details and more sharpness.
But how many pixels are we talking about?
The lowest resolutions today are HD ready (1280 x 720 pixels) e HD + (1366×768 pixel).
The standard of recent years, however, is the Full HD, which corresponds to 1920 × 1080 pixels.
Finally we have Ultra HD and 4K are not exactly the same. The Ultra HD is in fact equal to 3840 × 2160 pixels with an aspect ratio of 16: 9. The 4K instead corresponds to 4096 × 2160 pixels, which forces it to deviate slightly from the classic 16: 9 as it has a few more pixels horizontally. The difference, mind you, is minimal but know that it is present.
All clear, but which one should I choose?
The choice should fall on the resolution that best matches the content you intend to use. If you want to focus exclusively on television programming, if you don't like streaming platforms, if you are not obsessed with Blu-ray and are sure that things will remain like this in the next few years, it is probably useless to aim for 4K. There are no TV broadcast facts that take advantage of this standard. We will probably see them arrive in the next few years, but for now it is still early,
If, on the contrary, you cannot do without Netflix, Prime Video and companions, if you dream of the Olympics in 4K, if you enjoy content through physical media in very high definition, then Ultra HD and 4K are the way.
LCD, LED, OLED, Quantum Dots ... what do they mean?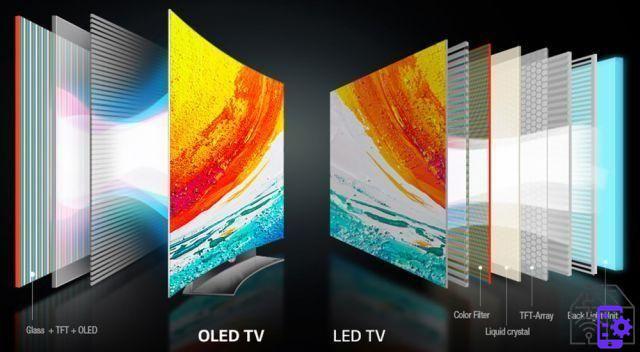 They are abbreviations that indicate the technologies used by the manufacturer to make the panel. They seem a lot, but in reality they are not. In fact today they are two industry standards: LED or OLED.
LED technology is the evolution of the LCD (Liquid Crystal Display). The latter is based on liquid crystals which, however, do not emit their own light. An LCD therefore needs traditional bulbs to be illuminated.
However, the system has evolved and so today LCDs use LEDs instead of light bulbs, which made it possible to achieve better contrasts, intense blacks, a wider color gamut and even lower power consumption.
Here, however, all the other acronyms come into play because each manufacturer has its own particular variant of LED technology.
Here's what you need to know to navigate the sea of ​​TV peacefully:
LED Edge: they have LEDs on the sides, they are very thin, they boast high contrasts and they consume little energy;
LED Direct: they have LEDs distributed evenly and this increases the thickness of the TV, but also guarantees you better black management;
Quantum Dots: they exploit a transparent layer for the backlight and a liquid crystal panel made up of thousands of "quantum dots" (Quantum Dots) which absorb part of the light and then re-emit it in the desired spectrum. I know, it sounds complex, but this actually enhances the colors and makes them more realistic.
Finally there are the OLED which differ in one fundamental aspect: they use an organized light-emitting diode. So each point transmits light in a totally autonomous way and can even go out. This guarantees the best blacks on the market, but also a very high chromatic fidelity. In addition, the panel is extremely thin, which results in compact and very elegant designs.
Do you want to know even more? Here is our super guide!
Stop! What about HDR?
HDR is going to High Dynamic Range, that is "high dynamic range"And is a technology that improves the rendering of individual pixels.
HDR offers improved contrasts, more brightness and - as the word itself suggests - a wide range of colors. All this to get more realistic content.
Best 4K and Full HD TVs - April 2022
At this point you should have all the tools to choose a TV that suits your needs and tastes, but we want to help you further by suggesting a series of models that could be for you.
Best TV under 500 euros
If you are looking to save as much as possible, this is the section for you.
HiSense H40B5600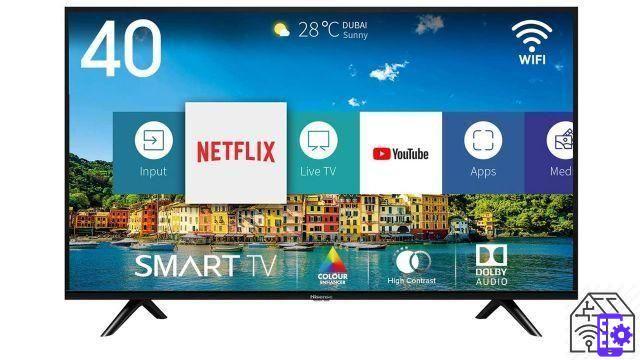 349 euros is the list price of HiSense H40B5600. This 40-inch TV comes with a Full HD LED panel, is equipped with a latest generation digital terrestrial receiver and has all the inputs you need. Plus it's smart: you can find Netflix, Prime Video, Chili and all the most famous apps there.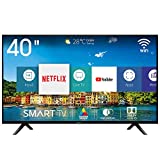 Hisense H40BE5500 Smart TV LED FULL HD 40", USB Media...
Full HD TV with 90 cm (40 inch) screen
Resolution and image: 1.920 x 1.080 pixels (full HDHD resolution), numerous image modes, technologies of ...
Reception and connectivity: triple tuner for dvb-c, dvb-s2, dvb-t2 HD (codec h.265), ci + slot, wifi, ethernet, ...
Buy on Amazon
Samsung RU7450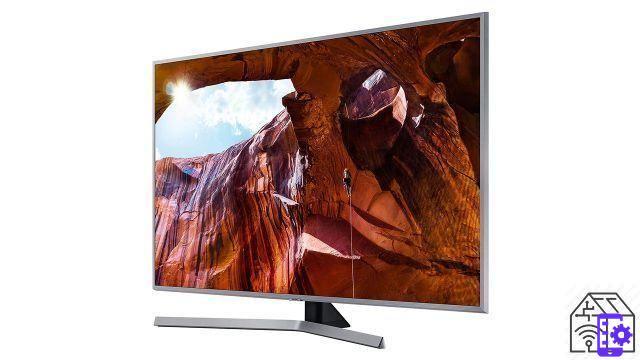 It is a variant of the RU7400 series. What changes? Silver frames, Premium Smart Remote remote control and image control technology Supreme UHD Dimming.
Otherwise you have the same enticing features as the RU7400 TVs: 4 different cuts (43, 50, 55 and 65 inches), the HDR10 +, the Dynamic Crystal Color system to have crystal clear and brilliant images and the Clean Cable to hide the cables from view.
The price? It starts at € 599 but don't despair: the series is constantly on sale and you get by even with 400 euros for the 43 ″ variant.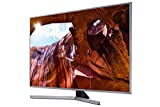 Samsung UE43RU7450UXZT Smart TV 4K Ultra HD 43", Wi-Fi...
The RU7450 series is a silver color variant of the RU7400 series to which the Premium Smart Remote control is added and ...
HDR 10+, Samsung UHD TVs offer a superior quality viewing experience thanks to the HDR system powered by HDR10 +
Dynamic Crystal Color delivers vibrant colors and crystal clear images while Real Game Enhancer optimizes speed ...
Buy on Amazon
Best TV under 500 euros: LG 55UM7450PLA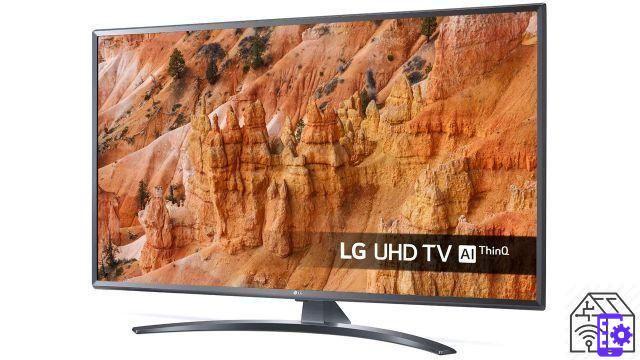 Formally it costs 599 euros but also in this case you can find it easily discounted. Now, for example, find the 55 ″ for only 399 euros. LG quality, quad core processor and 4K for a TV that it can also interact with Google Assistant and Amazon Alexa. You have the operating system on board WebOS, the best on the market.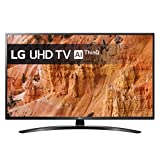 LG TV LED 4K AI Ultra HD,55UM7400PLB, Smart TV 55", 4K...
4K resolution: More lifelike images, defined with rich colors on the 4K IPS panel; the resolution is four ...
4K IPS panel for sharp images from any angle
True Color Accuracy: Colors are more defined, rich and realistic
590,00 EUR Buy on Amazon
Xiaomi Mi LED TV 4S 55″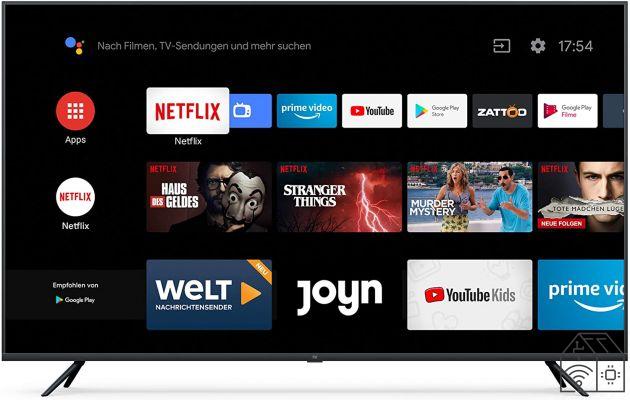 Not just smartphones for Xiaomi. Among the many products of the Chinese company we also find televisions, born with the intention of offering good value for money.
With 499 € in fact, bring home a huge smart TV, 4K HDR with Dolby technology and a decent image quality.
Really interesting.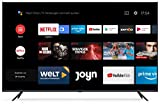 Xiaomi Mi Smart TV 4S 55 "4K LED, Triple Tuner, Android TV ...
Type: 4k ultrahd TV - 55 inch (138cm), flat screen, LED TV, aluminum design, hdr and memc support
Resolution: 3840 x 2160 pixels (4k between hd)
Digital reception: HD triple tuner for dvb-s2, dvb-c and dvb-t2 with hevc android TV 9 with google assistant and ...
Buy on Amazon Are you looking for a TV suitable for PlayStation 5 and Xbox Series X? Here are our suggestions
Best TVs under 1000 euros
We now abandon the world of AMOLED and QLED panels, to return to the economically more affordable one of FullHD LED IPS.
Sharp AQUOS Android 9.0
Really appreciable definition and color rendering on a product in this price range. Viewing angles are limited, but the overall experience isn't affected at all. Remarkable image quality, perhaps the audio is not at the same quality level as the video. Smart functions present, including Google Assistant.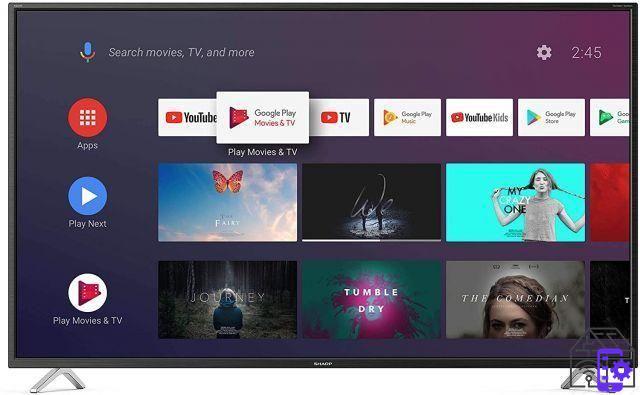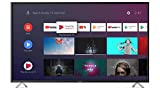 Sharp Aquos 4T-C55BL2EF2AB - 55 "Smart TV 4K Ultra HD ...
Android 9.0: more content thanks to the platform developed with google for a 4k uhd TV
Google assistant with voice command directly from the remote control for entertainment, receive answers and control ...
The TV is equipped with integrated sound systems made by harman kardon to give a true cinema experience
558,90 EUR Buy on Amazon Offer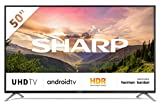 Sharp Aquos 4T-C50BL2EF2AB - 50 "Smart TV 4K Ultra HD ...
Android 9.0: more content thanks to the platform developed with google for a 4k uhd tv
Google assistant with voice command directly from the remote control for entertainment, receive answers and control ...
The tv is equipped with integrated sound systems made by harman kardon to give a true cinematic experience
549,00 EUR −18% 450,36 EUR Buy on Amazon
HiSense A7500F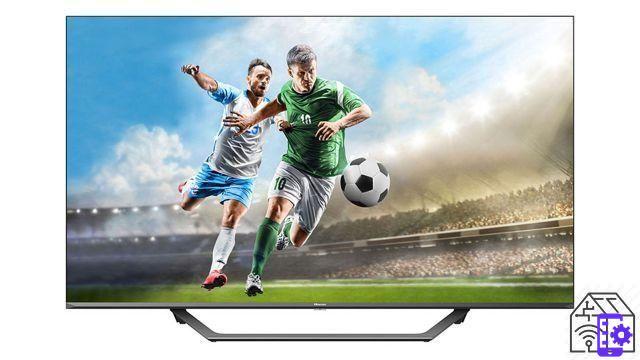 Available in 4 different cuts – 43″, 50″, 55″ e 65″ – Hisense A7500F comes with a 4K LED panel that takes advantage of Wide Color Gamut technology to give back natural colors and good contrast. Also on board are Dolby Vision technology and the Ultra HD Upscaler, which uses artificial intelligence to improve the quality of non-4K content.
We inform you that the series is available exclusively from Unieuro.
Hisense E78GQ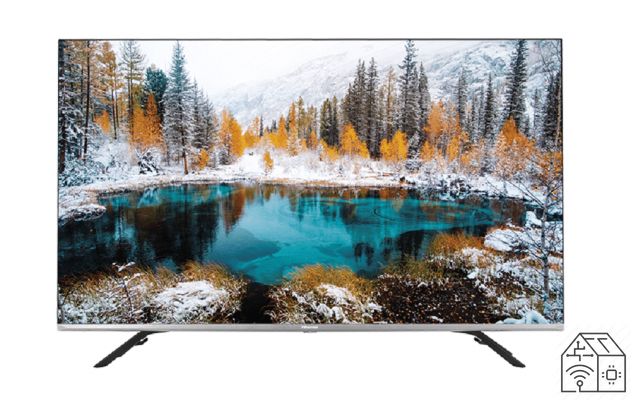 Hisense E78GQ it is available in two denominations: the 50 ″, on sale at € 599, and the 55 ″, available at € 699. Both are equipped with a QLED panel with 4K resolution and HDR support, as well as a Game Mode that also goes well with the latest generation consoles.
Find out more Read our Hisense E78GQ review.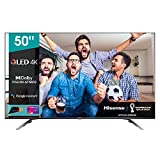 Hisense 50" QLED 4K 2021 50E78GQ, Quantum Dot, Smart TV...
50 "QLED 4K Smart, 3840 x 2160 resolution with Quantum Dot panel
Slim design, with fewer frames and more images
Smart VIDAA 5 with Alexa and Google Assistant voice controls, built-in Wi-Fi and remote control with direct access to 7 ...
439,00 EUR Buy on Amazon
Best TV under 1000 euros: Samsung UE65NU7400UXZT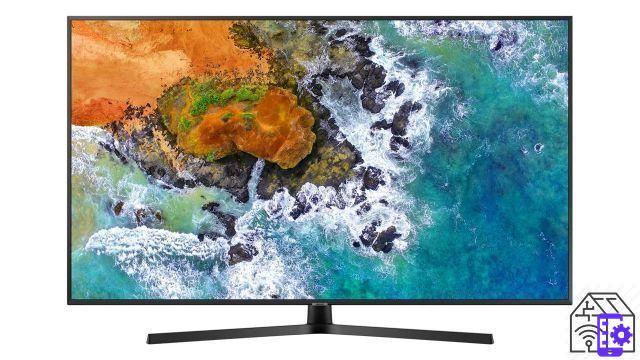 A full-bodied 65 ″ with 4K resolution, HDR and Dynamic Crystal Color technology. The design is sober, subtle and suitable for any environment. On board all the apps you need, a voice assistant and the smartThings technology, which offers, among other things, a universal guide, a control panel and the ability to control other Samsung appliances.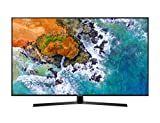 Samsung UE65NU7400U 65" 4K Ultra HD Smart TV Wi-Fi Nero
Display Size: 65 "
Weight: 25.1 kg
Technology: HDR
Buy on Amazon
Samsung UE50TU8500UXZT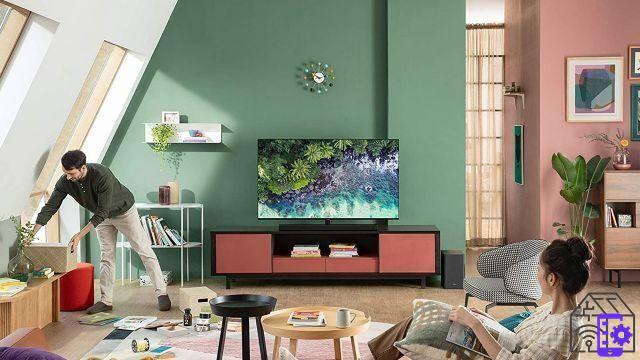 Samsung also proposes the model UE50TU8500UXZT Series Crystal UHD 4K, capable of ensuring good picture quality with convincing contrast, sufficiently deep blacks and well-researched HDR.
To accompany all this we find an elegant, refined and minimalist design, so the TV won't distract you from the content.
Il One Remote Control then it simplifies your life: it takes very little to access all applications, decoders and consoles.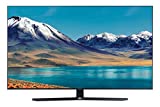 Samsung TV UE50TU8500UXZT Smart TV 50" Serie TU8500, Dinamic...
Dual LED with dynamic crystal display: optimal contrast for sharper and more vivid images with over a billion ...
Crystal 4K Processor: The processor that transforms everything you watch into excellent 4K definition
Boundless design: elegant, refined, minimal, a great design for enjoying nothing but TV
Buy on Amazon
Sony XF90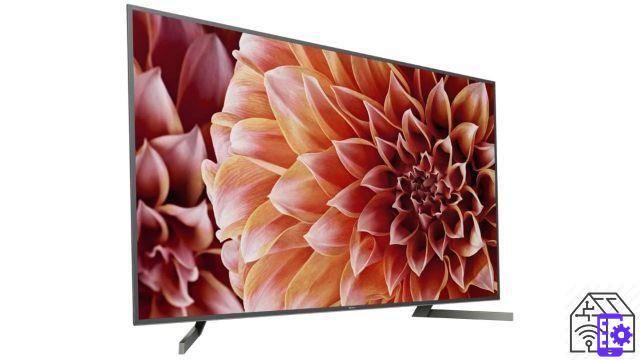 Panel Full LED da 55″, 4K Ultra HD and HDR resolution for Sony XF90. An elegant TV that uses the X1 Extreme processor, Full Array LED technology and local dimming to give brilliant and lifelike images.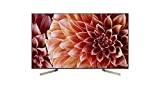 Sony KD55XF9005 55" Full LED 4K Ultra HD, HDR, Smart TV...
Exceptional realism with 4K HDR Processor X1 Extreme
Incredible contrast with X-tended Dynamic Range PRO
Softness and clarity in fast action scenes with X-Motion Clarity
1.241,87 EUR Buy on Amazon
LG TV UHD AI 70UN71006LA

LG instead offers us a 70 ″ subscriber with images in Real 4K, vivid colors and incredible details. To support LG TV UHD AI 70UN71006LA also the Quad Core 4K processor and Thinq AI artificial intelligence. Of course, all major streaming platforms are available, from Netflix to Disney +.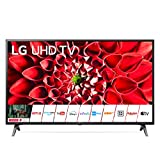 LG TV UHD AI 70UN71006LA, Smart TV, 70", 4k, Alexa integrata
4k resolution: more realistic images, defined with intense colors on the 4k ips panel; the resolution is four ...
Quad core processor: fast and precise in eliminating distortions, creating ever sharper colors and contrasts
Ai smart: lg TV with artificial intelligence expands your viewing experience by offering you voice assistants ...
Buy on Amazon
Nokia A5000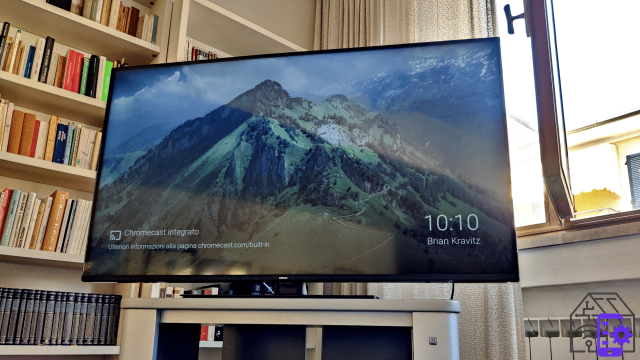 Well yes, Nokia also makes televisions. Among them there is also the 5000, a 4 ″ 50K UHD HDR TV. The power cord is a bit short - take that into consideration - but it has all the inputs you need, a decent LED panel that supportsHDR10 e two 10W speakers che do a good job. On board Android TV and the Play Store from which to download all the applications you need.
If you want to know in detail how it behaves, you can read our Nokia 5000A review.
Discount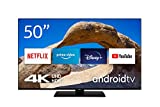 Nokia - Smart TV 5000A 50 pollici (126 cm), a LED (4K Ultra...
Your 126cm Nokia Smart TV for smart home entertainment
Your Nokia 50-inch Android Smart TV offers you perfect entertainment and a picture ...
Absolute brilliance. Perfect contrast and 1,07 billion colors. All at 4K Ultra HD resolution with ...
599,90 EUR −25% 447,71 EUR Buy on Amazon
Best TVs over 1000 euros
Let's start from the top, from the non plus ultra of the screens at our disposal. High-end, in this case, means really high. Unlike smartphones, here we are talking about prices that are around 3000 €, if not more. Clearly not for everyone but suitable for those who do not really want to give up anything.
Best TV April 2022: LG OLED TV C1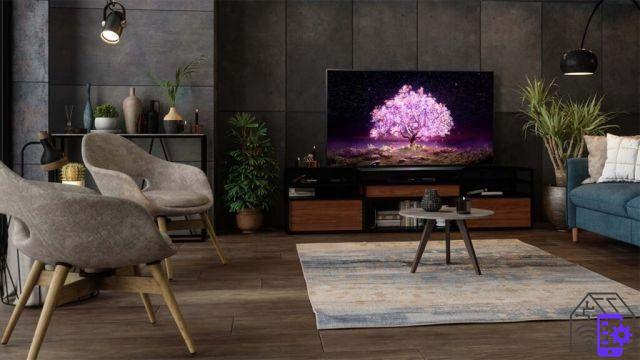 LG OLED-C1 is available in versions from 48, 55, 65, 77 and 83 inches. Spoiled for choice for a slim, elegant and above all capable TV offering excellent picture quality, with natural and vibrant colors, deep blacks and precise contrasts. In addition, it boasts an update rate of a 120 Hz even in 4K, so it goes perfectly with the next generation consoles - Xbox Series X and PlayStation 5 - and with PCs with NVIDIA G-Sync.
Obviously associated with this is the operating system WebOS, offering all the best in entertainment.
Discount
LG OLED48C14LB Smart TV 4K 48 ", TV OLED Serie C1 2021 con ...
READY FOR SWITCH OFF: The LG TV integrates the DVB-T2 HEVC Main 10 standard compatible with the next change of ...
SELF-ILLUMINATING PIXELS: OLED technology gives you millions of self-illuminating pixels capable of reproducing deep blacks ...
Α9 GEN4 4K PROCESSOR WITH AI: Thanks to the powerful latest generation processor and AI, LG OLED TV optimizes ...
969,00 EUR −10% 873,00 EUR Buy on Amazon
LG A1 OLED 2021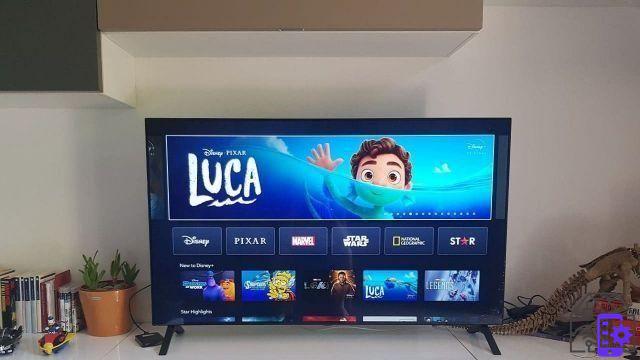 LG also offers the most recent A1. This time we are not dealing with a product dedicated to gamers but above all to cinema lovers. The yield of the OLED panel is as always impeccable, the audio is good and the operating system a real splinter that shines for intuitiveness. You can find it available in in cuts from 48, 55 and 65 inches.
To learn more, you can read our review of LG A1 OLED 2021.
Discount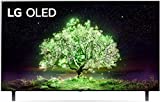 LG OLED48A16LA Smart TV 4K 48 ", TV OLED Serie A1 2021, ...
READY FOR SWITCH OFF: The LG TV integrates the DVB-T2 HEVC Main 10 standard compatible with the next change of ...
SELF-ILLUMINATING PIXELS: OLED technology gives you millions of self-illuminating pixels capable of reproducing deep blacks ...
Α7 GEN4 4K PROCESSOR WITH AI: Thanks to the powerful latest generation processor and AI, LG OLED TV optimizes ...
1.499,00 EUR −51% 733,00 EUR Buy on Amazon
Samsung QE65Q90RATXZT with 65 ″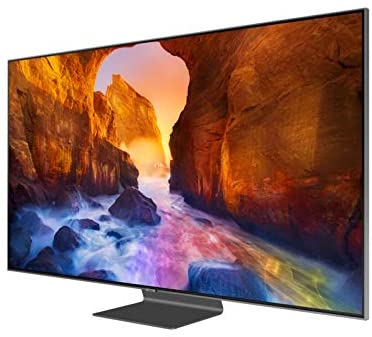 It's not a OLED, but is absolutely not afraid of comparison. Its viewing angle is at the same height as its "cousins", and offers the same details and remarkable darks thanks to the filter Ultra Black Elite, which works by rejecting light. It gives us breathtakingly detailed images, thanks also to the dynamic range of colors it possesses. The only flaw: it does not support Dolby Vision.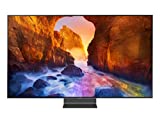 Samsung QE65Q90RATXZT Series Q90R (2019) QLED Smart TV 65",...
Direct Full Array 16X, with Samsung backlight technology, precision becomes exemplary
Quantum 4K processor, artificial intelligence optimizes performance in real time, based on the conditions of ...
Ultra Viewing Angle, you can finally have vibrant colors even if you watch TV from the side
Buy on Amazon
Sony AG9

The top of the Sony 2019 OLED range. Successor of the much appreciated AF9, it collects all its strengths except perhaps for the design, now reduced to the essentials. It always remains a 4K with panel made in LG, we find the three key points made in Sony: Acoustic Surface+, the panel with transducers that emits sound by vibrating, X1 Ultimate, the processor that manages the signal processing and Android TV, supported by a processor so efficient that it makes Google's operating system competitive in terms of performance. After a recent update it has also arrived Air Play 2, together with HomeKit from Apple, which allows you to see the contents of Apple TV + in Dolby Vision 4K via the dedicated application: you will no longer have to buy an Apple TV 4K.
SONY KD65AG9
Technology: TV OLED
Resolution: 4K Ultra HD
2.749,00 EUR Buy on Amazon
Best TV April 2022: Sony XH90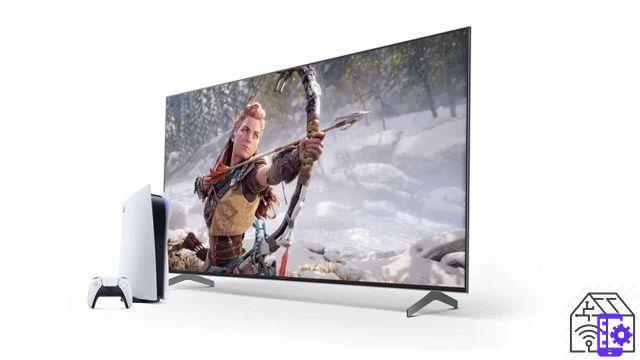 If you are looking for a TV that can accompany next generation consoles, Sony XH90 it could really be for you. Equipped with the Sony's X1 processor, this TV uses Full Array LED technology and X-tended Dynamic Range to ensure bright and well contrasted imagesand while theHDMI 2.1 makes this smart TV ready for PlayStation 5 and Xbox Series X | S.
The operating system? Android TV, well optimized and smooth, designed to offer you all the applications you need.
Philips 803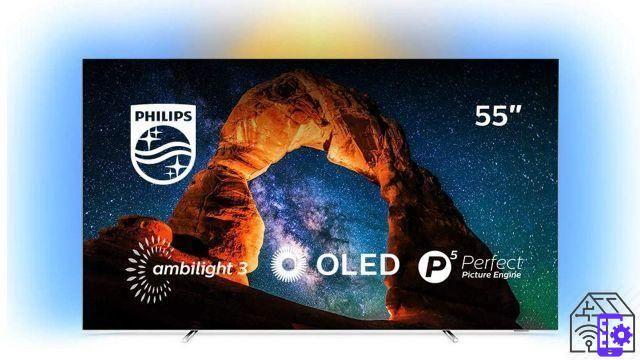 THEOLED by Philips is available in two versions: 55 and 65 inches. To characterize it the 4K resolution, deep blacks, bright colors and Ambilight technology which allows you to illuminate the environment using the smart LEDs located on the rear edges of the TV. To move the whole Philips P5 Perfect Pecture processor.
We also point out the presence of AndroidTV, the ability to use Google Play Store and integrated Google Assistant.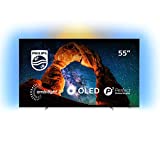 Philips 803/12 55-inch OLED TV
Razor Slim 4K UHD OLED
Android TV
UHD Premium certified
Buy on Amazon
Panasonic HZ1000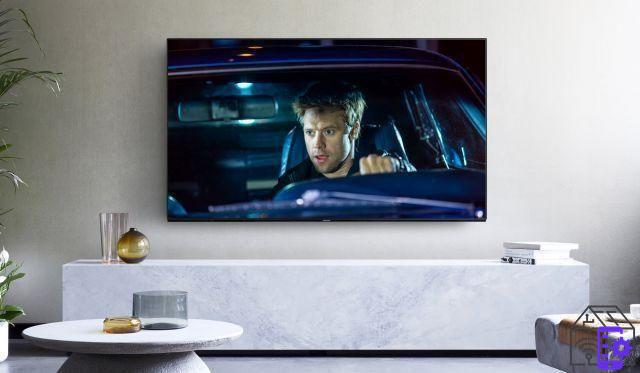 If you are a true expert, you will love it Panasonic HZ1000 for the amount of settings it offers. The Japanese company in fact allows the user to customize the experience using a ton of parameters. However, this does not mean that you cannot enjoy this TV even if you are a beginner. Panasonic HZ1500 is a great OLED, with deep blacks, vivid colors and presets which will help you appreciate it even if you're not a real nerd. Finally, let's not forget the filmmaker fashion, a mode created in collaboration with the best directors to show you movies just as they originally thought and shot them.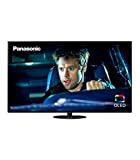 Panasonic TX-55HZ1000E TV 55" 4K UHD Smart OLED Master HDR...
1.716,00 EUR Buy on Amazon
Panasonic JZ2000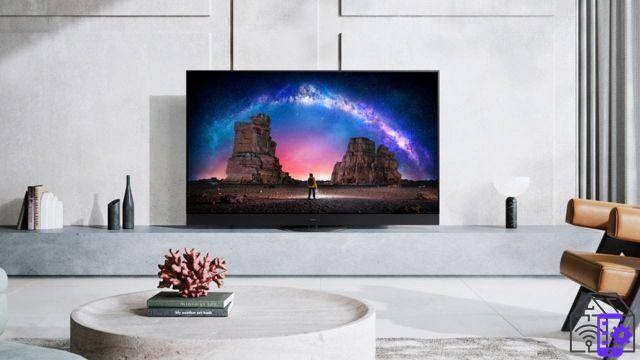 With its deep blacks, its chromatic fidelity and its responsiveness Panasonic JZ2000 won us over. It is undoubtedly a top of the range made and finished, which offers - and it is not for everyone - an integrated audio system that manages to have its say without disfiguring the image quality.
The only drawback is the operating system but it offers everything you may need.
In short, we are faced with a complete and interesting product, albeit with an important price.
The Panasonic JZ2000 review: what a TV!