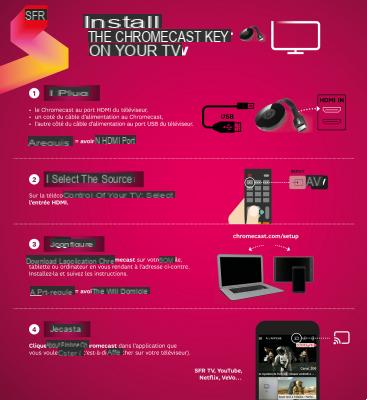 Le chromecast de Google 2nd Generation is definitely one of Google's best products, if not the best. But before you can enjoy it, you have to install and configure the small HDMI dongle on his television. For those who are wondering what to do next, here are all the steps to follow.
Read also: Our Chromecast 2 test
To take advantage of Chromecast, you have to go through the installation and configuration stage. You go and see it, nothing too complicated, just follow the following process. Let's go !
In the box of the Chromecast 2, you will therefore find the small box that looks like a puck as well as the mains plug. So start by plugging the two elements together and then connect the Chromecast to one of the HDMI ports on your TV.
The small magnet allows the Chromecast to "glue" against the television to prevent it from hanging off the back of the screen.
Once connected, you will be asked to log into chromecast.com/launch. Log in using your smartphone or tablet.
Download the Chromecast app
Once the application is installed, your smartphone will search for the Chromecast on your Wifi network
The Chromecast is found, you will now have to configure it
First, connect your Chromecast to the WiFi network you want to use. For everything to work, your smartphone / tablet and the Chromecast must be connected to the same WiFi network. Enter the password if there is one and wait a few seconds.
You can also assign a personalized name to your Chromecast
Here is your Chromecast is configured
Chromecast-compatible apps appear in the app. But you can also broadcast the screen of your smartphone or tablet directly from the notifications panel.
You see, installation is child's play, isn't it?
Share
Tweet
Share
Envoyer à un ami