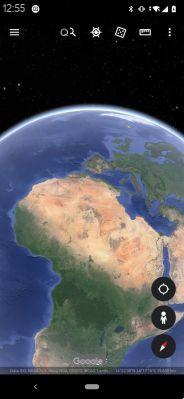 Summary
What is Google Earth
Why use Google Earth?
What are the new features brought by Google Earth?
How to get Google Earth?
What are the alternatives to Google Earth?
Google Maps
OpenStreetMap
Marble
World Wind
Comments
Google Earth is free software that provides a 3-dimensional graphical representation of everything on the Earth's surface. With the mapping service, you will be able to travel and visit the four corners of the globe while remaining comfortably seated in your armchair.
FREE
Download Google Earth for Android
Note : ★★★★★★ (2808001 votes)
Google LLC Developer | Updated on 07/12/2021
Download Google Earth Directly Download APK
What is Google Earth
Google Earth is a computer program that lets you explore virtually any place on Earth from your desktop or mobile. The service is not content only with the blue planet as the name suggests. Google Earth is also additional tools for exploring the Moon, the planet Mars or simply discovering the starry sky and its millions of stars.
The very first version of the software saw the light of day on June 11, 2001. It was then intended for use in the field of real estate, land use planning, strategic decision-making and defense. Later, the use of Earth spread to the general public and the tool became an essential reference in digital three-dimensional mapping.
The program is then now available on PC, Mac or Linux. It is also accessible in mobile version for tablets or smartphones running Android or iOS. In addition, if you do not want to install the application on your devices, know that Google Earth is also offered as an online mapping service.
Why use Google Earth?
Google Earth is very intuitive and easy to use software. When you launch the app for the first time, it gives you a view of the globe from space. You can then manipulate this 3D model by rotating, moving or zooming to ground level.
In reality, Google Earth uses satellite images overlaid with aerial photographs, GIS (Geographic Information System) data and 3D models to represent every location on the earth's surface.
To reach a particular place, you can choose to use the mouse or to use the search engine of Google Earth which will allow you to directly enter the place to which you wish to go. You then get a high resolution satellite view of the location.
When you fully zoom in on the desired area, a small character named "peg man" appears on the screen and in the application's zoom controls. This little character can be dragged and dropped to choose the exact spot you want to visit. Once there, you will get a 3D rendering of the streets, pedestrians, buildings and infrastructure found there. This feature, called "Street View", will give you a 360 degree view of where you are. You can even visually browse the surroundings by clicking on the navigation arrows on the screen.
Unconventional feature, with Google Earth you can even zoom below the surface of the sea (or a lake). You will then obtain a 3D visualization of the underwater relief with impressive details. Available since 2009, this feature will allow you to observe images with high resolutions ranging from 1 km to 100 m for approximately 5% of the oceans.
Google Earth isn't just for exploring the blue planet. The Google Sky feature, introduced in 2007, uses augmented reality to represent the night sky and its millions of stars. Google Sky allows, among other things, to determine the position and orbit of planets, to observe star constellations and even to zoom in on galaxies and nebulae.
On the other hand, the Google Mars service, accessible via Earth, makes it possible to obtain a digital model of the surface of the red planet. We then find several high resolution images obtained during the various exploration missions of the planet. Impressively, these photographs can be viewed in the same way as on Google Street View.
Still in the same vein, the Google Moon application will allow you to explore the Earth satellite. This functionality, similar to Google Mars, integrates several routes on the surface of the Moon as well as maps, videos and panoramas provided by NASA. All of this data can be viewed like Google Street View.
One thing is certain, Google Earth is not lacking in functionality. The application allows you for example to add various annotations (or layers) on the places you have visited. Each layer can hold various media like photos or videos, and you can even overlay multiple layers to create new ones.
Even more impressive, Earth allows you to record your tour routes in the application in order to share them with your loved ones. We then better understand the popularity of this tool among its users.
What are the new features brought by Google Earth?
The latest update to Google Earth Pro has helped improve the Street View experience. Google has added a new navigation system similar to that found on the web version of Earth. The web giant has also improved obtaining "Plus code" by right clicking directly on the map. These Plus codes, which act as markers, now contain more information about the selected location. Google Earth Pro has been equipped with improved integration of videos in HTML5.
How to get Google Earth?
To obtain Google Earth, three possibilities are available to you. If you opt for the online version, there will be no downloads or installations to perform. All you need to do is launch your web browser and go to the official Google Earth website to take advantage of the features offered by the application.
If you want to use the software as a full-fledged application on your computer, you can go to the Google site and download the latest version of "Google Earth Pro". This version has been completely free since 2015. Although the designation "Pro" can be confusing, it is fully functional on Windows 7 or later, Linux, and Mac OS X 10.8 or later operating systems. However, it is recommended that you have a good internet connection and a device with at least 4 GB of RAM.
To get Google Earth on your mobile (tablet, smartphone), you can go to the App Store or the Play Store. The latest version of Earth is completely free and is compatible with iOS 12.2 or later on iPad, iPhone or iPod Touch. For devices running Android, version 4.1 of the operating system is the minimum system requirements.
What are the alternatives to Google Earth?
Due to the wide popularity of Google Earth with Internet users, it has completely obscured its competitors. However, it is possible to find some free tools that offer similar services.
Google Maps
Among these tools, we can cite the online mapping service Google Maps from the same publisher. Like Earth, it offers satellite imagery, aerial photographs or interactive panoramic views. Maps also offers additional services such as route planning, GPS navigation or real-time traffic consultation. Small problem, the service is only available in mobile version for Android and iOS.
OpenStreetMap
Another interesting alternative to Google Earth is the OpenStreetMap (OSM) collaborative project. Founded in 2004 at University College London, OSM's approach consists of building up a geographic database of the planet using freely accessible information (GPS tracks, Landsat 7 satellite imagery or Bing Maps aerial imagery). OpenStreetMap is an online mapping project, so it can be accessed from any device (mobile or not) with an Internet browser.
Marble
This virtual globe application developed by the KDE community allows a 3D virtual tour of the Earth, Moon, Venus, Mars as well as other planets in the solar system. In addition, Marble offers a route planning service and a navigation mode called MarbleToGo. Completely free, the application can be used on PC, smartphone and all Unix-based systems (Solaris, OpenBSD, macOS, Linux, etc.).
World Wind
We will end our review with NASA's World Wind planet exploration software. It is mainly an open source educational project intended for application developers. World Wind allows a 3D simulation of the Earth, Mars and the Moon and offers satellite and aerial photographs of several places around the globe. Just like OpenStreetMap, World Wind can be launched from a web browser and therefore works on all operating systems.
Share
Tweet
Share
Envoyer à un ami