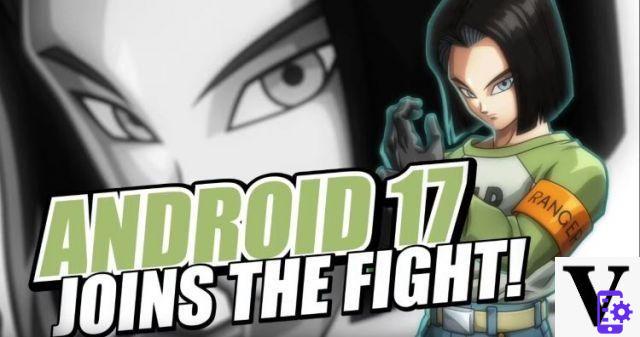 The roster of playable characters featured within Dragon Ball FighterZ, signed title Bandai Namco Entertainment Europe, expands, thanks to the arrival of the android C-17.
READ ALSO: Adidas: the first Dragon Ball sneakers are dedicated to Goku and Freeza
# 17 joins the list
To announce the addition of the android C-17 to the roster of playable characters of Dragon Ball FighterZ it's the same Bandai Namco Entertainment Europe, who also revealed some details on what his abilities will be.
The character can in fact prove to be very useful both for a tactic based on defense and attack, thanks to its ability to generate a protective barrier during clashes. Equally useful will be his most powerful move, named Super Electric Strike.
The latter will generate a real large-scale vortex, perfect to perform both on the ground and in mid-air.
The character will be available both as a standalone DLC and as part of the FighterZ Pass for Xbox One, PlayStation 4 and PC via Steam starting September 27. On the Nintendo Switch, however, C-17 can be purchased at launch, like all DLC characters.
The launch of Dragon Ball FighterZ
To enrich the gaming experience offered by the title will be the possibility, from the September 26 until the end of November, to unlock the Z Capsule, containing exclusive versions of the lobby characters, Halloween themed Z Stamps and Halloween outfits for Playable Characters.
Dragon Ball FighterZ is currently available for Xbox One, PlayStation 4 e PC via Steam. Starting from September 27 the title will also arrive on Nintendo Switch, in digital version the next day.
To stay up to date on all the latest news regarding the title, you can follow the official Bandai Namco website or the company's social pages.
[amazon_link asins='B072R27VPH,B0721Q6MXJ,B07DVGS98F' template='ProductCarousel' store='gamspri02-21′ marketplace='IT' link_id='e329110b-c03c-11e8-9b86-f78b3d5b15ac']
Were you waiting for the arrival of this new character? How do you find his skills?
TagsBandai Namco Dragon Ball Dragon Ball FighterZ Nintendo Switch pc ps4 Steam xbox one Dragon Ball FighterZ, Android 17 joins the playable characters