Facebook, named after these student photo albums (trombinoscopes, or facebooks in English), is the most widely used social network in the world. With more than a billion users, it has become a means of communication in its own right.

Our video
Facebook - Inscription
Operation and first steps

Create your profile
Presentation
Expand your network of friends
Join and create groups or events
Distribute classified ads

Protect your privacy
Applications and openness
tips

The key question of privacy control on Facebook
Have an optimized version of Facebook on your mobile phone
Facebook instant messaging
Unsubscribe from Facebook
Facebook - Inscription
Created in February 2004 in Palo Alto (California) by Mark Zuckerberg, Dustin Moskovitz and Chris Hughes, then students at Harvard, Facebook was first the closed social network for Harvard students, before becoming accessible to other American universities. Until its opening to the general public in September 2006, it was therefore a niche social network, targeting mainly high school and college students: moreover, only the latter, provided with an email address of their university or their high school, could register.
One of the initial ideas in the student world was for Facebook to allow everyone to publish their personal data and profile. With the limits that this implies: there are many cases of American students looking for an internship, dismissed because of photos of drunken parties posted on their profile ... One of the peculiarities of Facebook lies in its hybrid side, being at both a social network of students, friends, which allows schoolboy jokes, but also a social network for professional use, even a dating network, and more if affinities.
Operation and first steps
Create your profile
As on all other social networks, once registered on Facebook, you must first create a profile, that is to say enter personal information about your identity, your studies and your areas of interest, by choosing what you are going to make public or semi-public (or keep private) of your personal data. Thus, Facebook encourages you to give details on your favorite films, hobbies ... But also more personal information on your political or sexual orientations. It's up to you to see which ones you want to make public. You can choose, by clicking on the Confidentiality tab at the top right, which information will be visible or not, and by whom, whether it is about your profile, the display of your news feed, or applications you use.
Presentation
Each time you log in, the page that appears is your own page, personalized according to the applications you have installed there. The general home page, which you access by entering your username and password, displays a main column, the News Feed, that is to say the continuous news feed on the activities of your friends listed in your address book: events to which they have registered, groups they have joined, photo albums uploaded, new friends ... Knowing that this information is displayed if they have chosen to make it public. A column on the right displays your invitations: if you are approached by new friends who want to appear in your address book, invited to join thematic groups, to events, to install new applications ...
Below on the right are displayed your new notifications, that is to say "your" news: new friends, new applications, evolutions in the games that you have installed (for example, for the game Vampires, if you have been attacked and lost points! ) ...
Below are displayed the latest status updates of your friends, upcoming birthdays, some people (friends of friends) that you are likely to know, and your next events, which you or you attend. have been invited. Links at the top of the page allow you to display items on your friends (their new status, those who are online at the same time as you ...), your messages (inbox, sent messages ...) , and access your profile.
On your profile page, you will see your own news feed, your Mini Feed, in the center. Below are the various personal and professional information about yourself that you have chosen to make public, and the applications that you have installed. For example, your Wall is displayed with what your friends have written there.
On the left are displayed the icons of the applications you have installed, a block with your friends and their photos, the networks (Our country, HEC ...) to which your friends belong, and another block with the groups of which you are a member, and possibly other applications.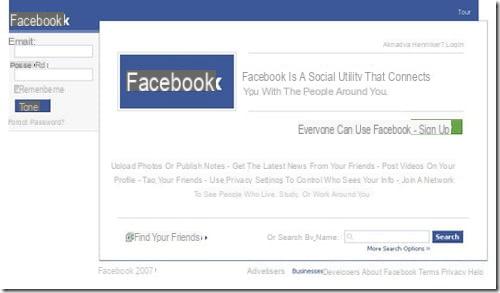 Expand your network of friends
An integrated search engine allows you to possibly find the profiles of registered friends or colleagues, and to display their profiles. You can then decide to add them to your contact list, whether Facebook calls your friends or "friends". They will be added to it once they approve your request.
Your list of friends grows quickly, as you discover them and ask other users. To enlarge your circle of friends, you can also use the "Find friends using your e-mail" function, which is displayed on the home page. This feature allows you to use the address book linked to your e-mail address, to automatically search Facebook for people who are already registered there. To do this, in the Your Email box, type your email. This will only work for the email addresses offered in the drop-down menu (gmail.com, yahoo.com ...). If this is not the case for you, click on the Skip link offered at the top right. Indicate in the Email Password field the password you use for your e-mail. Click on the Find button. If you have friends who are registered on Facebook, the list will appear, along with their photo, name, and email address. You can then add these contacts to your friends list by clicking the Add to friends button.
The list of contacts in your address book who are not registered in Facebook is also displayed on this page. You can invite them by leaving the boxes ticked in front of the names. Your contacts will receive an invitation letter from you. If you don't want to send them an invitation message, uncheck the Select All / None box. Finish by clicking on Invite to Join.
Join and create groups or events
A host of thematic "groups" exist on Facebook: the group of former students of your school, sometimes your company, for political causes, by areas of interest, for meetings, "just for fun" groups ...
Very quickly, you will start to receive invitations by e-mail from your friends (or friends of friends) to join these groups. You can search for groups by topic, by entering a keyword in the search engine, on the "groups" tab. Once on the group's home page, click on "Join". Please note, some groups have restricted access, and therefore subject to the prior agreement of the moderator.
In the same logic, you can subscribe to "events", which are displayed for example on the News feed, over the events to which your friends subscribe. You can also see which events are organized by your friends, or which ones they attend, by clicking on the "Events" icon to the left of the Facebook home page.
Distribute classified ads
Without reaching the level of eBay, Facebook still has a fairly sophisticated classified ads service, thanks to its Classified Ads application (Marketplace), which allows you to sell an item, barter, or even rent real estate.
To place your classified ad, go to the menu on the left of your home page and click on Classifieds. Then choose the category in which you sell your product (goods for sale, free goods ...). Then fill out your form as clearly as possible, including photos. Your ad can then be inserted in your profile and in the classifieds.
Unlike eBay, Classified Ads is not based on an auction system, but you can drop the price over the days if you fail to sell your item. Please note, unlike eBay, the transaction takes place between the buyer and you: in the event of a problem, there is no possibility of recourse to Facebook, nor of a rating system for the reputation of sellers and buyers.
Protect your privacy
By default, all members of your network can view your profile. You can keep certain data confidential or only share it with your friends. Click on the Privacy link at the top right of the page. In this page, you can configure privacy in eight areas:
Profile allows you to manage who can view your profile, your personal details, your contact list, your photos (and the photos where you are tagged), sent items, online status or update. To do this, click on the Profile link. Then indicate, in the zones, the desired level of security. This goes from All my networks and all my friends (all my networks and all my friends) to Only me (only me), via Some of my friends (some of my friends): there, you can select which of your friends will be able to see this or that information on your profile. Be especially careful with certain areas, such as Profile, Videos, or Photos Tagged of You (photos you are tagged with), Mobile Phone, or your email address. There, it is preferable to choose the Only my friends or Only me level. Click on Save. In the case of tagged photos, this will prevent you from disappointments, such as seeing photos of you posted in the News Feed or in your profile for all to see during a drunken evening. Indeed, when one of your friends uploads their photo album, by default, it is accessible to all their friends from the News Feed, with the names of the people tagged there in caption.
Default search: anyone can see if you are registered by typing your name into the search engine. You can choose who is allowed to find you.
News Feed and Mini-Feed: by default, Facebook displays most of your actions there, on your home page. In the News Feed and Mini-Feed section, you can decide more precisely on the updates concerning you sent to your friends. To do this, click on News Feed and Mini-Feed, then just check the authorized events, and click Save Changes.
Applications: this security makes it possible to hide certain applications or to delete them completely, but above all to choose the personal information to which they allow access. Three tabs are available at the top of the page: Added Applications displays the list of applications used. To remove one, click Remove. If the Privacy setting mention is indicated to the right of the name of one of them, click on it to specify who can access the information generated by this application. Authorized Applications displays the list of applications for which you authorize access to your personal information. To cancel these permissions, click Remove to the right of the name. Other Applications displays on the one hand the personal information to which you authorize access to all the applications used by other registrants than you and, on the other hand, the list of applications that you have blocked. Validate these tabs by clicking on Save.
Block People: you can prevent someone from looking for you, creating a social link, viewing your profile. To do this, type his name in the Person field of the Block People part, and click on the Search button. In the list that appears, click the Block Person link to the right of the name. In the Block List part, you have the list of blocked people. To unblock one, click Remove to the right of its name.
Limited Profile: You can also create a limited profile so that certain people only see certain information. For example, so that your colleagues registered on Facebook can only see the professional part of your profile. To do this, first create the limited profile by clicking on the Edit Settings link in the Limited Profile section. Then just check the items that should be visible. Here, for our example, Work Info, Education Info and Personal Info. Then, at the bottom right of this same page, in the Person zone, repeat the same operations as in the Block People security type to create the list of people who will only have access to this limited profile. Click on Save.
Applications and openness
Facebook is characterized by the multitude of applications it offers, which are displayed as different columns on the user's profile page. These applications modify the user's page and allow him to display information - if he chooses to make it visible - to people who visit his page. He can in fact choose to install them, and to make them visible or not for other users.
One of the particularities of Facebook lies in its open applications: Since May 2007, any Internet user or company can offer its applications on the Facebook Application Platform, Facebook offering its toolbox (API, etc.) to developers.
This has thus contributed to the success of companies such as Slide. Among the most installed applications are Top Friends (Slide), FunWall (Slide), Super Wall (RockYou!), SuperPoke! (Slide), Video (Facebook), iLike, Movies, Free Gifts, Compare People, or the famous Vampires.
tips
The key question of privacy control on Facebook
The issue of protecting the privacy of Facebook members is crucial, as the various controversies regularly show.
Facebook has thus opened a system for monitoring the privacy of its members. It allows you to create different degrees of confidentiality, depending on your contacts.
Users can thus configure and distribute information according to predefined groups, for example by creating one for their colleagues and another for their family. From now on, when the user adds information, he can therefore choose between several distribution options: everyone, friends of friends, all friends, certain friends, only me, or certain networks.
Have an optimized version of Facebook on your mobile phone
The Facebook application for BlackBerry (available free of charge and in French) allows you to send or view messages and photos. It also broadcasts alerts on the user's terminal, when an acquaintance sends him a message (photo / poke). You can also update your profile there and take advantage of the main functions of the site.
Facebook has also launched an optimized version of its site for smartphones. To get there, just type the address m.facebook.com on your phone.
Facebook instant messaging
Launched in April 2008 by Facebook itself, Facebook messaging, associated with the list of Facebook contacts, is displayed at the bottom right of your home page. A simple yellow window to let you know that you can chat directly with your friends, and display which ones are online, and which are available to chat. No downloads are required and the tool is supposed to work with all major web browsers.
Some options are available, such as the ability to open the conversation window in a smaller size than the one offered by default. Likewise, we can insert some smileys.
In addition, it is impossible to block unwanted people for the moment. However, to avoid being disturbed when viewing your Wall, you can display yourself in absent status. History is limited to your current conversation. Facebook messaging only allows chatting with one person at a time.
The tool is not yet compatible with third-party Instant Messenger (IM), although Facebook is planning interoperability with Jabber.
If you chat with someone and they add something to your profile, you'll get a chat notification.
Faced with this, Microsoft, publisher of Windows Live Messenger, launched at the end of April 2008 its instant messaging application for Facebook. It is only accessible to Internet users who are members of Facebook who have activated their Windows Live ID account. Launched in March 2008, the https://invite2messenger.net/ service makes it possible to find Windows Live subscribers on the main social networks (Facebook, Hotmail, LinkedIn, etc.).
Unsubscribe from Facebook
Following the protests of many users regarding the difficulties to permanently unsubscribe and erase all traces of Facebook, the start-up has simplified the total and final unsubscription procedure. Indeed, Facebook initially allowed its subscribers to unsubscribe, while keeping users' personal information on Facebook's servers, in case they wanted to reactivate their account.
It has therefore modified its online help to explain the procedure: the user can request the definitive deactivation of his account, via a form. This implies that if you wish to reconnect afterwards, you will have to start from scratch to re-register.
Despite this new unsubscription procedure, users, not convinced, have yet created a group on Facebook, called "How to permanently delete your Facebook account".