Do you want to sell or give away your iPhone or iPad? Or simply give it a facelift? Reset it to erase all of its content, including your personal data, and start from scratch.
There are several (good!) Reasons for wanting to start from scratch with your iPhone. If you want to sell it or give it away before you get a brand new iPhone, obviously you have to make sure that it no longer contains any of your personal data. But it can also be very useful when your iPhone seems to be not working properly. Do your phone calls cut without warning? Does your iPhone suddenly turn off when the battery says it has 20%, 30% or 40% charge left? Has it gotten really slow after the last update? Before rushing to change it, try to reset it to start from scratch, as on the first day. Here's how to do it with iOS 14 and iOS 13.
How to backup content from iPhone or iPad?
Even if your goal is to reset your iPhone, you obviously don't want to lose your data. The easiest way to secure your content for later retrieval is to use the backup feature of iCloud, Apple's online storage system, which is normally enabled by default.
To be sure, go to the Settings and tap Your name, at the very top of the screen.

In the next screen, choose iCloud.

Scroll down to the bottom to be able to choose ICloud backup.

The next screen allows you both to check that the function is activated and also the date and time when the last backup took place. Obviously, if the backup is deactivated, activate it by pressing the switch!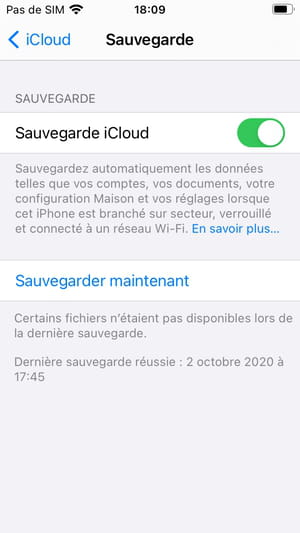 Remember that when this function is activated, the backup is performed automatically when three conditions are met at the same time: iPhone connected to the mains, connected to a Wi-Fi network and inactive for one hour. That is, you plug it in in the evening and you are sure it was backed up the next morning.
Note also that you can trigger a manual save at any time by pressing Save now. This way, you will be sure that you can always retrieve your information and settings.
Once your data is backed up to iCloud, you can retrieve it whenever you want to put it back on the same iPhone or on another model and thus find your applications, photos, videos, music, documents and all your personal information. .
How to reset an iPhone or iPad?
When you are certain that your personal data is backed up, you can perform the reset operation which will erase all content on your iPhone.
To start the reset procedure, open the Settings iPhone from the Home screen.
Scroll down to be able to enter the section General.

Go all the way down and tap reset.

On the next screen, tap Clear content and settings.

A first message is displayed in the center of the screen to prompt you to make a final backup before deleting everything. If you have just done so (see above), choose Clear now.

Otherwise, press Save then delete, It does not eat bread ! In the latter case, another message is displayed on the screen to inform you of the progress of the backup.
How to completely erase an iPhone or iPad?
Are you ready to return your iPhone to its "factory" condition? After you initiate the reset procedure, the iPhone will ask you for confirmation several times. Normal, this is not an operation without consequences!
Enter lock code from your iPhone. This is the first step after requesting erasure.

Double confirm that you really want to reset everything by tapping on the option Erase iPhone written in red.

Last step, enter your Apple / iCloud account password. It is indeed impossible to reset an iPhone without this sesame if it is linked to an Apple account. This is an anti-theft device put in place by Apple since several versions of iOS and which has proven to be very effective. Thus, an iPhone cannot be erased to be resold to someone else.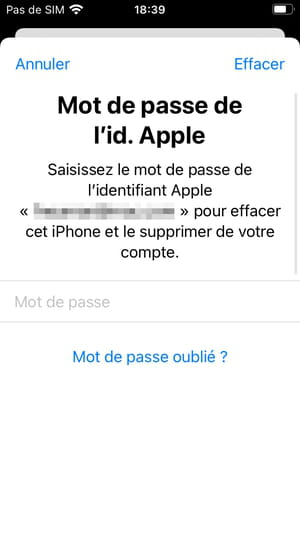 As soon as you validate this last step by tapping on Clear, top right, the iPhone automatically restarts displaying the Apple logo in the center.
When the restart is complete, the screen welcomes you with the different ways of saying Hello in several languages, the characteristic message of iPhone that you turn on for the first time. Your iPhone is again - almost - like the first day ...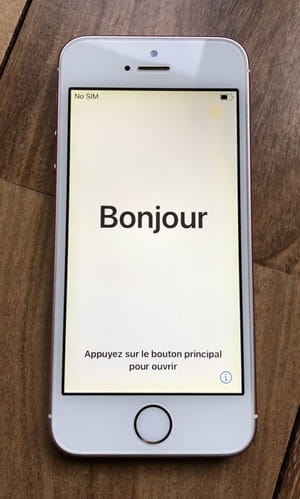 Factory Reset iPhone: The Easy Way
Contents Back up iPhone content Start iPhone reset Confirm complete iPhone erase There are several (good!) Reasons for wanting to start from scratch with your iPhone. If you...