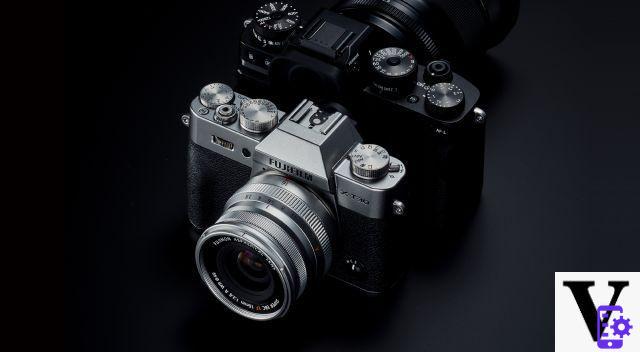 I went to the event organized by Fujifilm Italia to take a closer look at the brand new one Fujifilm X T30, a mirrorless camera destined to truly revolutionize the photography market. As many of you know, I was already extremely fascinated by the X-T20 (enough to publicly declare my platonic love for that camera) and couldn't wait to get my hands on a new model, even if there really isn't. it was really needed to have it.
READ ALSO: Reflex in 2019: is it worth buying one?
Fujifilm X-T30: great expectations come ... great expectations.
Fujifilm's first sentences during the event were "We will never make full frame cameras. Never"Which was followed by a question from the audience:" but with the word never do you really mean never? ", And Fuji confirmed. This made me understand when the brand cares about its APS-C and medium format sensors and how the various efforts and investments are aimed at this. In fact it makes perfect sense: why have to launch a new sensor with new products and new lenses when there is no need? Fuji's customers are already so happy that the brand says that "there was no need for an X-T30, the 20 was still selling very well, but we wanted to bring new products". It goes without saying that X-T30 was born from the ashes of X-T20, because the now "old" sister is still in great shape and will still be on sale for some time at a reduced price before disappearing completely (a ' excellent opportunity to think about a purchase of this product if you have a more limited budget.).
Fujifilm X-T30 is a riot of beautiful ideas and great technologies mixed properly like a fresh juice in the summer. I had very high expectations for this product and they have all been fully satisfied.
Fujifilm X-T30 Technical features and specifications
Fujifilm X-T30 features, incredibly, the same X-Trans CMOS sensor 26,1, fourth generation MP present in X-T3, the flagship big sister. And, then the same way, also AF motor and processor (fourth generation X-Processor Pro) are the same as X-T3. On balance then, without the risk of being repetitive, with Fujifilm X-T30 you will have in your hands a smaller and lighter X-T3 (only 383 grams) with a few minor functions as it should be.
The target of this camera is the advanced amateur photographer but also the father (or mother) of the family who does not want to commit too much on vacation and therefore looks for a more than intelligent product to be able to capture landscapes and portraits with automatic or semi-automatic modes. in a simple way. It is precisely on the basis of this need that Fujifilm has developed a new firmware in the X-T30, now in version 4.1, which brings a series of important improvements and will soon be available on X-T3 as well.
Thanks to Firmware 4.1 in fact, you will have the possibility of having the camera manage Face detection but also Eye detection AF, in this way, X-T30 detects if there is a person in the entire surface of the frame and, if that person has a face (such as humanly should be), it will be detected and the scene will be adjusted to properly expose the face, making the skin tone more appropriate and the surrounding scene not too shadowy. Likewise, AF tracking is much more responsive and faster (which will also be brought to the X-T3) and really allows you to think you can handle a sporting event, especially if you realize the fact that Fujifilm X-T30, a "camera little girl hit ", it can shoot at a burst of 30fps with a 16 megapixel crop (which are not few, on the contrary) or 8fps at full resolution; it is a quantity of shots in a second greater than many other products that pretend to be professional, and this thing I appreciated very much. A new Fuji app will also arrive in the coming months that will correct all the bugs and problems present in the iOS and Android versions and will add support for new and "juicy" functions of the various cameras.
Do not miss the monitor 3 ″ rear LCD which, however, this time is 1,3mm thinner than the previous model and offers an even more responsive touch display, enough to allow Fuji to remove the D-Pad and leave the Joystick alone to manage the various settings.
Then we find the new film simulation "ETERNA" dedicated to the world of cinema and videomaking fans. Yes, because X-T30 is "powerful" also from this point of view: in fact, shooting in 4K @ 30fps without crop with an output HDMI at 4: 2: 2 10 Bit with full range FLog to manage every aspect of your shoot. And if that's not enough, Fuji will soon be making some really cool Cine lenses available. To underline the fact that X-T30 captures video in 6K format to then crop them to 4K and thus offer a much higher quality.
Another feature that I really appreciated was the choice to bring a new color for this model too: in addition to classic silver and black, anthracite (called Space Gray near Cupertino) appears, and is wonderfully wonderful, just right for emphasize.
In short, I can't wait to try this camera in depth, especially given the price at which it will be offered (even in kit).
Fujifilm X-T30 Price and release date
Fujifilm X-T30 will go on sale from the end of March 2019 at a price equal to 949,99€ for the body only. If you are looking for a Kit, it will be available at 1049,99€ with XC15-45mm, a 1249,99€ with 15-45mm + XC50-230mm or a 1349,99€ with the XF18-55mm F2-8-4 R lens. Again, Fujifilm really surprised me with the value for money, which was already excellent with the X-T20. Given the functions, the sensor and everything else, X-T30 already presents itself as the best buy of 2019, but we'll see.
In the meantime, if you are interested, you can take a look at Fujifilm X-T20 and any price drops:
[amazon_link asins='B07CX7K3R5′ template='ProductCarousel' store='gamspri02-21′ marketplace='IT' link_id='7711b38e-b507-4a12-8f28-b3f7e03bc370′]
Tagsfujifilm mirrorless Fujifilm X-T30 official: here are the features