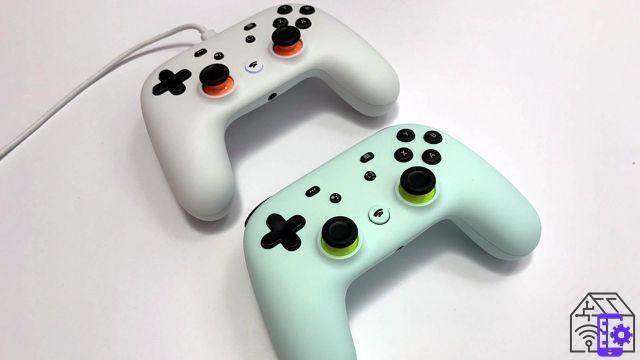 Google Stadia has also landed at Gamescom. After showing up for the first time at E3 in Los Angeles, she is now the turn of Europe. We got to try it, testing it live and in preview, and we tell you about ours first impressions of the "non-console" of Google.
Google Stadia: preview test
In the meeting room where I was welcomed, there were 3 Google Stadia controllers (one white and one teal), a smartphone (Google Pixel 3 XL), a laptop (strictly not for gaming) and a TV with Chromcast connected.
La Google's new streaming platform - which aims to revolutionize the way we enjoy our favorite video games thanks to cloud technology - however, it needs an internet connection to work.
According to the developers these are the minimum connection speeds needed to play with Google Stadia:
10 Mbps or higher: to be able to play with a resolution of 720p and 60 FPS;
20 Mbps or higher: To play in 1080p, 60 FPS, HDR resolution with 5.1 surround sound;
35 Mbps or higher: To enjoy 4K 60 FPS HDR resolution with 5.1 surround sound.
Google has created a page dedicated to the speed test to check how Stadia could "run" on your devices and will be reachable at the following address.
The connection used during the test at the fair - according to the developer Google - was 25 Mbps (we could not verify it) with a connection of this type the experience was super smooth. Nothing to say.
The titles I got to grips with were Doom Eternal on the TV and Mortal Kombat 11 on the Google Pixel 3 XL.
How is the Stadia controller
Il Stadia controller looks a lot like Playstation's Dual Shock with two symmetrical analog sticks. The feeling is a bit plasticky but in reality the ergonomics are well thought out. In short, it is comfortable to hold in the hand. It has no particular rubber parts that increase its grip. Our overall test lasted 15 minutes so I can't tell you if long gaming sessions make the controller slippery or not.
Just know that if you don't want to buy the Stadia controller (sold separately for 69 euros) you can always use your favorite controller. But I'll tell you about this later.
Games and "platforms"
As announced a few days ago, i games available at launch with the "Stadia Founder's Edition" version which includes the midnight blue controller and a Chromecast Ultra, there will be 30 triple A titles (here the complete list).
To play with Stadia - as you may know - consoles will not be needed: in fact, Stadia can be used from smartphones (for now only Google Pixel 3), a PC of any kind (even old so to speak) with Google Chrome installed, a TV display with connected a Chromecast device or a modern TV with integrated Chromecast.
But where do the games run? Games are processed and processed by Google's servers, all through the cloud. And this is where your connection comes into play.
Google Stadia therefore makes the video game democratic. This way anyone can have access to the video games they prefer from the device they prefer. Basically even with an outdated PC not able to run even Solitaire, you can play the best triple A titles. The only thing that matters is the connection speed.
If your connection is not very stable and perhaps "falls" ruinously to the imminent, the game will continue to go to Google's servers for the 10 minutes, thus allowing the game to proceed with the autosaves so that you do not lose game progress.
What a pity: no 4G or 5G, just WiFi
Smartphone manufacturers and telephone operators are betting everything on the speed of the 5G connection and the benefits it can bring to gamers (no lag of any kind). I therefore expected that too Google Stadia rode the wave of 5G and instead nothing. The developer has confirmed to me that at launch (including the first break-in period) Stadia will support only and exclusively with WiFi connection. This means that you will not be able to take advantage of the 4G or 5G connection of your smartphone to play wherever you want.
Google Stadia Free?
Oh yeah, Google Stadia will also be free starting in 2020. What do I mean by this? There are three ways to "win" Google's new non-console.
Through the Founder's Edition for 129 euros you will take home the Night Blue controller, Chromecast Ultra, 3 months free Stadia Pro subscription. This is the only way to have stadia in 2019. Obviously then you will have to buy the games individually at the price set by the various publisher.
If, on the other hand, you want to spend some money because you only want the best, you can go for it Stadia Pro paying a subscription of 9,99 euros per month. The subscription does not work as a sort of Netflix for video games but is used to run games in 4K, get some free games every month, get extra discounts and for a limited time allows you to play Destiny 2 for free.
We now come to Google Stadia Free. Yes, because to play with Google Stadia you don't necessarily need the Stadia controller, even if today the developers reiterated that the Stadia controller is the best way to play with Google's non-console.
With any controller from Dual Shock from Playstation to Elite controller from Xbox, from Nacon Revolution 2 to Razer Raiju, you can play Google Stadia for free. The cost that you will have to face is only that of acquiring the various video games, the internet connection of course and - if you do not have it - a Google Chromecast to use it from TV.
But now let's try to draw conclusions on this non-console from Google.
Benefits of Google Stadia
I strengths of Google Stadia they are many. Here are the ones I would like to list after our field test here at Gamescom:
play without console (you save the cost of hardware);
play even with a very old PC (which may not be equipped with powerful and updated hardware for all video games);
use the controller you prefer (Playstation, Xbox, Nacon, Razer or any other controller)
access the game library from any device by starting playing on one screen and ending on another
even with a 10 Mbps connection it is capable of running games
Defects of Goolge Stadia
Let's move on to the defects that we could notice during our test:
Google Stadia does not work with mobile data connection (you cannot take advantage of the connection of your 4G or 5G smartphone);
the only smartphone supported at the moment is Google Pixel 3 (in its variants 3a, 3a XL, 3, 3 XL);
the minimum connection speed is 10 Mbps which in Italy unfortunately not everyone is able to reach at the moment (keep in mind that a good ADSL ranges from 5 to 10). In short, having fiber helps a lot.