honor earbuds 2 lite review min
We tested the Honor Earbuds 2 Lite for this review and we were really stupid. They are not perfect. But detail-packed and clean audio, noise cancellation and most of all excellent call handling make it the economic alternative Partner to many more expensive true wireless headsets. So the question is not whether they are good: I am. The point is: what are you willing to give up to spend less?
Honor Earbuds 2 Lite: our review
When Honor's new headphones arrived, we were unimpressed. Aesthetically they seem "classic" earphones, with the head similar to that of the AirPods Pro and the slim and tapered body that now characterizes most of the products on the market.
Once heard, our opinion changed dramatically.
They are the kind of earphones that we would recommend almost with our eyes closed. But when we opened our eyes for them read the retail price, we were really stunned.
They don't have "everything you need" ever. But they have what serves the vast majority of people. We tell you about our experience with the Honor Earbuds 2 Lite during the tests for this review. So you know if they are the right headphones for you.
Design and construction quality
As we said, the look of the Honor headphones does not shine for originality. They have the shank cleared by Apple and now adopted by many companies. The pavilion, however, is quite large, to accommodate drivers from 10 millimeters. The rubber pads (which you can change for the larger and smaller ones in the package) are simple but the silicone it seems well made. And the same goes for the earphones themselves. Trying to flex them and forcing them we did not perceive any uncertainty or creak. They are well made, small and above all very light: only 5,5 grams.
But without giving up on ergonomics: they remain perfectly attached to the ear, even while doing some exercise in the gym. Different speech for the race: we did not crash but we felt less stable. But we can say this about any headset that is not born for runners, regardless of the price.
La custody it too weighs very little, only 41 grams, and it is quite thin. Magnetic charging pulls the headphones into place with ease, the USB-C port is convenient to reach. Closed it also stands up on its own, which is never bad.
In general, we can say that it can be seen that Honor is not new to this type of devices. Build quality is excellent, the look is not very original but discreet enough to be elegant. Nothing exceptional, but we can say with certainty that it does not seem like "cheap earphones".
Honor Earbuds 2 Lite review: the sound quality
We wore these true wireless headsets with a little bit of skepticism: in our experience of reviewing this type of product, the "stem" headphones often sacrifice audio quality to handle calls better. But the adherence of the rubber pads to the ears gave us hope. And the sound did not disappoint.
We started listening to a classic by Biggie Smalls, to test the i bassi. That they are not particularly enveloping but decidedly powerfulthe. Even looking for tracks that hip-hop with a more dynamic sound, the power of the bass remains distinct. We then moved on to songs with a more complicated sound texture, from Sgt. Peppers' Beatles to Frank Ocean. And to our huge surprise we found these headphones they are really rich in detail.
We have heard every instrument and every note even moving on to jazz and classical. We usually find this baggage so complete only in earphones designed especially for audiophiles. Compared to that type of product (which usually costs more or gives up something else, such as audio on call), the sound it is not so enveloping and soft. But it is a compromise that seems acceptable to us, especially considering the price.
By activating the noise canceling mode we found the sound more rounded, to our ear more appreciable (even if the difference is so small as to be subjective). They aren't the best earbuds we've tried, but they definitely go to the podium for the sound quality / price ratio.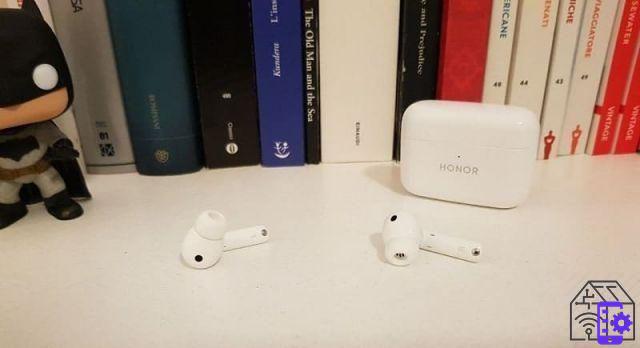 Noise cancellation and audio in calls
Speaking of noise cancellation, activating it is really simple. Just press for a couple of seconds on the stem of your headphones to switch between the standard mode, that in transparency e the ANC. As is always the case with wireless headphones, the difference isn't huge. Don't think you can't hear the vacuum cleaner you are passing or the traffic in a city street, even when you turn up the volume (which goes very high). But if you are on the move (by scooter or by bike, for example), you will hear less wind noise.
If you tap the headset once, you can also answer calls. The first time we put the headphones on, we got a call in the middle of the first song and we answered like this in intuitive way. On the other hand, they didn't even notice we were wearing earphones. And we did all day calling with the Honor Earbuds 2 Lite before writing it in this review - they're great. Not great for the price, just great.
These earbuds don't have a lot of extra features. There is the handy feature of the blocking the music by removing the headphones, then restart it when you reinsert the headset. But there is no possibility to forward the tracks, or to activate the voice assistant. We personally will gladly give up in exchange for excellent audio and call quality.
Honor Earbuds 2 Lite review: charging and battery life
The 55 mAh earphone battery promises up to 10 hours without ANC, 7,5 with. The 410mAh case should provide you with up to 32 hours of total playback. Results in line with our use (although we have to be honest and say we didn't feel like listening to podcasts and music for ten consecutive hours). But you won't be disappointed: the battery is good enough for practically anyone to use.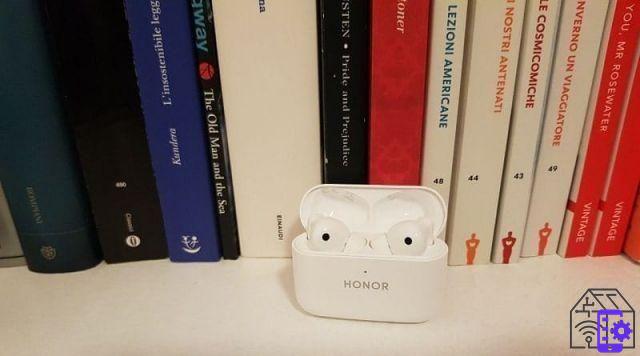 Charging with USB-C lasts just over an hour, while the headphones take about an hour to go from zero to one hundred. It is unlikely that you will be able to download them completely, unless you accidentally leave them on all night. They are always ready to use and your Bluetooth indicator should tell you when to recharge the case.
Honor Earbuds 2 Lite review: are they worth buying?
Some users will not be thrilled with these headphones. Runners will want something more specific, those who want more rounded audio will want to spend more or give up on something else (and maybe consider over-the-ear headphones). If you can't do without Google Assistant, Alexa, or Siri, maybe you can look for something else.
But in this price range we have not tried a headset with more detailed audio, more precise controls and above all from the better call quality than Honor Earbuds 2 Lite we tested for this review. The list price is 99,90 €, but on Amazon you can find them on offer at € 69,90. Don't let them escape.
PRO
Detail rich audio
Excellent quality in calls
Simple and precise controls
AGAINST
No voice assistant
Few touch controls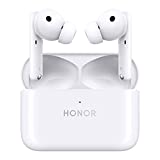 HONOR Earbuds 2 Lite T0005 Earpods In-Ear Stereo True...
Immersive Stereo Sound: Equipped with high quality 10mm audio drivers, the HONOR Earbuds 2 Lite produces clear and ...
Crystal clear audio: Active noise cancellation allows bluetooth earbuds to reduce up to 22dB and ...
Stable connection and intelligence experience: Lightweight body with ergonomic design, fits well into the duct ...
65,99 EUR Buy on Amazon