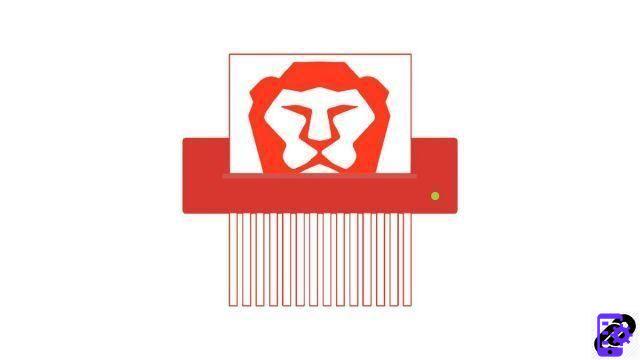 When you browse the Internet, Brave locally saves the list of requests made and web pages visited. For privacy reasons it is important to know how to protect your privacy on Brave by clearing your browsing history.

Personal and not accessible online, your browsing history remains visible to users who share your PC. Whether at home or in the office, you may want to be discreet about your online activities. In this case, you should regularly delete all or part of your history.


Erase entire history on Brave
To ensure that all your searches remain private, it is important to delete browsing history as a whole.
Pull down Brave's customization and control menu, then click "History" twice. The keyboard shortcut "Ctrl + H" allows you to access it even faster.


Click on "Clear browsing data", in the panel to the left of the history.


A new window opens and a dialog box appears on the screen. Check the "Browsing history" box. If you wish, you can also clear the "Download History". Remember to select "All periods" in the "Period" menu. Finally, click "Clear data" to start deleting history.
Delete one or more history items
Brave also allows you to delete chosen items, without needing to erase the entire history.
Access the history via the Brave menu or by entering the shortcut "Ctrl+ H".


To delete a single entry from the history, click on the icon representing three superimposed dots, in front of the line to be deleted, then select "Remove from history" (or "Remove from history").


To delete multiple items, check them one by one, then select "Delete" from the options bar above the history.


Confirm the deletion of the selected items by clicking "Delete" in the dialog box that opens.
While it may raise a few privacy issues, backing up history also has a few benefits. It makes it possible to find previously consulted sites and web pages whose addresses have been forgotten.
Find our tutorials to help you protect your privacy on Brave:
How do I activate private browsing mode on Brave?
How do I remove frequently visited sites on Brave?
How do I delete previous entries on Brave?
How do I change a password saved on Brave?
How do I delete the passwords saved on Brave?
How to clear the cache on Brave?
How do I view the passwords saved on Brave?
How do I delete cookies on Brave?