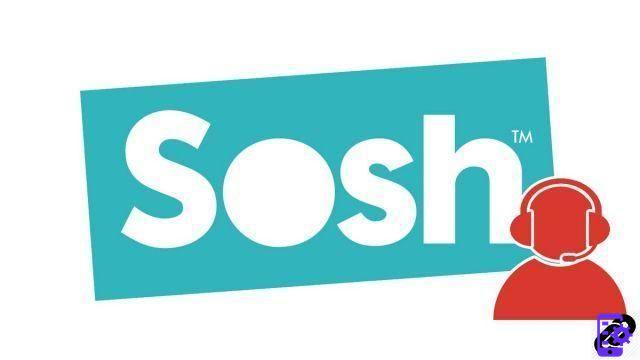 It is not uncommon to need assistance or information, to be guided in a process, or to require urgent assistance in the event of a breakdown or malfunction of your services and devices. Several solutions are available to you to find the help you are looking for, here we explain all these ways to contact Sosh customer service and respond to your requests for assistance effectively.


Sosh technical support by phone, one number
Before contacting customer service and presenting your requests to a Sosh technician, be aware that the vast majority of questions and assistance needs can be met through the various solutions to which we direct you below. This is indeed the strength of Sosh's customer service: offering exhaustive digital assistance that is particularly effective so that technicians who can be reached by phone are not overwhelmed.
Nevertheless, technical assistance by telephone is essential in certain situations, particularly in the event of an emergency to resolve a breakdown or other. Note that the technicians are able to intervene on your contracts and mobile plans, for your equipment purchased via the Sosh store, or to troubleshoot your internet access if you are a Sosh Box customer.
For all these imperative needs, a single number: 3676
Note that from abroad you will need to dial +33 9 69 39 39 00 to be put in touch with Sosh customer service.
This technical service by telephone is open and accessible from Monday to Saturday, from 8 a.m. to 20 p.m.
Automated customer service
There is a second number to contact Sosh, only here you will be redirected to a voice server, this is an automated customer service that allows you to manage your offer, obtain information on your mobile plan, or even respond to many frequently asked Questions.
To contact the Sosh voice server:
Dial 740 from your Sosh line
Dial 0800 100 740 if you are calling from a landline or a mobile whose line is with another operator
Sosh assistance: a service focused on digital
As stated above, the strength of Sosh's customer service is above all driven by these digital services and tools, as well as its very active community.
For starters, the Sosh support page efficiently redirects you as per your requirement. On this page you will find in particular:
Tools to help you, manage your account and your equipment. In particular, you can track your orders, get help configuring your mobile, check the quality of the networks, or even prepare your moving house.
Frequently Asked Questions (FAQ) covering the most common questions from Sosh customers
A support forum where the Sosh community, technicians and other advisors take turns answering questions
A search engine that allows you to fill in your request and direct you among the three services mentioned above
Contact Sosh support via chat
To be put in touch with a technician, you have the possibility of accessing a chat via the Sosh support page.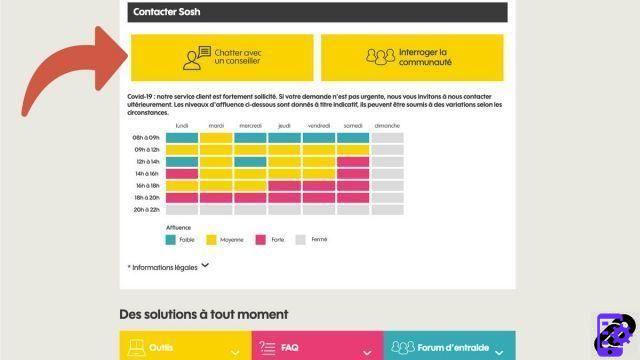 Nothing could be simpler: click on the box corresponding to your case, such as "Mobile stolen, broken or lost", or "SIM card blocked / PUK code", or fill in your request via the search engine on the page.

A new page will then appear and according to your request you can contact Sosh via chat. A chat window will appear at the bottom right of the page, you will be asked to enter your first and last name, your mobile number, as well as a contact email address before being put in touch with a technician.


Contact customer service on social media
Sosh demonstrates a strong presence on social networks, in order to communicate and publicize its offers of course, but also to answer your questions.
You can thus be put in touch with an advisor by sending a private message to Sosh on Twitter (@Sosh_fr), as well as on Facebook. Note also that Sosh has a YouTube channel which contains in particular about twenty tutorials.
How do I file a complaint with Sosh?
If ever all these solutions have not satisfied you, it is always possible to make a complaint to Sosh, by mail to the following address:
Orange
Mobile customer service, Cancellation service
33734 Bordeaux Cedex 9
Useful information from Sosh:
Sosh mobile network: what is the Orange network coverage worth in Spain?
Sosh mobile network: what 4G, 3G and 2G speeds for the telephone operator?
Expertsconnecting accompanies you during your steps at Sosh:
Sosh sponsorship: How do the advantages of the offer for mobile plans work?
How to connect to your Sosh customer area and manage your account?
How to configure your Sosh answering machine?
How to unlock a smartphone at Sosh?
How to migrate from Orange to Sosh?
Comment configurer l'APN Sosh sur son smartphone ?
How to enable Wi-Fi Calling at Sosh?
How to activate call forwarding at Sosh?
How to retrieve your RIO code from Sosh?
How to activate your Sosh SIM card?
How to cancel your Sosh mobile plan?