We have already seen how to put an iPhone in recovery mode so that you can reinstall the firmware and solve various operating problems of the device. Even Android phones and tablets have operating modes that allow you to do advanced firmware repair or reinstallation operations (and more). For example there is the mode Fastboot, already analyzed in a previous article, and the Recovery Mode (recovery mode) which we will discuss below instead. It must be said that there are several ways to put an Android device into Recovery Mode (or get out of it). There is the manual method (with combination of keys) but if you have problems with this method you have to resort to the use of apps or software.
Article index
What is Recovery Mode
How to activate / deactivate Recovery Mode on Android with Reiboot
Manual method to enter Recovery Mode
Android bloccato in recovery Mode
Part 1. What is Recovery Mode
All devices Android they have a function called Recovery Mode, which allows users to reset their mobile or tablet to factory settings of the device, solve some problems in phones or apply updates software. There are some situations that Recovery Mode can help you solve:
Your mobile is not working well. It is blocked or affected by a virus.
You want to reset the device to factory settings.
You want to remove all cache to improve the performance of your device and free up memory space.
As you can see, the recovery mode on Android devices (Samsung, Xiaomi, Huawei, Redmi, Sony Xperia, Motorola, LG, etc ...) can be of vital importance. But how do you put the device into recovery mode? Read on below to find out right away!
Part 2. Putting Android into Recovery Mode in One Click
The process of accessing the recovery mode varies slightly between smartphones from Samsung, Huawei, Xiaomi and other brands. Instead of looking for how to enter recovery mode based on your mobile model and version, we recommend that you give it a try ReiBoot per Android, which is a FREE program capable of activate and deactivate the Recovery Mode on any android device and with 1 click. Here's what you need to do:
Download ReiBoot for Android on your computer and connect your Android device with a USB cable. You choose "One-Click to enter in Recovery Mode"From the main interface. You will see the phone reboot automatically and then you will see the Android robot. Wait until the recovery screen appears. That's all.
Here are the details anyway.
Download and install Reiboot on your PC from the button below:

After installation you will see this program splash screen: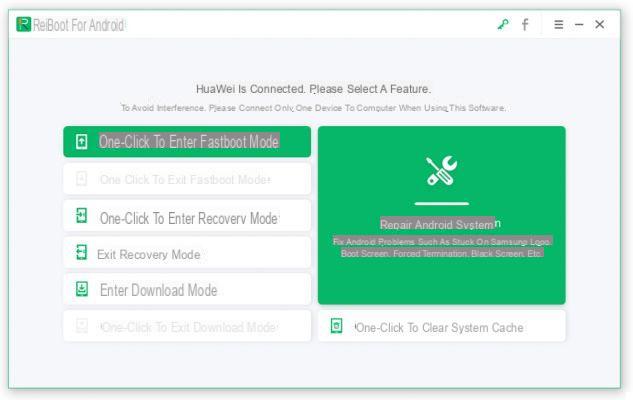 Note: If ReiBoot for Android cannot detect your Android device, please follow the directions for enable USB debugging.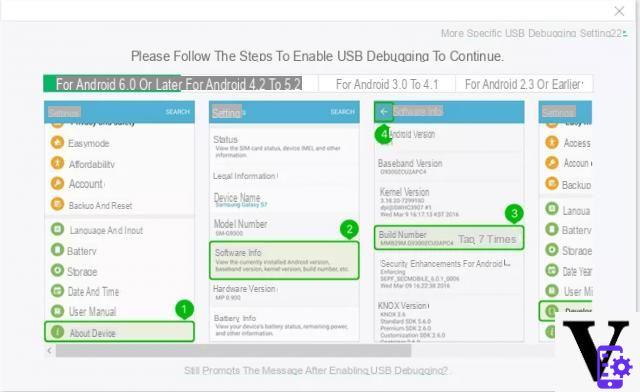 Once the phone is detected by Reiboot click on the "One Click to Enter Recovery Mode" button and the device will restart in that mode. In this mode you will see a black screen with the following menu (which you can navigate using the volume buttons)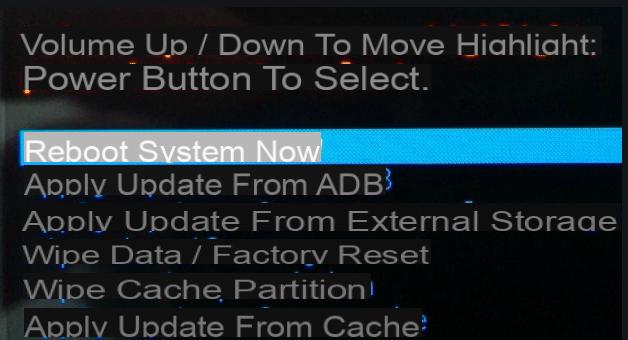 Part 2. Exit / Disable Recovery Mode on Android
To exit and deactivate recovery mode on Android (if for example your phone is stuck in recovery mode and you can't get out), you can always use Reiboot for Android. Connect the device to the computer via USB cable.
Download and install Reiboot on your PC from the button below:

After installation, start the program and click on "Exit Recovery Mode"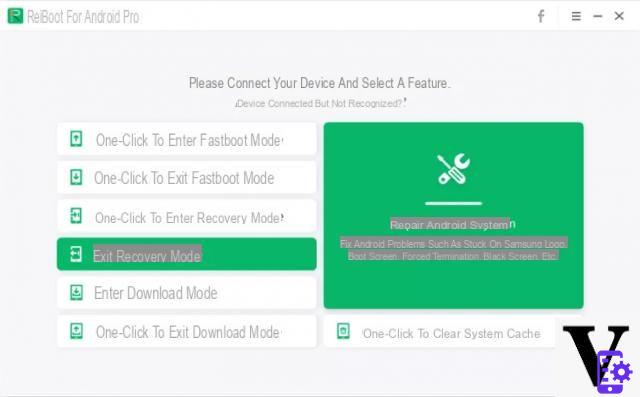 Done.
Part 3. How to Activate Recovery Mode manually
If you don't want to use ReiBoot for Android to put your device into recovery mode, there is a manual key combination method. Each device may have a different key combination. Here are some examples.
SAMSUNG GALAXY
1. Turn off the Samsung device completely by pressing the power button
2. Press and hold the Power key, Volume up key and Home key at the same time. Release them when you see the Samsung logo.
Note: The power button is referred to as the Bixby button on Samsung S8 and later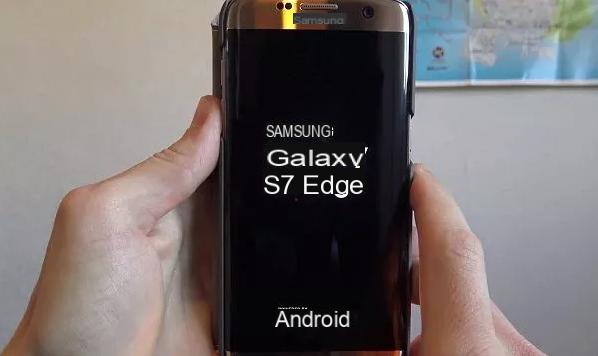 3. Wait a few moments after the Android robot icon disappears. Then you will see the recovery mode menu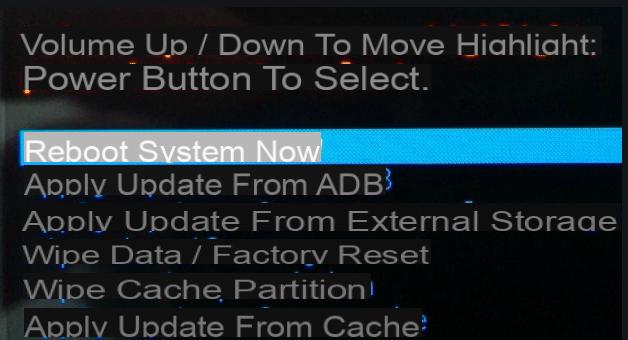 LG DEVICES
Step 1. Turn off your LG device using the power button. Press and hold the Volume Down and Power buttons at the same time for a few seconds.
Step 2. Release the Power button when you see the LG logo but hold the Volume Down button.
Step 3. Bootloader mode will appear on your device. Scroll down using the Volume Down button and select the option that says Recovery.
Step 4. Press the power button and the device will reboot into recovery mode.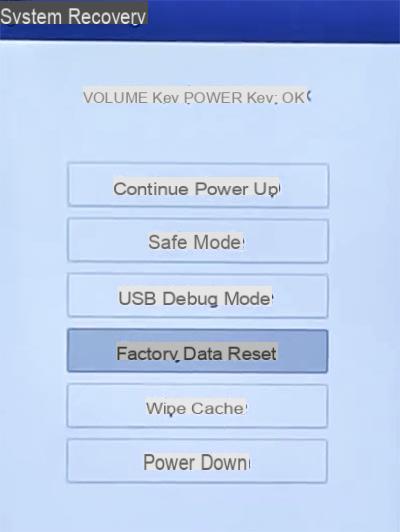 HUAWEI
Step 1. Turn off your Huawei device by pressing the power button.
Step 2. When the device turns off, press and hold the buttons simultaneously Volume up e Switching for a few seconds.
Step 3. You will enter bootloader mode. Select the "Recovery" option using the Volume Down button and you will enter the recovery mode on your Huawei device
PHONES LG
Step 1. Turn off the device. Press and hold the buttons at the same time Volume down e Switching.
Step 2. You should log into the bootloader. Select Recovery using the Volume Down button and press the Power button. You will enter recovery mode.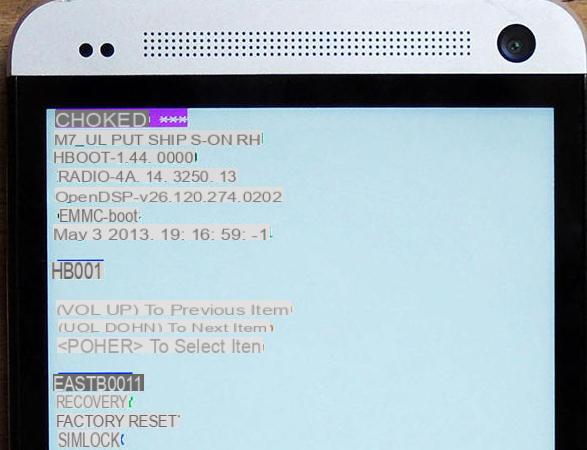 Part 4. Unlock Android Stuck in Recovery Mode
Recovery mode is a useful tool that allows you to actively reset the device, wipe cache partition, or apply software updates easily, but sometimes it also causes problems like when the device gets stuck in recovery mode, or recovery mode not working. If you have encountered such problems, don't worry; with ReiBoot for Android you will have an easy way to fix all kinds of Android problems or errors.
All you need to do is a repair of the Android device using Reiboot for Android. Read the guide below: fix Android stuck with Reiboot for Android