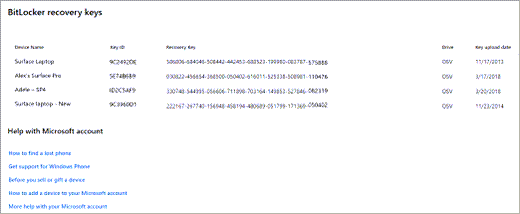 ---
The BitLocker recovery key may be located in different locations, depending on the choice you made when activating BitLocker. If we wanted to see the devices on which it is active it will be enough to go to Control Panel> System and Security> BitLocker Drive Encryption. The menu will show us both the devices on which the encryption is activated or activated and the various options applicable on the supported devices.
Specifically, the key can be found:
Nell'account Microsoft:

If you have a device that supports automatic device encryption, the recovery key will likely be stored in your Microsoft account. It will therefore be sufficient to log in to the system with your credentials.
However, if BitLocker protection was activated by another user, the recovery key may be in the Microsoft account of the user responsible for the activation.
By connecting to this page of the Microsoft site, after logging in with your account, the site will provide the BitLocker recovery keys of all the devices on which the technology is active.
On a printed document. The recovery key can also be physically printed upon activation. As you can see from the image below, the identifier will be provided, which must correspond to that of the system.
On a flash drive. In this case it will depend on the configuration of the key. If the key has been specially configured, when requesting the code it will be sufficient to insert the appropriate Smart Card and enter the PIN to unlock the unit. If, on the other hand, the key has been exported in text format, it will be sufficient to read the text file from another PC and manually enter the code which will be in the format seen previously.
In un account di Azure Active Directory. If the device is part of an organization, the key may be stored in the organization's Azure account associated with the device. In this case, however, you will need to pay attention to the privileges of the account to access the recovery key.
Held by the system administrator. In the event that the device is connected to a domain, it will be necessary to ask the system administrator for the recovery key.
We report this very interesting case on Amazon.
How to find the BitLocker recovery key