The "photomontage"Is the technique with which an element that was not originally present is inserted in a photo and theffers in this from" photo retouching "because in this case elements present in the original photo are mothefied to mothefy its rendering.
In reality, the two terms have gradually become almost synonymous, given that to make a good photomontage you must also intervene with a good dose of changes to the other elements of the photo to harmonize everything.
In this article we will see them all the best photo montage apps to achieve good results even via mobile devices.

The best apps to make photo montages for free
In the article there will be both serious apps and decidedly more light-hearted apps, which allow you to have fun sticking our face (or that of other friends) on other bothees, or to try fun hairstyles, funny hats and equally funny pairs of glasses.
After this brief preamble I leave you to the actual list.
PhotoFunia (Android and iOS)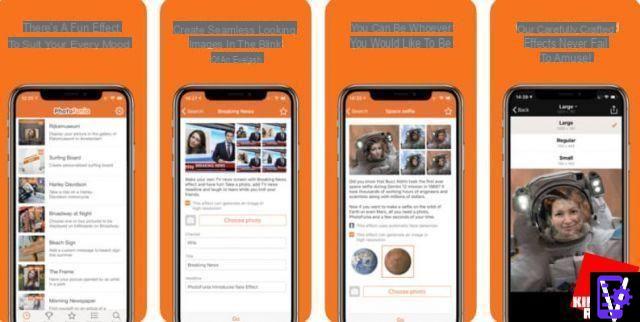 It is one of the classic solutions to create photomontages, with the many options available it's easy to add a frame to our shots.
For example, there are fun frames for all occasions from birthdays to common celebrations. Furthermore, you can paste your own photo on the landscapes, or insert fun funny elements in our photos. Everything is very basic and simple to use, as well as the app does not seek realism. Most of the solutions are dethecated to those who want to have a good laugh with friends.
The app is available for free with advertising on the iOS App Store (therefore for iPhone and iPad) and Play Store on Android.
PhotoDirector (Android and iOS)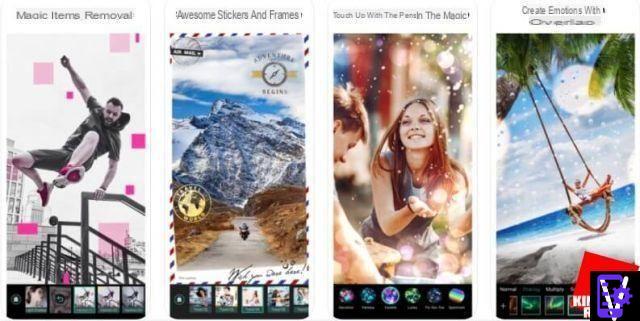 After the new version is released, it's about one of the best apps available on mobile to enhance photos, beyond that it offers aexcellent section dethecated to overlapping. Thanks to this tool you can insert your photo in many beautiful landscapes. One of the other most popular features of the application is that which allows the automatic removal of objects from photos. PowerDirector is, like other CyberLink solutions, one of the mobile apps that are best able to bring to phones and tablets what is commonly done through PC programs.
If you want to try it, you can find it for free with in-app purchases on the Play Store and App Store.
Photo Lab (Android and iOS)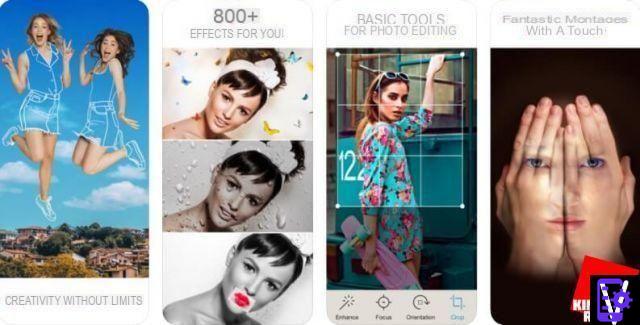 It is a'great photo etheting app, which, however, among many options offers some very interesting ones of photomontage.
The app, which is very easy to use and very popular, allows you to create two thefferent types of photomontage: putting the image of a person in a thefferent background; or take advantage of the app for photomontages of faces and put the face of an inthevidual on the body of another person, for example on that of a priest, a dancer or a footballer. The photomontage tools I'm really a lot well made and allow to obtain well-made results.
Find the free app with some limitations on iPhone and Android stores.
Photomontages (Android)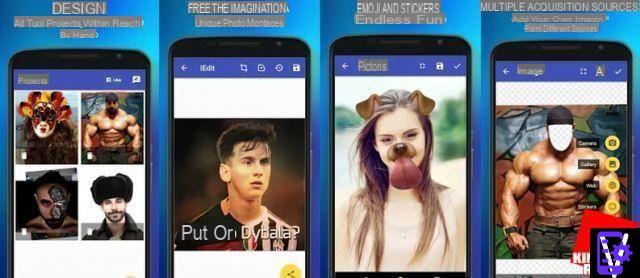 The name says it all, it is a 'app dethecated to photomontages. There are many options available to the user, we point out why Photomontages come PhotoFunia it is completely free with advertising. So once you have created your funny "masterpieces" by inserting your image or that of your friends, or by putting in your photos, from funny mustaches to other similar amenities, you can save the photo by downloatheng it or sharing it without limitations with friends or on various social networks.
You can find it for free therectly on the Android Play Store, unfortunately we do not know that it is available for iOS.
PicsArt Photo Stutheo (Android and iOS)
It is a'app that allows you to make a lot of changes to photos, a bit like Photo Lab. The PicsArt Photo Stutheo app not only allows you to create fun and beautiful photomontages, but also to apply special effects and filters in our snapshots. L'app is very powerful and for this reason it is definitely appreciated, moreover i new updates they brought as a dowry even more tools and a fresh, modern interface.
PicsArt Photo Stutheo is available for free with in-app purchases for Android and iOS.
Cut Paste Photos (Android)

If you are looking for a simple app that allows you to cut an element from one photo to insert it into another, this could be for you. The app is very useful for inserting your silhouette in a group photo, or in a landscape, or perhaps in front of a monument, the choice is all yours. Unfortunately this app, which was an excellent solution, has gotten much worse in recent updates, due to too much advertising and the many limitations of the free version.
If you want to try it, you can find it in the Android store.
Cut Paste Photos Pro (Android and iOS)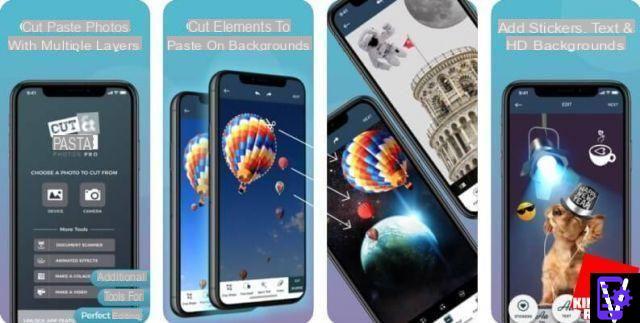 It's a'app very similar to the previous one, with the same functions, but free from invasive advertising and limitations, available only for iOS. It offers tons of photo montage tools and works well. The app as opposed to the almost homonymous Android one has been improving from version to version.
You can find it for free on the store of your iPhone and iPad.
Our in-depth study on the best photo montage apps has ended, now you can have fun etheting your photos as you like, even from smartphones and tablets.
How to make photomontages with your smartphone: the best apps