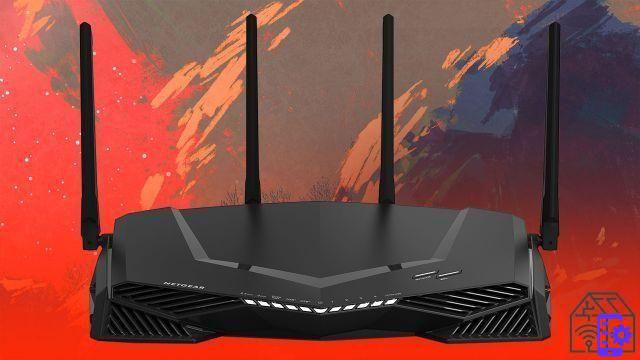 Netgear Nighthawk Pro Gaming XR500 follows the trend of the moment. The router of the American multinational in fact presents itself with a truly aggressive look, now typical of all those products that are designed for gamers. But don't be fooled by appearances: the Nighthawk Pro Gaming XR500 seems designed to please everyone, including less experienced and demanding users. We tell you everything in ours review.
A configuration within everyone's reach
To hit me with Nighthawk Pro Gaming XR500 it was above all the configuration of this great little monster. All you have to do is take it out of the box, mount the 4 supplied antennas (numbered, so you can't go wrong), connect the power supply to the power socket and then insert the network or ethernet cable into the appropriate housing. Once this operation is completed, which takes less than five minutes, just connect a device of your choice to the WiFi network that is generated.
Believe me, I tried to undermine this router using my smartphone, but it didn't help. After choosing the new wireless network, the phone automatically opened the Nighthawk Pro Gaming XR500 configuration page. At that point I just followed the instructions on the screen, all extremely simple and understandable.
What surprised me, however, was not only the extreme simplicity of the process. In fact, I typically spend an industrial amount of time setting up new routers. The reason? Vodafone Station. In fact, the modem of the well-known telephone operator has often given me problems with third-party devices, forcing me to search online for new solutions and alternative connections. The Nighthawk Pro Gaming XR500 no. Netgear's router was up and running after a few seconds, which allowed me to complete the installation in a quarter of an hour.
Duma OS: the beating heart of Nighthawk Pro Gaming XR500
Il aggressive and contemporary design of Nighthawk Pro Gaming XR500, with its 4 + 1 LAN ports and its 2 USB inputs, hides a lot of technology inside, managed by the operating system Duma OS.
At your disposal you have a dashboard that helps you discover all the features offered by this router. How to reach it? Just type www.routerlogin.net and enter your username and password (indicated in the instruction booklet).
Don't be scared by all the numbers and graphs you will find on your browser. In reality everything is much simpler and more interpretable than expected. The control panel of Duma OS in fact it shows the status of the connection and that of the WiFi and allows you to access some advanced functions, designed for more demanding users but not experts.
I'll give you an example. Let's take the Geo-Filter, a name that probably won't say anything to most people. In this case Duma OS allows you to understand first of all what it is, explaining that it is a function designed for gamers and designed to choose which servers to connect to. This helps you to have a lower ping and reduce the famous lag. In short, it essentially guarantees a better gaming experience for all those who love to challenge other players online. Using the Geo-Filter is very simple. Click on the point of the map that interests you - that is Italy - and then define a kilometric radius that includes, for example, all of Europe. At this point you just have to indicate to Duma OS the device you use and the game you are interested in. You choose the former from the list of devices connected to the network, while the latter from a limited list of particularly popular online titles.
Among the most popular functions we also find the panel QoS. Here you can ask the router to manage the bandwidth distribution autonomously for prioritize PC and console. This means that, once you start the game you are interested in, the Nighthawk Pro Gaming XR500 will limit smartphones, tablets and any other computers to ensure the best possible connection to the platform you are using. I know, it all sounds very complex, but in reality you will only have to choose whether or not to activate this function. Duma OS will take care of the rest.
Finally, I would like to point out ReadyShare, an option that allows you to connect flash drives and hard drives to your router's USB ports and then turn them into online accessible storage devices. This allows you to access the files inside them at any time, both locally and remotely. In addition, the Media Server function also allows them to communicate with third-party devices, so you can access your movies and music quickly and easily.
Obviously these are the features that I found most interesting, especially for those who do not consider themselves an expert user. For "pro" users there are many other settings, including the VPN, port forwarding and the ability to block sites and services.
Nighthawk Pro Gaming XR500: the field test
I have told you how the software is installed and how it works, but at this point you will want to know how it behaves in everyday life. Well, very well. The difference is especially noticeable when using the WiFi connection. The ping has in fact gone from 12 ms of the Vodafone Station to 7 ms of the XR500, while the download speed has increased by almost 100 Mb. The coverage has also changed. In fact, the operator's modem stops working once I reach the bathroom, while the Netgear router has no problem guaranteeing me the right coverage, so I can watch videos on YouTube while I brush my teeth or listen to music on Spotify during the shower. .
It goes without saying that the gaming experience and sessions on Netflix are absolutely fluid with Nighthawk Pro Gaming XR500, thanks to the QoS functions and the Geo-Filter. I can't tell you, however, that this router has revolutionized my life. Not because it is not performing but simply because the test was done on a 1GB / s connection. The improvements are therefore there but they are a little less incisive given the already abundant bandwidth at my disposal. However, I am absolutely convinced that this router can certainly help all those who use less powerful connections than mine.
[