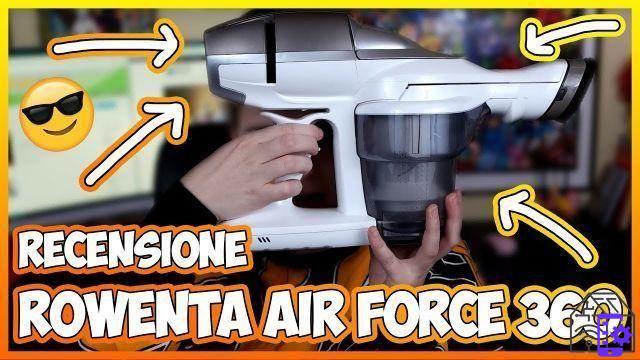 When I first picked up the electric broom Rowenta Air Force 360, I thought it was a "good looking" product and nothing more. Actually I had to change my mind because this vacuum cleaner as well as being beautiful is really powerful, practical and versatile. I'll tell you everything you need to know in ours video review.
Rowenta Air Force 360: main features
[
It exists in different configurations, each of which offers different and multiple accessories.
Rowenta Air Force 360: the "decomposable" vacuum cleaner
The real strength of this product is its versatility that allows you to "break it down" and adapt it to the occasion in a few simple steps. In fact, you can use it in the form of a "gun" - that is, only the body - to clean, for example, the surface of sofas, collect crumbs on a table or to perform painstaking cleaning such as in remote corners of the house.
Otherwise, by attaching the hose to the body you can reach the cobwebs on high ceilings.
To complete the configuration and use it in a very classic way, just add the motorized suction brush. The latter has two peculiarities: an internal brush very similar to that used by robot vacuum cleaners and a band of LEDs that will help you to better see the residues of dust and dirt.
The internal brush rotates thanks to the suction force and allows you to collect dirt more easily than traditional vacuum cleaners.
in short Rowenta Air Force 360 it is able to adapt to all household uses.
Rowenta Air Force 360: take it anywhere
The advantages of a cordless vacuum cleaner are not always very clear. Yes, I know: the battery runs out after a while, but not bad. Instead, think how much it can make your life easier.
How many times you have wanted to vacuum your car without having to go to the car wash. I've tried a lot of times putting the car in the garage and using a kilometer extension. The operation is feasible but very difficult. With a product like Rowenta Air Force 360, on the other hand, you can vacuum dust almost anywhere.
Rowenta Air Force 360: you'll love it
I didn't think it was possible to fall in love with a vacuum cleaner. In reality - in life - anything can happen. Air Force 360 it turned out to be a great tenant: it's powerful, it's portable, it's beautiful and incredibly has virtually no flaws.
Of course, it's not exactly cheap - we stand at around 329 euros - but the quality is really excellent (both construction and materials, both in terms of aspiration).
If you want to know everything - absolutely everything - about this Rowenta Air Force 360, I suggest you watch the video review that you find at the beginning of this article.
Of course, don't forget to subscribe to our YouTube channel!