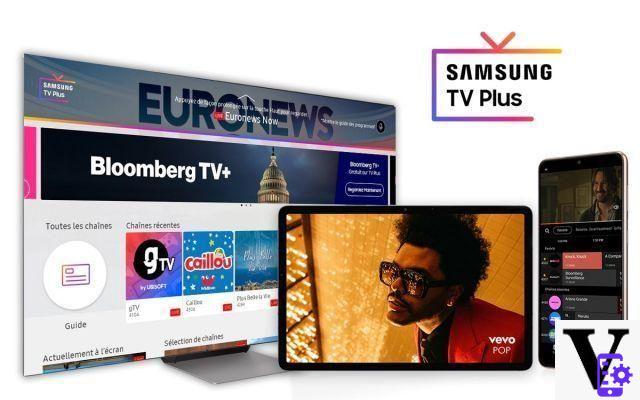 Samsung launches the Samsung TV Plus app. Thanks to it, owners of Samsung smartphones and tablets will be able to enjoy 57 free and live TV channels. There are various programs such as Vevo Pop, Bloomberg TV +, Euronews or MTV Classics.
While fans are still waiting for the presentation of the Galaxy Z Fold 3 and Z Flip 3 on August 11, 2021, Samsung has just created a surprise this Thursday, July 8 by launching a new application. Baptized Samsung TV Plus, it will allow owners of Samsung Smart TVs, Samsung Galaxy smartphones and tablets to take advantage of 57 live channels.
But unlike a certain Molotov or MyCanal, which offer additional paid content, Samsung ensures that access to the current 57 channels and those to come will remain free. Good news then. With TV Plus, the South Korean manufacturer offers a rather varied catalog, ranging from cooking with the chefs' workshop, music with Vevo Pop or MTV Classics, news with Euronews or even motorsports with Motorvision. TV.
In addition to offering live and replay, users will also be able to favorite channels, set reminders to remember the broadcast of a particular program, and discover other channels using Samsung recommendations. If the formula of the app seems rather attractive, it should be noted that only owners of Samsung smartphones and tablets will be able to use it.
To read also: Samsung - One UI 4 based on Android 12 could be announced this week
135 Samsung smartphones and tablets compatible with TV Plus
In this regard, Samsung has published the list of compatible devices on the application sheet available on the Google Play Store and the Galaxy Store. There is a total of 135 smartphones and tablets, among the range of Galaxy S21, Galaxy A21 or the recent Galaxy Tab S7. To support the launch of Samsung TV Plus, the company is also announcing news from Samsung O, the new home screen preinstalled on all Samsung devices launched in 2021.
Indeed, a new "Watch" tab appears alongside the Play (to access the latest fashionable games) and Read (to find current news) buttons. "We put use and its needs at the heart of everything we do. The launch of Samsung TV Plus on mobile and tablet in Your country and the integration of the Watch tab on Samsung O allows us to offer premium TV channels in streaming to our consumers ", said Jérôme Bloch, Marketing and Strategy Director Mobile division for Samsung Your country.
Source: Samsung
Share
Tweet
Share
Envoyer à un ami