The Division gratis su Uplay, For the whole week. You heard right. After redeeming it in the Ubisoft store you can play Tom Clancy's The Division forever, with no time or game limits. Just hurry up: the offer expires on 8 September 2020 at 10am in the morning.
Tom Clancy's The Division arrives for free on Uplay
The Division is one of the most popular games of the ones that Ubisoft has launched in recent years. This action RPG leads to a world ravaged by disease and scarcity of resources, which bring turmoil to the streets. An open world full of dangers. Especially that they come from other players online to be played alone or with your own team of four players. After customized and armed at best your character can face the dangers and feel the adrenaline flow. Free, we remember it.
The game achieved great success, which led to the release of extra content and DLC as well, which though will not be included in the title that you can redeem on Uplay. In fact, the free version of Tom Clancy's The Division is the standard one. This free version of the game on the Ubisoft store is available only for those who play on PC, while the promotion does NOT concern Play Station 4 and Xbox One. However, if you play on the console from Microsoft and siete abbonati a Xbox LIVE Gold you can redeem The Division for free as part of the promotion Games with Gold of September 2020.
READ ALSO: The new raid of Tom Clancy's The Division is coming
How to download The Division 2 for free on PC?
You can download The Division for PC for free from Uplay at this address. The promotion is valid from today 1st September at 9.00 am until next Tuesday 8th September 2020 at 10 am Italian. Run to take advantage of this promotion.
In any case, have fun gamers!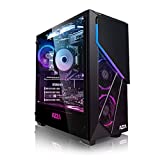 Megaport PC-Gaming Intel Core i7-10700F • GeForce RTX...
With this gaming PC, fun for real gamers is guaranteed! Thanks to the Intel Core i7-10700F processor, even the ...
Furthermore, the 16 GB DDR4 2400 MHz random access memory allows quick access times to open programs. For...
Equipped with all the latest technologies on the market, your GeForce RTX3060Ti with 8GB of GDDR6 memory guarantees ...
799,00 EUR Buy on Amazon TagsThe Division Ubisoft The Division is now available for free on PC